Dan Hardy drops hint over Jake Paul debut and names UK's next PFL world champion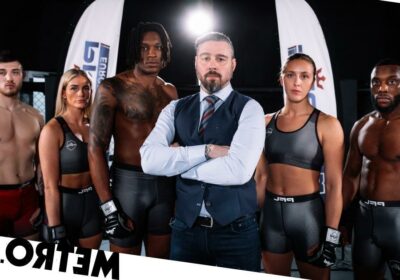 Dan Hardy has tipped Dominique Wooding to become the next PFL world champion from the UK after taking on a a new role with the promotion to scout and develop the next generation of MMA superstars.
Former UFC fighter Hardy has joined the promotion as director of European fighter operations, a role which will see him oversee emerging stars and help them acclimate to the world of professional MMA.
The PFL has already set about recruiting new talent from the UK and Ireland with Simeon Powell and Dakota Ditcheva co-headlining their Newcastle show on 25 March, kicking off the promotion's European series where the victor will bank £100,000 and earn themselves a place in the global competition next year.
Manchester's Brendan Loughnane lived that dream last year, winning all three of his fights in the lightweight bracket to scoop the world title and a cheque for $1million last November.
Among the new talent hoping to follow in Loughnane's footsteps is Londoner Wooding, the former Cage Warriors champion looking for further title success under the PFL flag.
And Hardy has backed the bantamweight to set the PFL alight.
'I have to keep people thinking about is Dominique Wooding. He has moved over to PFL, he had wanted to sign for us for some time,' Hardy told Metro.co.uk.
'He has got a veteran mindset and a very mature approach to the game even though he is has still got his career ahead of him. He is as fresh as a daisy and it feels like this is the start of his career.
'I do feel like the bantamweight division is going to be the toughest. If he wins that bracket and becomes the first bantamweight champion of Europe, he has a fantastic chance of going to replicate that on the global scene like Brendan.
'He speaks, well, carries himself well, trains like an absolute beast, and he has the experience to really become something. He has already achieved good things but now it is about consistency, keep winning to stay in contention for championships.'
Hardy's arrival with PFL follows that of Jake Paul, who signed a multi-fight contract with the promotion at the start of the year. Paul, who is coming off the back of his first boxing defeat to Tommy Fury in February, has already issued a challenge to Nate Diaz but with 'The Problem Child' likely to meet Fury again this summer, his MMA debut may have to wait until next 2024.
While he won't be sharing the cage with him himself, Hardy is relishing Paul's impact in the PFL and believes he will play an instrumental role in the promotion's growth.
'If I need to get in there, take my shirt off and get in Jake Paul's face to create some WWE drama, I'm more than happy to that,' Hardy continued. '
He seems a good guy and I think he is going to do some really good things with the organisation. We will see what he wants to do about competing, I can think of a few people who would like to fight him, but I don't know how  interested he is in that for the immediate future. I think his MMA career will probably kick off in the new year.
'Jake does a great job of promoting himself and having him help promote these PPV fights will only do good things. He always did good things for his fighters, those competing on his undercards, he has always created good opportunities. He's the kind of person we need around MMA in my opinion.
Hardy has recently worked with the PFL as a judge on their Challenger Series but his new role will him working directly with young fighters.
'I'm watching fighters, getting to pick the ones who I think are going to go on and become world champions and bring them onto the PFL roster. Once they are there, I get to answer their questions, look after them  best I can and make sure they have everything they need to grow as martial artists and potentially win the championships.'
For more stories like this, check our sport page.
Follow Metro Sport for the latest news onFacebook, Twitter and Instagram.
Source: Read Full Article