Cornell upsets DU Pioneers in Manchester Regional hockey semifinals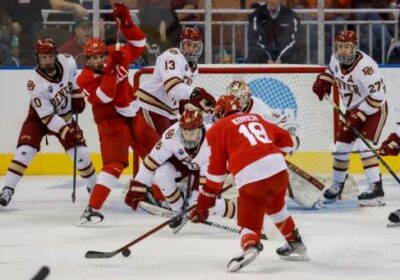 The DU Pioneers picked the worst time to play their worst hockey of the season.
With its season on the line in the opening round of the NCAA Tournament, top-seeded University of Denver was shut out for the second game in a row, falling 2-0 to fourth-seeded Cornell on Thursday night in the Manchester Regional.
The loss ends DU's national title defense two wins short of the Frozen Four, with the Pios finishing their season on a 121-minute, two-second scoreless streak. Their last goal came near the end of a 7-2 win over Miami (Ohio) in the NCHC playoffs. A 1-0 loss to rival Colorado College followed in the NCHC semifinals, which likely pushed them out to the regional in Manchester, New Hampshire, as the No. 4 overall seed in the NCAA Tournament.
Goaltender Magnus Chrona did his best to keep the Pios in the game, making a number of difficult stops over the final two periods, including on a penalty shot in the third. But two first-period goals from the Big Red were the difference.
DU finishes the campaign 39-10-0 having won the Penrose Cup as NCHC regular-season champions — the program's 15th regular-season conference title. The Pios entered the NCAA Tournament with the nation's sixth most productive offense at 3.85 goals per game, but went cold when they could least afford it.
As a result, DU's quest to surpass Michigan for most men's hockey national titles (both have nine) will have to wait another year.
Want more sports news? Sign up for the Sports Omelette to get all our analysis on Denver's teams.
Source: Read Full Article