Collin Morikawa Wins Workday Title on a Day of Tributes to Woods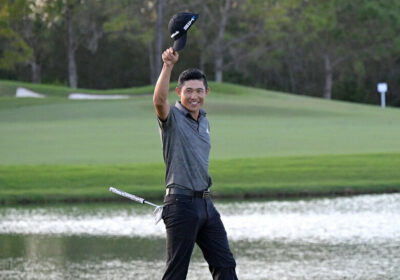 BRADENTON, Fla. — Although he was atop the leaderboard, Collin Morikawa stumbled repeatedly on Saturday and Sunday at the PGA Tour's Workday Championship, even calling one of his setbacks "stupidity at its finest."
But surmounting the unsettling vicissitudes of golf with a winning, steely resolve is becoming the hallmark of Morikawa's career. Such a performance seemed especially appropriate on Sunday when tour players and fans honored Tiger Woods by wearing red shirts and black pants, Woods's signature final-round outfit.
In the end, Morikawa, 24, confidently persevered with a three-stroke victory in the World Golf Championship event to join Woods as the only player to win a major golf championship and a World Golf Championship event before age 25. Like many in the tournament's field, Morikawa, who won last year's P.G.A. Championship in August, grew up idolizing Woods. Standing next to the 18th green Sunday evening, Morikawa said of Woods, who remained hospitalized after a car crash in Los Angeles County, Calif., on Tuesday, "Tiger means everything to me."
He added: "I don't think we say thank you enough, so I want to say thank you to Tiger because sometimes you lose people too early."
Morikawa mentioned Kobe Bryant and his paternal grandfather, Toshio, who he said died a month ago.
"You don't get to say thank you enough," Morikawa said.
The third-round leader, Morikawa turned in a Woods-like performance on Sunday, holding off the strongest tour field so far this year. It was Morikawa's fourth PGA Tour victory, a stunning turnaround from his first, inglorious moment in the tour spotlight only eight months ago.
At the Charles Schwab Classic in June, which was the first tournament last year after the men's tour's 90-day layoff because of the pandemic, Morikawa missed a three-foot putt that ended a two-man playoff that he lost. Just three events later, he won his first pro tournament, then added the P.G.A. Championship. Morikawa has ascended to sixth in the world rankings with a string of steady performances.
Going through the crucible of successfully defending his third-round lead at the Concession Golf Club could be a springboard to more victories.
"It makes me a little more comfortable after sleeping on the lead knowing that guys were ready to go low today," Morikawa said. "I do feel confident."
Morikawa did not wear a red shirt in the final round, although his clothing manufacturer shipped him one. He said weather might have delayed the arrival.
Morikawa was pursued on Sunday by two other young hotshots, Viktor Hovland, 23, and Scottie Scheffler, 24. He also had to fend off Brooks Koepka, a four-time major winner. Hovland made eight birdies to pressure Morikawa, who entered the final round with a two-stroke lead, but he faltered with bogeys on the 14th and 16th holes and finished in a three-way tie for second. Scheffler also had eight birdies, but a double bogey on the par-4 16th hole was his undoing and dropped him to fifth place. Koepka had an up-and-down round with five birdies and three bogeys, which stalled his charge, although he managed to tie Hovland and Billy Horschel for second.
On Saturday, after Morikawa three-putted the 13th hole to make bogey, he called the outcome "stupidity at its finest." He three-putted the 13th hole again on Sunday, but this time it led to a par, which was all he needed at the time to hold on to his three-stroke lead.
"I said that yesterday because I psyched myself out before I even played the 13th hole," Morikawa said of his "stupidity" remark. "But I learned from yesterday."
Honoring Tiger Woods, in Red and Black
Honoring Tiger Woods, in Red and Black
To honor Tiger Woods, who remains hospitalized after a car crash, a number of PGA Tour golfers, like Tommy Fleetwood and Cameron Champ, wore his signature final-round outfit at the Workday Championship on Sunday.
See more of the tributes →
Honoring Tiger Woods, in Red and Black
Several golfers who play Bridgestone golf balls, as Woods does, used balls imprinted with his usual marking, "TIGER." One of the players, Bryson DeChambeau, said Woods was a mentor and role model.
Honoring Tiger Woods, in Red and Black
Dozens of spectators in the galleries here — as well as support staff members working the tournament — wore red shirts, hats, T-shirts and face masks during the final round.
Honoring Tiger Woods, in Red and Black
At an L.P.G.A. Tour event near Orlando, Annika Sorenstam, 50, was playing a tour event for the first time in 13 years. Sorenstam, who has played in team events with Woods, sported a red golf shirt and a black skirt.
Honoring Tiger Woods, in Red and Black
While Woods's colleagues have generally avoided wearing red shirts during final-round play during his prime, Rocco Mediate famously chose to wear a red shirt, black vest and black pants at the 2008 United States Open. Mediate lost to Woods in a playoff.
Honoring Tiger Woods, in Red and Black
At the Puerto Rico Open, an alternate PGA Tour event, the maintenance staff also honored Woods on Sunday.
Honoring Tiger Woods, in Red and Black
Later on Sunday, Woods thanked fans and fellow golfers for their support.
It is hard to explain how touching today was when I turned on the tv and saw all the red shirts. To every golfer and every fan, you are truly helping me get through this tough time.
Collin Morikawa, 24, won the Workday Championship by three strokes.
Source: Read Full Article