China revels in defeat of United States and Australia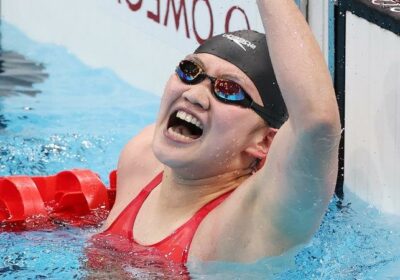 Tokyo: In less than 16 hours, China shaved off 8 seconds, a world record and an Olympic champion.
The Chinese women's 4x200m freestyle relay team had hoped for bronze. Instead they got gold in a race they were never expected to win, against rivals – Australia and the United States – who have grown up pencilling in victories in the pool.
Li Bingjie celebrates China's winning gold in the women's 4 x 200m freestyle relay final, ahead of the US and Australia.Credit:Getty Images
A relay win reveals the depth of a squad. No one individual – Sun Yang, Ariarne Titmus or Katie Ledecky – can carry an entire team home.
These four women, Yang Junxuan, Tang Muhan, Zhang Yufei and Li Bingjie, have known each other since they were tadpoles.
Overnight, they went from recording a semi-final time of 7:48 to triumph in 7:40. In doing so they took more than a second off Australia's world record, relegating Titmus' Dolphins to bronze and the US champions from 2016 to silver.
Katie Ledecky (USA), Ariarne Titmus (Australia), Siobhan Bernadette Haughey (Hong Kong) and Junxuan Yang (China) in the women's 200m freestyle final on Thursday.Credit:Getty Images
They surprised even themselves. "We didn't expect to win the gold, we just tried to finish third because Australia and the United States are very strong," said Li.
Xu Qinduo, a senior researcher at China's Pangoal Institution, said a win in swimming would mean more than the sports in which China has long flourished, such as badminton and table tennis.
"This medal is probably much heavier than others in particular in the fields where Chinese athletes enjoy advantages," he said. "Swimming used to be the weak area of Team China. Now we see the start of change."
China is now reaping the rewards of intense state-backed programs that make swimmers rise at 5.30am and train for eight hours a day. Plucked into elite teams at the age of six or seven. The repetitive rote learning common in the classroom is transferred to the pool and reinforced through ideology.
Chinese gold medallists Junxuan Yang, Yufei Zhang, Bingjie Li and Muhan Tang after the medal ceremony for the women's 4 x 200m freestyle relay on Thursday.Credit:Getty Images
Chinese state media described the mantra by quoting British soccergreat Bill Shankly this week: "If you are first you are first. If you are second you are nothing".
China's Olympic results have in the past been clouded in doping scandals, but its swimmers maintain its programs are now clean. China took home 16 medals in swimming and diving in Rio. It already has four in the swimming alone in Tokyo, including two golds, one better than it had four years ago.
They are remarkable returns for a country in which 60,000 people die each year from drowning. In Hebei province, which surrounds Beijing, a 2016 survey found that only 10 per cent of teenagers could swim. It was not much better on the island of Hainan, where only 20 per cent could keep themselves afloat.
Yufei Zhang of China competes in the women's 200m butterfly final in Tokyo on Thursday.Credit:Getty Images
A keen swimmer, Chinese President Xi Jinping has been on a personal drive to promote sport throughout the country. In Beijing, a leader's rhetoric is rarely empty, from it flows investment and targets.
"Sport is an important symbol of social development and human progress," he told Chinese athletes in 2013. "It is the epitome of a country's strength and civilisation."
For those watching in Tokyo on Thursday, it was hard to miss the symbolism of China's women charging ahead of the United States – its great geopolitical rival – and Australia, a country of 24 million swimmers it has hit with $20 billion in trade strikes.
Never miss a medal or great sporting moment with our Olympic update emailed daily. Sign up for our Sport newsletter here.
Most Viewed in Sport
From our partners
Source: Read Full Article