Chelsea in talks over £1.5bn stadium project with complete rebuild of Stamford Bridge the 'most likely option' | The Sun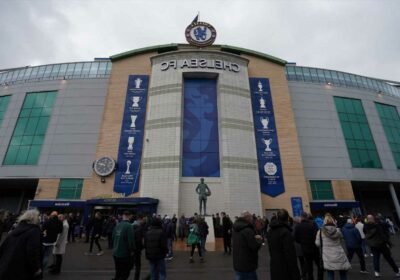 CHELSEA are in talks over a £1.5bn stadium project with a complete rebuild of Stamford Bridge the "most likely option" for owner Todd Boehly.
The American billionaire and his co-controlling owner Behdad Eghbali are determined for the club to have one of the greatest stadiums on the planet by 2030.
It is understood that the Blues currently have three options regarding their home ground.
One is to start work on and build a completely new site.
Another is knocking down their current home and rebuilding a new ground from scratch and the other is just to redevelop Stamford Bridge.
And The Telegraph says that demolishing their West London ground and building a brand new one in its place on the existing site is "currently emerging as the most likely option".
READ MORE ON CHELSEA
Win an incredible Rolex Sky-Dweller or £18k cash alternative from just 89p
I'm a former Chelsea and Saints star who quit footy to run a PANCAKE SHOP
However, they also stressed that no final decision is yet to be taken.
Chelsea board member Jonathan Goldstein is in charge of the project along with Janet Marie Smith, who is the executive vice president of planning and development for the Boehly-owned LA Dodgers.
He is in talks with the Chelsea Pitch Owners [CPO] and is waiting to see if a £50m bid to buy land next to Stamford Bridge is successful.
That is a 1.2 acre site which currently belongs to housing association Stoll.
Most read in Football
Shock row leaves Liverpool ace with bloodied mouth & two Porto players sent off
FA Cup quarter-final draw revealed as Man Utd and City find out opponents
Roy Keane fumes at Ian Wright after his astonished reaction to Rice rant
Weghorst showed in just five seconds why Ten Hag signed him for Man Utd
But if the club could purchase that then it would provide a huge boost to building on the current location of their home.
FREE BETS AND SIGN UP DEALS – BEST NEW CUSTOMER OFFERS
Boehly and Clearlake have previously assured the CPO that any move away from there would be with their backing.
CPO chair Chris Isitt said: "The CPO is having positive talks with the club about redevelopment.
"We understand this is a complicated project which needs careful consideration, but we share the common aim, which is to have the best stadium in London."
Source: Read Full Article