CA's unlikely ally for early vaccine access for Test stars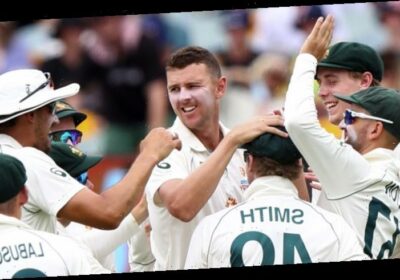 The country's peak medical body says it would be "perfectly reasonable" for the nation's top cricketers to be part of the first group of Australians to be given access to the COVID-19 vaccine before they depart for their Test tour of South Africa next month.
It came as Sports Minister Richard Colbeck effectively shot down the NRL's plans for its players to be given priority access after health workers and at-risk individuals were vaccinated.
The Australian Medical Association says Cricket Australia has a strong case to request for priority access to the COVID-19 vaccine for its players for the tour of South Africa.Credit:AP
"I think it's extremely important to point out they are touring a high-risk country, they are a very small number of people, they are providing a service that is an enormous benefit to a large number of Australians and they are not taking vaccine doses away from vulnerable Australians," AMA board member Dr Antonio Di Dio told the Herald and The Age.
"Quite the opposite. It's extremely likely there will be enough doses for every single person.
"Because of those four reasons it is not an unreasonable request by CA. It demonstrates CA, like every sporting organisation, will need to present their case with intelligence, reason and an enormous amount of respect to all the vulnerable Australians who should be at the head of the queue."
CA can withdraw from the tour but national boards are mindful of the need to support other nations in order to keep the game financially afloat around the world. India's tour this summer was worth about $300 million to CA.
Under biosecurity protocols to be finalised by CA and the South African board, players will be living in a bubble on tour able to leave the team hotel only to train or play the match.
Even with the vaccination, Dr Di Dio warned, life on tour would not be returning to normal for players, who would still need to practice social distancing and other precautions.
"The only thing that will change is they will have a reduced statistical risk of catching it and a reduced risk of how sick they will get," Dr Di Dio, a self-confessed cricket tragic, said.
"The actual day to day life won't change at all. If it does change one iota then they are being extremely selfish but they will be given that advice when they take the shot."
Dr Di Dio said CA, with its cricketers visiting a high-risk nation, should be able to demonstrate a strong case without setting a precedent for other major codes such as the AFL and NRL, played exclusively in Australia and in the latter's case also New Zealand.
"It's chalk and cheese," Dr Di Dio, a former team doctor for the North Sydney Bears, said.
ARL Commission chairman Peter V'landys confirmed this week the NRL would request for players to be vaccinated at the third phase of the vaccine roll-out, or the 2a stage, along with 453,000 critical and high-risk workers.
Senator Colbeck told the Sydney Morning Herald and The Age athletes are not expected to receive their vaccinations until the fourth and final group of the adult population. He had said earlier this week plans were in place for athletes to be vaccinated for the Olympics, rescheduled to start on July 24.
"I have received expert advice from the Australian Technical Advisory Group on Immunisation (ATAGI) on a vaccine rollout plan. It is expected most athletes will fit into Phase 2b of the rollout," Senator Colbeck said.
"The government has been engaging with representatives of the Australian Olympic Committee and national sports bodies on the rollout of the vaccine over coming months and to understand their needs in the lead up to the Olympics."
Sport newsletter
Sports, results and expert commentary delivered straight to your inbox. Sign up to the Herald's weekday newsletter here and The Age's weekly newsletter here.
Most Viewed in Sport
Source: Read Full Article