Awkward moment Anthony Joshua silences Louis Theroux in explosive preview for BBC documentary | The Sun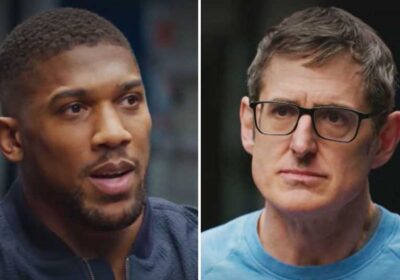 ANTHONY JOSHUA awkwardly silenced Louis Theroux in an explosive preview for an upcoming BBC documentary.
British boxing ace AJ sat down with the popular reporter for a tell-all interview which will be aired on Tuesday evening.
But a brilliant preview of the BBC documentary revealed their talk was not friendly the whole way through.
As the chat progressed, things turned to Joshua's bizarre post-fight antics after losing to Oleksandr Usyk.
Joshua famously threw the heavyweight belts out of the ring before launching into a rant on the microphone.
He said at the time: "If you knew my story you would understand the passion.
READ MORE ON BOXING
'NO PROBLEM'
Joshua ready to fight Ngannou this Christmas after Fury shock, says Hearn
EURO CASH
Get £40 football welcome bonus with Betfred ahead of huge Champions League week
"I ain't no amateur boxer from five-years-old that was an elite prospect from youth.
"I was going to jail, I got bail and I started training my arse off, I wanted to be able to fight.
"I'm stealing this Usyk, I'm sorry, but it's because of the passion we put into this."
But Theroux clearly touched a nerve as he discussed the incident, with a preview video showing Joshua attempting to shut him down.
Most read in Boxing
IT'S A DATE
Boxing ring girl Apollonia Llewellyn reveals first look at stunning calendar
NOU PLANS
Fury vs Usyk new date to be confirmed 'next week' after Ngannou delays bout
RING IT IN
Tommy Fury reveals what Jake Paul messaged him privately after KSI fight
'RARING TO GO'
Adam Smith announces Sky Sports exit after 30 years as he beats cancer
FREE BETS – BEST BETTING OFFERS AND BONUSES NEW CUSTOMERS
Theroux was unhappy with an answer from the ex-heavyweight world champion about the incident.
And Joshua was not having it either as he fought back in an awkward exchange. 
Joshua said: "That was an ego and pride thing coming out. I brought this heavyweight division back – that was in me. 
"Right or wrong, probably wrong."
Theroux interrupted: "Probably wrong, probably wrong I think. I don't think anyone says it was the right thing to do."
Joshua looked irritated as he replied: "You asked me a question and I'm answering it."
A second preview clip continued the discussion about Usyk.
Theroux said: "You took the belts and dropped them over the side."
Joshua answered: "It was like that these don't even mean anything anyway.
"I've thrown them because that's what I've felt like and grabbed the mic, I addressed the crowd.
"Could I have done it better? Of course I could have. I felt frustrated, annoyed.
"I knew I was out of the title race and then the questions started, 'what is he like? Where is his head at?'
Read More on The Sun
TIME TO QUIT
Signs you're borderline alcoholic & tips to cut back as Adele admits struggle
CHOC HORROR
Cadbury discontinues Christmas chocolate – but savvy shoppers find Costco dupe
"All this 'can he be three-time champion of the world?' People create this narrative and put pressure on me.
"It's too much. Gone are the days it was for the fun, when you're just doing it for the passion, you're a prospect."
Source: Read Full Article