Australian relay team set new world record, McKeon claims fifth gold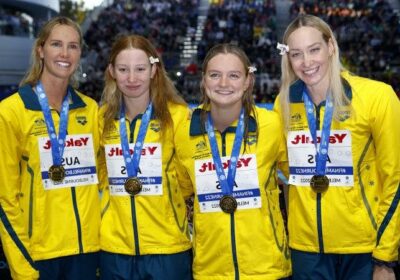 Australia stormed home in a stacked meet to set a new world record in the women's 4x50m medley relay, kicking off Saturday's proceedings at the short-course World Swimming Championships with another gold and cheque for $37,000.
Emma McKeon, Chelsea Hodges, Madison Wilson and Mollie O'Callaghan faced fierce competition across every lane, including a USA team spearheaded by Lilly King, but clinched the title with a time of 1:42.35 — 0.06 seconds ahead of the Americans.
McKeon later won the 50m freestyle to join an elite group of international swimmers – including Libby Trickett, Le Jingyi, Therese Alshammar and Ranomi Kromowidjojo – who have claimed both the 50m and 100m world titles.
McKeon has won five gold medals at these championships, including the women's 50m and100m freestyle, 4x100m freestyle relay, and 4x50m medley relay.
Wilson said she had "the best time" in the medley relay, anchoring the team for her first time, as McKeon swam butterfly.
"I knew it was going to be tight just to come away with a medal so to come away with the win and then the world record on top is the first time I've been really, really surprised by it actually," said Wilson.
"Obviously, we have very successful freestylers in our country, so it's rare that I get put on the end of a medley relay, but it was really exciting and an amazing experience.
"I definitely felt a lot of pressure because I knew the three girls in front of me were going to do an amazing job, so I wanted to make sure I did the best job I could for the team."
O'Callaghan gave the nation an early lead, blitzing the competition off the blocks in her backstroke leg, while Hodges rounded out the squad with breaststroke.
McKeon told Channel Nine after the race she "didn't realise it was that quick" and was happy with her splits, admitting she isn't "a 50m butterfly specialist".
"I began the week off a little bit rocky. I wanted to get this finals spot because I knew that we could do something special … I knew I had to go quick because I knew the other girls would be pretty quick," she said.
McKeon's 50m freestyle win also brought Australia one swim away from a complete sweep of the women's freestyle events, an unprecedented achievement in championship history for any nation.
With 20-year-old Lani Pallister already creating history by taking out the 400m, 800m and 1500m treble over the course of the competition, it's now up to Wilson and Leah Neale in the 200m freestyle on Sunday to complete the all-gold women's freestyle set.
Meanwhile, the Australian men delivered a bronze medal in the men's 4x50m medley relay, with 18-year-old Isaac Cooper back after a controversial technical error denied him his first individual world title the night prior.
Bronze medallists Isaac Cooper, Grayson Bell, Matthew Temple and Kyle Chalmers of Australia pose during the medal ceremony for the men's 4x50m medley relay final. Credit:Daniel Pockett, Getty
Chalmers, who's had a packed schedule this meet, finished seventh in the men's 50m freestyle where Jordan Crooks delivered the Cayman Islands its first-ever medal at the world championships, and a gold at that.
"I hope it shows, you know, any little kid out there that may doubt themselves or may think that because they don't have the specific resource, they may not be able to do it, that it is possible and there's not really a set way to do things," Crooks said.
Crooks finished with a time of 20.46 — 0.03 seconds ahead of Great Britain's Benjamin Proud, whose silver is the second podium finish for his nation.
Australians Alexandria Perkins and Matthew Temple both qualified for their respective 100m butterfly finals on Sunday after placing sixth and seventh overall in the semi-finals.
Most Viewed in Sport
From our partners
Source: Read Full Article