Arsenal vs West Brom LIVE RESULT: Willian finally SCORES as Baggies relegation is CONFIRMED – latest reaction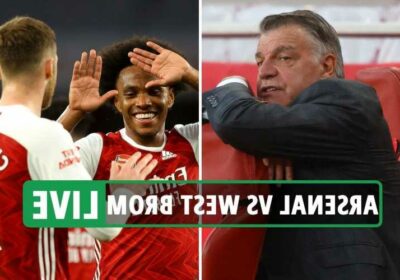 WEST BROM have been relegated from the Premier League after losing 3-1 at Arsenal.
Sam Allardyce has now been relegated from the top flight for the first time as a manager.
Emile Smith Rowe, Nicolas Pepe and Willian – opening his Gunners account – scored for Arsenal.
Follow all of the latest updates below…
Sam Dymond

ALBION DOWN AND OUT

Relegation from the Premier League? West Brom know all about that.

Their manager, on the other hand, is experiencing it for the first time.

Sam Dymond

FULL TIME STATS

Arsenal's seven shots on target tonight is the second-most they've managed in a Premier League match this season.

The most? The 12 they registered in the 4-0 win at West Brom in January.

They're going to miss playing them.

Sam Dymond

FT: ARSENAL 3-1 WEST BROM

West Brom are beaten in London, and their immediate return to the Championship is confirmed. Albion gave it a go in the second half, and Matheus Pereira halved the half-time deficit with a superb solo goal, but Willian's free-kick in the final minute – his first Arsenal goal – condemned the Baggies to the drop.
Sam Dymond

PEEEEEEEEEEEEEEEEEEEEP!
THE FINAL WHISTLE GOES!
WEST BROM ARE RELEGATED!

Sam Dymond

ARSENAL 3-1 WBA

90+2. Into five minutes of additional time, and while West Brom haven't given up, they know their time in the Premier League is almost over.

Pereira looks for his second as he connects with a cross from the left, but it's blocked at close range by Holding.

Sam Dymond

ARSENAL 3-1 WBA

90. He's done it! Willian has his first goal in an Arsenal shirt!

The Brazilian won the free-kick with that burst of pace and piece of trickery, and made it clear that he wanted to take it too. For once, he didn't disappoint.

Central and 25 yards from goal, the forward curled a beauty over the wall and into the top left corner beyond Sam Johnstone.

Sam Dymond

GOOOOOOOAAAAAAALLLLLL!!
WILLIAN SCORES!!
HIS FIRST ARSENAL GOAL!!

Sam Dymond

ARSENAL 2-1 WBA

89. There's some tired legs out there now, but remarkably two of them aren't Willian's.

The Brazilian shows a change of pace, and then beats an opponent to a loose ball to win a free-kick 25 yards from goal.

Sam Dymond

ARSENAL 2-1 WBA

87. Have West Brom got one last push in them?

If they have, it will have to come soon because Arsenal are beginning to recompose themselves on the ball.
Sam Dymond

ARSENAL 2-1 WBA

85. The Arsenal players are getting nervous.

The Arsenal fans are getting nervous.

Anyone would think it was them staring relegation in the face.

Sam Dymond

ARSENAL 2-1 WBA

84. A wayward Tierney cross is met by a wayward Chambers shot.

Wayward.

Sam Dymond

ARSENAL 2-1 WBA

83. Willian plays an incisive pass into the feet of Pepe on the right, and the Ivorian looks primed to attack.

However, that's reckoning without Townsend, who executes a perfect block tackle to win back possession.

Sam Dymond

ARSENAL 2-1 WBA

81. Lacazette is stunned to concede a free-kick in his own half, but it brings another deal ball opportunity for Albion to send up the big men.

Pereira delivers into the box, and again it's Furlong that gets his head on it. Over.

Sam Dymond

ARSENAL 2-1 WBA

80. Willian receives some treatment.

It's probably for the shock brought on by realising he's going to have to play the full 90 minutes.

Sam Dymond

ARSENAL 2-1 WBA

77. Arsenal make their third and final change.

Dani Ceballos had also picked up a caution so Mikel Arteta's not going to risk him for the final stages. On comes Thomas Partey.
Sam Dymond

ARSENAL 2-1 WBA

76. Gallagher picks up a booking for a late challenge.

Sam Dymond

ARSENAL 2-1 WBA

75. Albion pack the penalty area for a long throw which causes an almighty scramble.

It's getting messy, it's getting physical, it's getting nervy.

Now Sam Allardyce's expertise is coming to the fore.

Sam Dymond

ARSENAL 2-1 WBA

73. Oooh! That could have – perhaps should have – been the equaliser.

It's a lovely cross from Phillips on the left that's met on the run by Furlong from full-back.

The defender gets a glancing header to the delivery, and sends it just wide of the far post with Leno rooted to his spot.

Sam Dymond

ARSENAL 2-1 WBA

72. Gallagher is starting to get himself on the ball for the visitors, and is causing Arsenal some problems.

Sam Dymond

ARSENAL 2-1 WBA

70. There might be some truth in Kyle Bartley's assumption.

Arsenal are now looking decidedly shaky at the back since conceding.

Sam Dymond

ARSENAL 2-1 WBA

67. Against the run of play, Mattheus Pereira pulls one back for West Brom in sensational style.

The Albion forward picks the ball up inside his own half, and runs and runs and runs and runs without challenge.

When an Arsenal player finally approaches the forward, he unleashes a peach of a low, left-footed drive into the bottom corner past the outstretched arm of Bernd Leno.

Maybe West Brom are still alive in the Premier League.
Sam Dymond

GOOOOOOOOOOOOAAAAAALLLL!!
MATTHEUS PEREIRA PULLS ONE BACK!!

Sam Dymond

ARSENAL 2-0 WBA

65. More of the same. A dangerous, low Saka cross. An Arsenal forward diving in but failing to connect.

Lacazette is the non-recipient on this occasion, butt the offside flag was already up.

Sam Dymond

ARSENAL 2-0 WBA

63. A second Arsenal sub brings Kieran Tierney into the game.

Emile Smith Rowe is the man to make way, and it may mean that Bukayo Saka is pushed further forward.

Sam Dymond

ARSENAL 2-0 WBA

61. Robson-Kanu has made his mark off the bench – on Elneny's mouth.

The West Brom waves an arm into the face of his marker as they jostle for possession, leaving the Arsenal man on the deck with a bloodied lip.

Peter Bankes issues a yellow card, and Mike Dean on VAR advises no further action.
Source: Read Full Article