Arsenal vs Everton LIVE REACTION: Gunners lose 1-0 to Toffees thanks to HORROR Leno OWN GOAL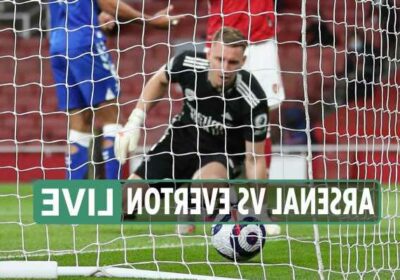 ARSENAL lost their vital clash with Everton 1-0 at the Emirates after a horror own goal by goalkeeper Bernd Leno.
The loss followed tensions off the pitch as Gunners fans protested outside the ground before the game over Stan Kroenke's ownership.
RESULT: Arsenal 0-1 Everton
Arsenal XI: Leno, Chambers, Holding, Mari, Xhaka, Ceballos, Partey, Saka, Smith Rowe, Pepe, Nketiah
Everton XI: Pickford, Coleman, Godfrey, Holgate, Digne, Allan, Andre Gomes, Sigurdsson, Calvert-Lewin, Rodriguez, Richarlison
FREE BETS: GET OVER £2,000 IN SIGN UP OFFERS HERE
Follow ALL the action with our live blog below…
Joshua Mbu

LENO……..

Gary Neville – one of many who led the fight against the proposed Super League – appears to like the fact that Arsenal have lost.

Arsenal were going to be one of 12 founding members up until the massive u-turn.

Joshua Mbu

FT: ARSENAL 0-1 EVERTON

Arsenal started the second half the bright and they thought they had a penalty after Ceballos was tripped by Richarlison.

But VAR intervened and Pepe was judged to be offside in the build-up and it was an incredibly tight call.

The direction of the game looked like it was going to end a draw.

But a colossal mess by Leno handed Everton all three points when he spilled Richarlison's tame shot into the back of his own net.

Joshua Mbu

PEEEEEEEEEEEEEP!

THE FULL-TIME WHISTLE GOES AT THE EMIRATES!

EVERTON TAKE ALL THREE POINTS!
Joshua Mbu

ARSENAL 0-1 EVERTON

90+2. SAVE!

Willian finds Partey on the edge of Everton's penalty area.

The midfielder then plays a wonderful pass to find Martinelli – who we've barely seen – inside the box.

The Brazilian gets a shot off at the near post but Pickford saves!

Joshua Mbu

ARSENAL 0-1 EVERTON

90. The fourth official holds his board up and there will be four additional minutes added on.

Four minutes for Arsenal to rescue a point.

Joshua Mbu

ARSENAL 0-1 EVERTON

89. SUBSTITUTION!

Ancelotti is making another change and he's bringing on a defender. Richarlison makes way for Mina.

Joshua Mbu

ARSENAL 0-1 EVERTON

87. Oh Leno…… take a look at his calamitous error for Everton's goal.

Joshua Mbu

ARSENAL 0-1 EVERTON

85. SUBSTITUTION!

Rodriguez makes way for Davies

Joshua Mbu

ARSENAL 0-1 EVERTON

84. Arsenal have done themselves NO favours and they find themselves a goal behind with five or so minutes to go.
Joshua Mbu

ARSENAL 0-1 EVERTON

82. SUBSTITUTION!

Mikel Arteta makes another change and Willian comes on for Chambers.

Joshua Mbu

ARSENAL 0-1 EVERTON

77. VAR has a look for a possible offside, but the goal stands.

Joshua Mbu

ARSENAL 0-1 EVERTON

76. Xhaka fails to cope with Richarlison and the Brazilian gets to the byline.

Richarlison gets a shot off – but it's not on target – and the ball goes through Leno's legs and into the back of the net!

It's going to go down as an own goal, it took a sight deflection off the keepers leg on the way through.

Gift by the Gunners, the Toffees lead at the Emirates!

Joshua Mbu

GOOOOOOAAAAAALLL!!!

LENO MAKES AN ABSOLUTE MESS OF A TAME SHOT!!!

EVERTON LEAD!!!

Joshua Mbu

ARSENAL 0-0 EVERTON

75. SUBSTITUTIONS!

Arsenal make a double change, Odegaard and Martinelli are on for Pepe and Nketiah.

Martinelli will play through the middle.

Joshua Mbu

ARSENAL 0-0 EVERTON

73. Everton work the ball back to goalkeeper Pickford.

The keeper shapes up to clear, but takes an extra touch and almost gifts a goal to Nketiah.

But he manages to play the ball out before being fouled by the Arsenal forward.
Joshua Mbu

ARSENAL 0-0 EVERTON

69. Arsenal catch Everton out with a quick throw down the line to Saka.

The Arsenal No7 gets to the byline and drives a low cross towards the near post, but Pickford gathers.

Joshua Mbu

ARSENAL 0-0 EVERTON

68. YELLOW CARD!

Delph – who has just come on – is booked for hacking down Smith Rowe on the halfway line.

Joshua Mbu

ARSENAL 0-0 EVERTON

66. SAVE!

Pepe holds the ball up on the left-hand side before playing the ball inside to Ceballos.

The Spaniard shifts the ball onto his favoured right foot and sends a shot towards the far corner but Pickford saves!

Joshua Mbu

ARSENAL 0-0 EVERTON

64. SUBSTITUTION!

Gomes' evening comes to an end and he is replaced by Delph just past the hour mark.

Joshua Mbu

ARSENAL 0-0 EVERTON

62. YELLOW CARD!

Holgate leaves Pepe rolling around on the ground after a reckless challenge and the Everton defender is booked.

Joshua Mbu

ARSENAL 0-0 EVERTON

61. Arsenal have stepped up the tempo.

Inside the Emirates

Credit: GETTY IMAGES

Outside the Emirates

Credit: GETTY IMAGES
Joshua Mbu

ARSENAL 0-0 EVERTON

57. Saka drives into Everton's penalty area before laying the ball wide to Chambers to his right.

The right-back sends a low cross into the box, the ball deflects off Holgate and hits the side netting.

Arsenal corner.

Joshua Mbu

ARSENAL 0-0 EVERTON

55. YELLOW CARD!

Allan is booked.

Joshua Mbu

ARSENAL 0-0 EVERTON

54. Richarlison drives down the right-hand side and into Arsenal's penalty area.

The Brazil international tries to cut the ball back towards the penalty spot but it takes a deflection off Mari.

Everton claim for handball but the referee as well as VAR don't agree.

Joshua Mbu

ARSENAL 0-0 EVERTON

53. NO PENALTY!

After a lengthy review, the penalty won't stand due to an offside in the build-up.

And Pepe who was set to take it is penalised.

It didn't really look like a penalty in the first place so the right call was made.

Credit: GETTY IMAGES
Source: Read Full Article