Ange Postecoglou vows Tottenham will SCARE Arsenal as North London rivals face off in huge clash | The Sun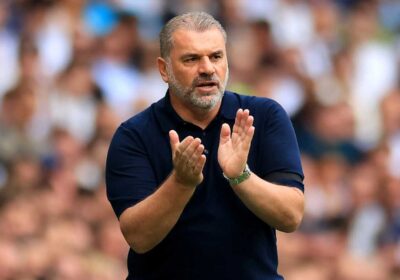 ANGE POSTECOGLOU vowed to "scare the life" out of Arsenal in his first North London derby.
Postecoglou's attacking style is thrilling Tottenham fans with new boy James Maddison pulling the strings.
And the Aussie promised there will be no let-up at the Emirates tomorrow.
Asked if he would curb his attacking instincts against top sides, the 58-year-old roared: "We're not changing. We'll go out and scare the life out of them."
Arsenal and Spurs have both taken 13 points from their opening five Premier League games so far.
But even Pep Guardiola tweaked his tactics last term, going more direct to Erling Haaland at the Gunners.
READ MORE ON ARSENAL
I'm an Arsenal icon and people still call me by my inappropriate nickname
Get £30 in FREE BETS when you place any amount on any sports market with Sky Bet
Tottenham's last win at Arsenal was 13 years ago when Younes Kaboul's late strike earned Harry Redknapp's men a 3-2 victory.
Yet Postecoglou said: "I set up my team to play football that will win.
"You have to believe in that against all oppositions, in all kinds of circumstances.
"There are always tweaks that happen because the opposition will force you to adjust parts of your game.
Most read in Football
LIN IT TO WIN IT
Ex-Man Utd ace Lingard JOINS new club for a month as he trains with legend
GAB SMACKED
Arsenal dealt huge North London derby injury blow with starMISSING training
RAM SOLO
Dejected Arsenal fans say 'we don't need this' after spotting sad Ramsdale video
END OF THE DE
De Gea 'could RETIRE from football' if he doesn't receive suitable offer
CASINO SPECIAL – BEST CASINO WELCOME OFFERS
"But the underlying principles of the kind of team we want to be? No, I will not shy away from it now because we're facing a good team."
Rivals Arteta and Postecoglou could not have had more different paths to the top.
Arteta, 41, was Pep's No2 at Man City before getting the Arsenal job in December 2019.
Postecoglou started out in management 26 years ago but only got his shot at the big time this summer after jobs in Australia, Japan and then Celtic.
He even visited Man City during his time as Yokohama boss in 2018 – and was impressed while watching Arteta take a training session.
He added: "In terms of similarities… I'm 58, he's whatever. I've had 26 years, he's five years into it. He's managed in one country, I've managed in a few.
"I'm not sure how he's got a great head of hair… he's a lot fitter than I am.
"I wouldn't say we're opposites. We're different. Even in the way his team plays.
"Yes, he does have a very attacking philosophy but it's different from mine and that's the beauty of the game. That's what you love about it. It's why you can't copy.
"If you're an artist and you see a Picasso… yeah, you can copy it but it's not going to be a Picasso, is it? It's the same with football."
ARSENAL TRANSFER NEWS LIVE: Stay up to date with all the latest transfer news and rumours from the Emirates
Source: Read Full Article