Alexander Volkanovski's gamble shows the best and worst of the UFC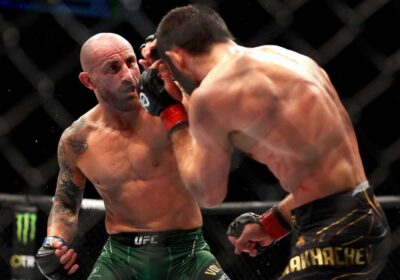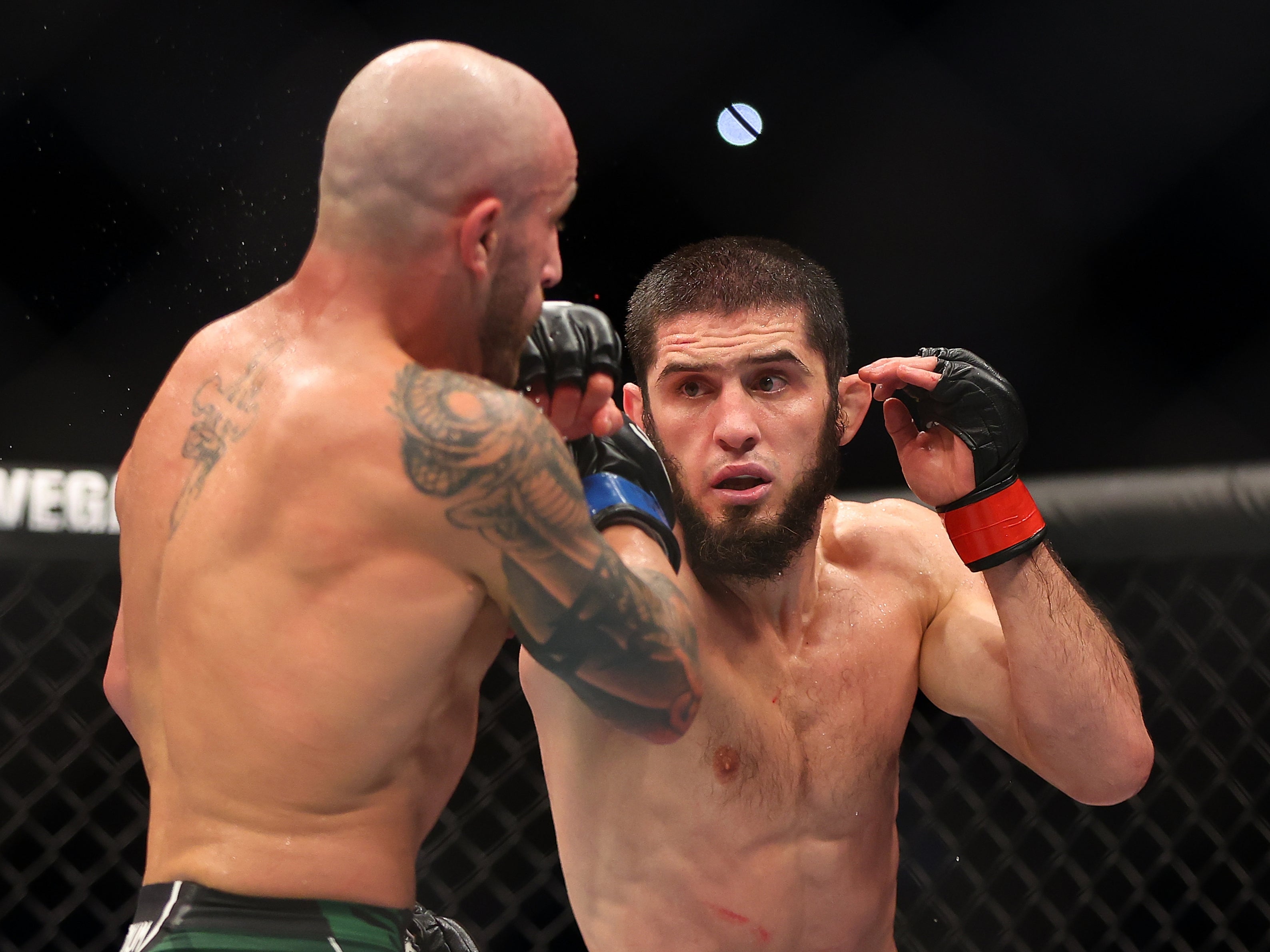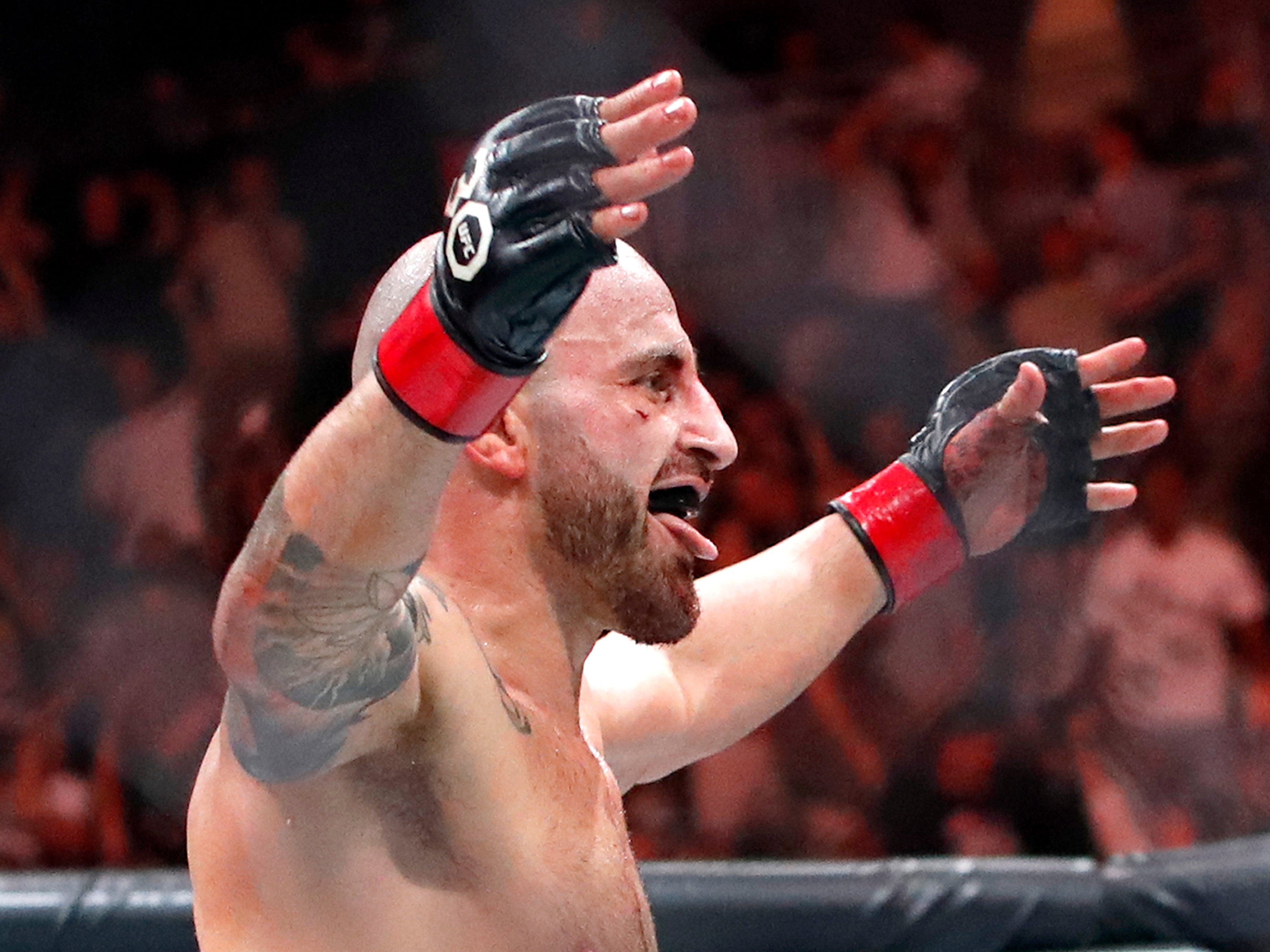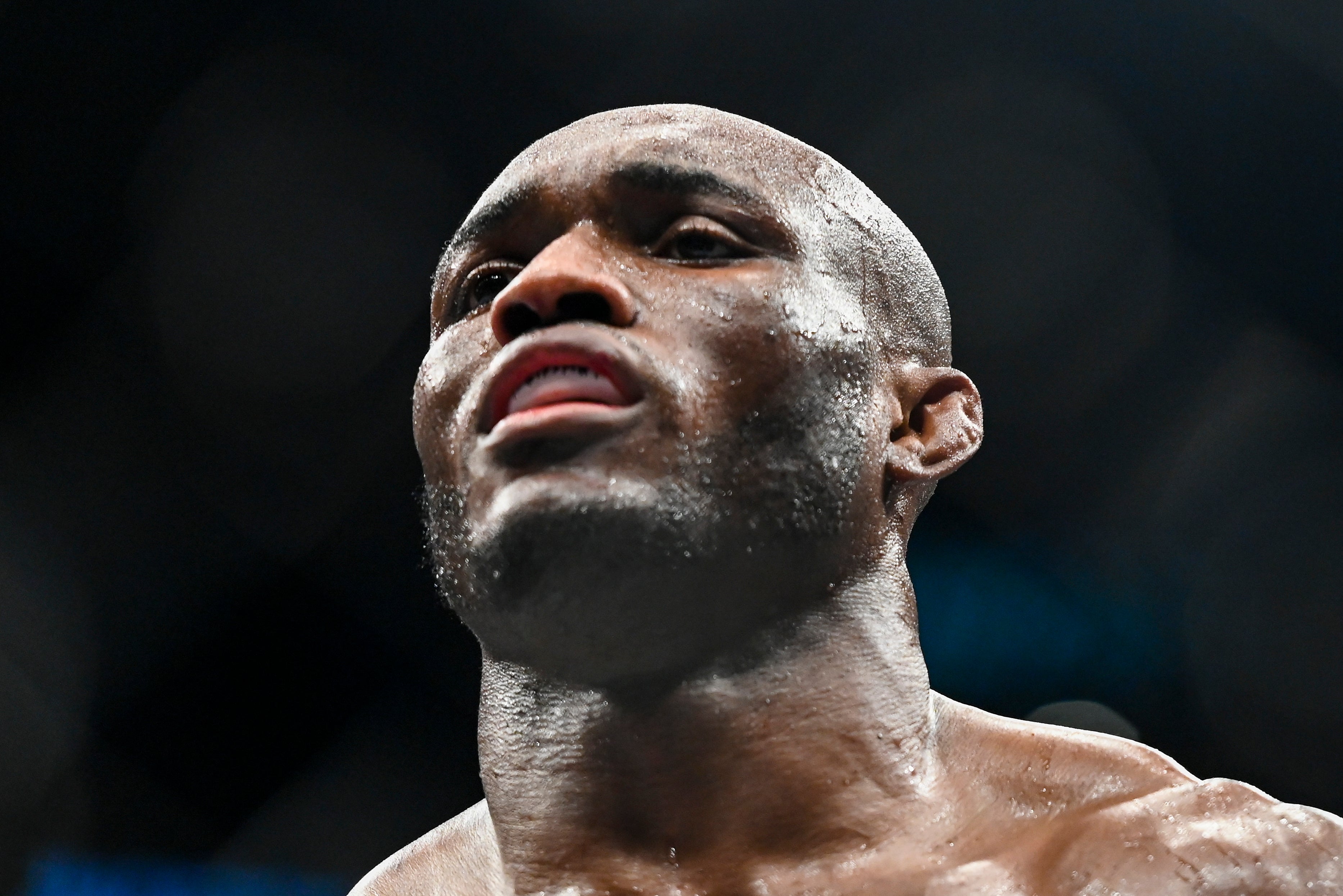 Oliveira will lean all of his weight on that sentiment in the weeks to come, while 145lbs champion Volkanovski will be leaning his own weight – plus an extra 10lbs – on Makhachev in their second clash in eight months. When the Australian, fighting on home turf in February, was ruled a decision loser against Makhachev, the result hardly relayed the razor-close nature of the fight.
Volkanovski, 35, landed more strikes than Makhachev, 30, but was marginally less clinical. Makhachev secured four of his nine attempted takedowns, though that actually inspired more praise of Volkanovski than the Russian; in repeatedly denying Makhachev – and in repeatedly rising from the mat when needed – Volkanovski had proven that the defending champion was not the unstoppable force that his friend and coach Khabib Nurmagomedov so often seemed.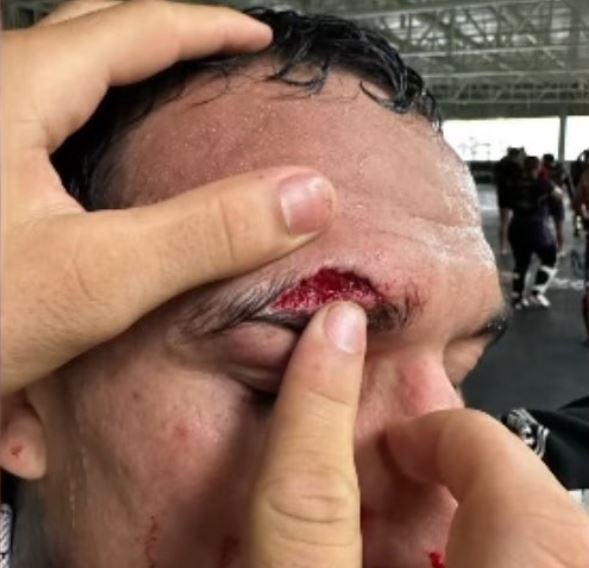 Oliveira was ruled out of UFC 294 after sustaining a nasty cut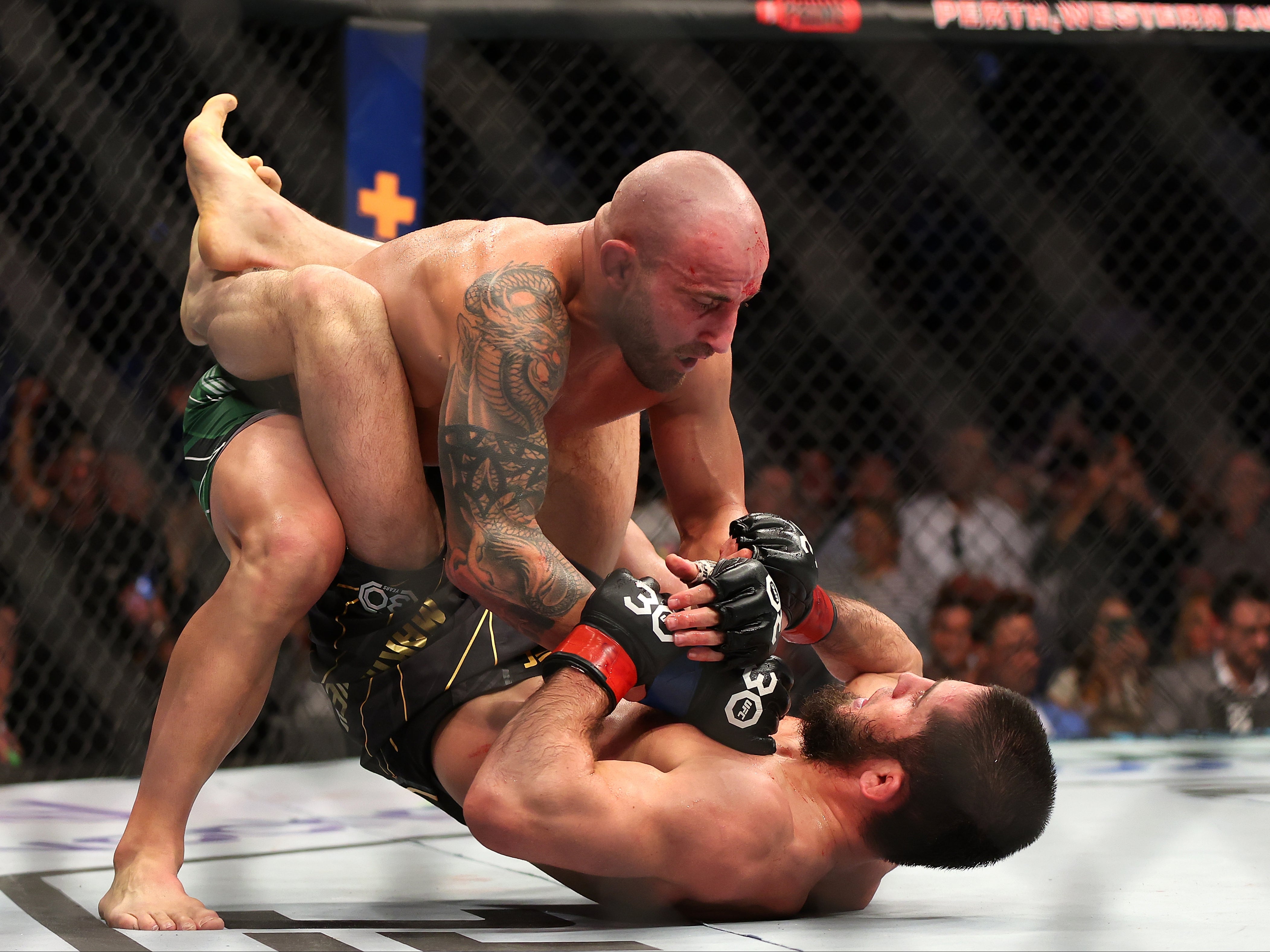 Volkanovski knocked down Makhachev in their first clash and was on top at the end of the bout
Volkanovski even knocked down Makhachev and finished the fight on top, denting the Dagestani's daunting reputation. The impressiveness of Volkanovski's performance was only augmented by the fact that he was moving up in weight. In fact, the Australian remained the Indy Sport pound-for-pound No 1 despite his loss to Makhachev.
It was a showing in stark contrast to Oliveira's against Makhachev, in which the jiu-jitsu specialist was beaten at his own game: submitted by the Russian wrestler in Round 2. Oliveira did not do himself justice that night, but justice was on the agenda for UFC 294. Instead, Volkanovski will bring his well-rounded game to the Etihad Arena, where he weighed in as a back-up fighter for Oliveira's defeat by Makhachev one year ago. Since that fateful evening, Oliveira has bounced back with a dismissive knockout of Beneil Dariush, while Volkanovski also got back to winning ways by stopping interim featherweight champion Yair Rodriguez in July.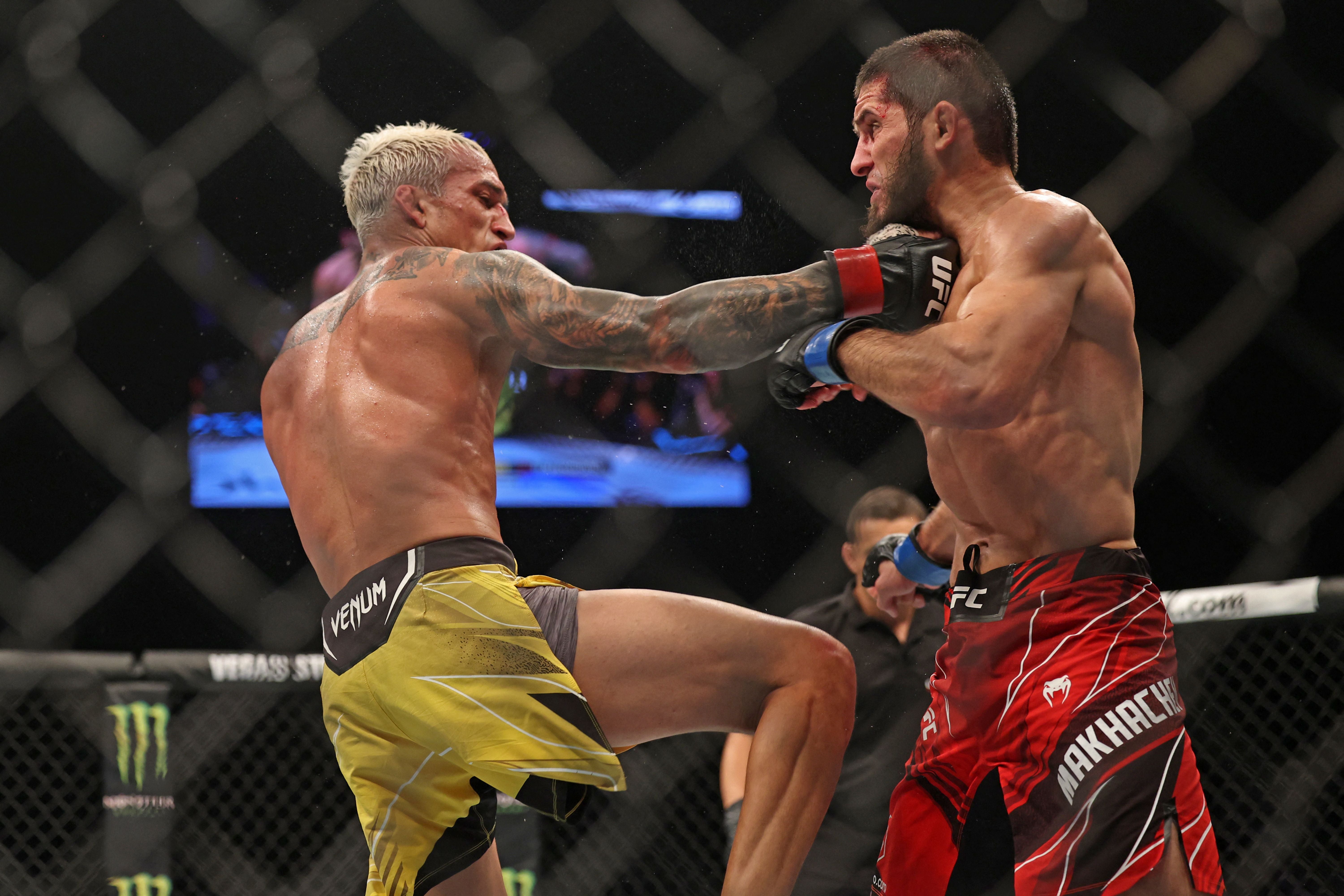 Makhachev dropped Oliveira before submitting him in October 2022
While Oliveira vs Makhachev 2 was, for some time, official, Volkanovski vs Makhachev 2 also felt inevitable, just not at this time nor under these circumstances. Those circumstances complicate the question of whether Volkanovski can go one better than he did in his initial clash with Makhachev; this time, the Aussie will challenge the Russian on just 11 days' notice, having recently undergone hand surgery.
Volkanovski is a consummate professional who will arrive as fight-fit as his body will allow, but even "Alexander The Great" has admitted that he does not want to find out how his cardio will hold up. "We'll try to make sure it doesn't go five rounds," he told Australian media last week. "I want to finish it early, I don't want to test his gas tank. Don't get me wrong, I think I can do it, but let's not try and test it."
Oliveira would have snapped your hand off for such a finish. Better yet, he would have snapped Makhachev's arm off for one. If Volkanovski can secure a stoppage, it will be one of the most arresting visuals in UFC history, in part due to the factors surrounding this new main event.
The same would apply to the co-main event, in which Kamaru Usman is on a similar venture to Volkanovski. The former welterweight champion will fight at 185lbs for the first time as he replaces Paulo Costa against Khamzat Chimaev, perhaps the fiercest prospect in MMA, on 10 days' notice. For all of the attributes that the Nigerian-American has exhibited in a Hall of Fame-worthy career, never has his courage been as clear as it is now.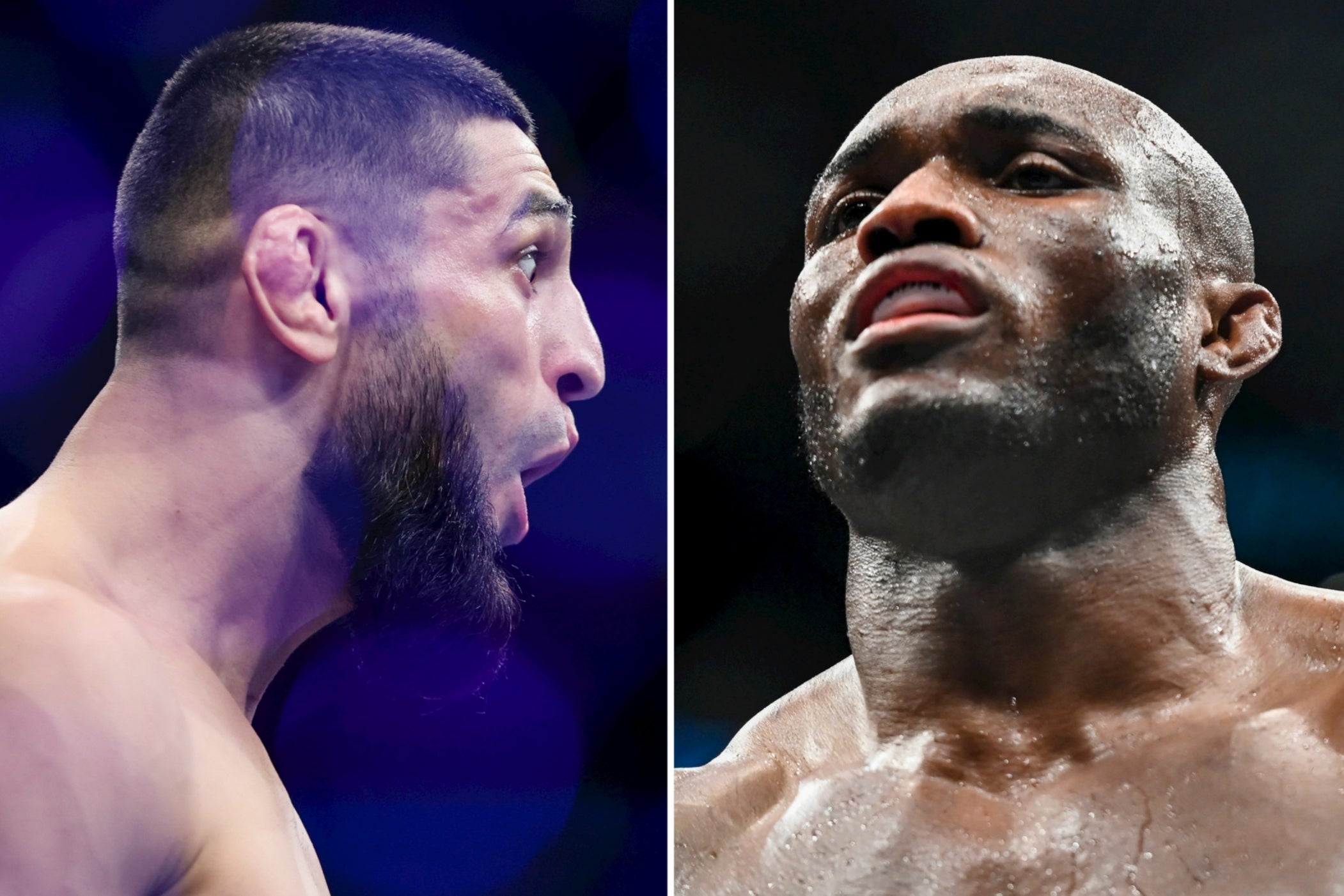 Khamzat Chimaev, left, and Kamaru Usman will clash in the co-main event of UFC 294
The same goes for Volkanovski, although he believes that his rematch with Makhachev is a win-win scenario. "I didn't get that big moment of the whole underdog story," he said last week, discussing the pair's first bout. "I remember thinking just a few days ago: 'I'm not gonna really get that moment if I fight him again, I'm not gonna be this crazy underdog.' People [have seen] what I can do, so they're gonna back me. But now on 11 days' notice, I'm sort of in the same position, where people are gonna say: 'There's no way – short notice, he's crazy.'"
Volkanovski may just be. He is also one of the most courageous fighters in a field full of them. Of course, Makhachev also deserves credit; he, too, is fighting a pound-for-pound talent on short notice. Indeed, many fans have remarked on how the fighters' gambles have made UFC 294 an even stronger card than it already was.
It is the sort of rebound against adversity that boxing, for example, would never be able to execute. However, that is in large part due to the lower prize money on offer in the UFC, and the resultant need for fighters to take risks. Yet it is also partly down to the overemphasis on losses in boxing. If Volkanovski were to suffer a third career loss on Saturday, he would still be in the conversation around modern UFC greats – perhaps all-timers, too.
Would a champion or contender in boxing risk their record and reputation by fighting an elite opponent on a compromised camp? There is little evidence for it, monetarily there is no need for it, but there also shouldn't be an expectation of it; just as there should be no expectation for a UFC fighter to accept a short-notice fight, even when the alternative is fans disputing their bravery. Make no mistake: Although Volkanovski is one of the most-respected fighters in the UFC and is being heralded as a hero right now, he would have had his detractors if he had turned down this fight – even on 11 days' notice. It is as true as it is hard to believe.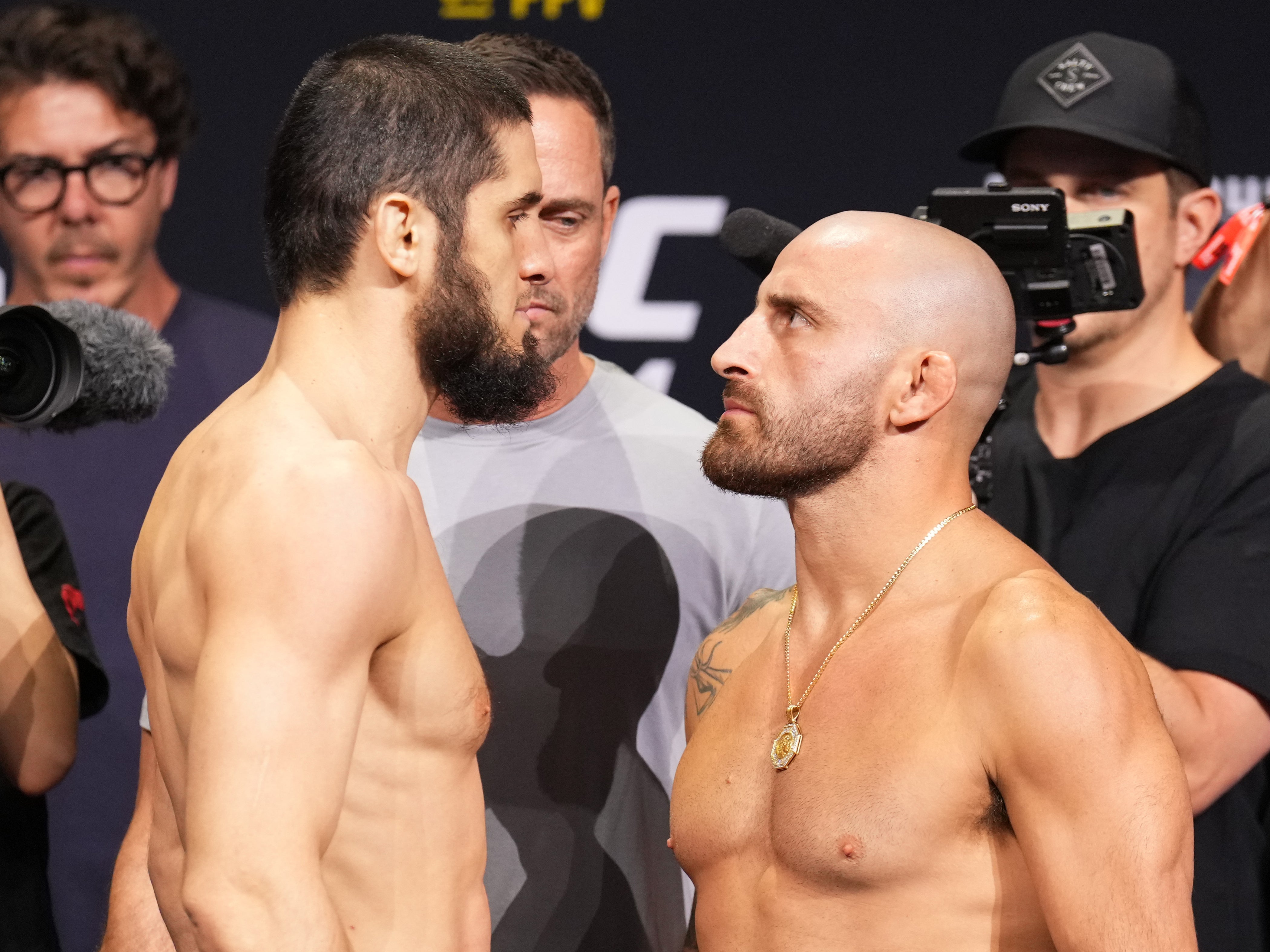 Makhachev and Volkanovski facing off ahead of their first fight
When fan favourite Stephen "Wonderboy" Thompson refused to fight Michel Pereira in July, after the Brazilian missed weight, Thompson was criticised for not going ahead with the bout and accepting a slight bump to his purse. Never mind the danger to Thompson's health and prospects of ever challenging for a UFC title again, many fans were quick to turn on the veteran. On that occasion, it was too late for a replacement to be found, and the bout collapsed. Even Oliveira and Costa have had their fair share of criticism for withdrawing from UFC 294, despite their injuries and the calibre of their opponents.
Volkanovski has gotten credit in the build to UFC 294, but the last week has highlighted how fans tend to praise the UFC's recovery in situations like this, rather than focusing on the unideal factors that allow the company to adapt in this manner.
And so, a cut above Charles Oliveira's eye became a tear in the fabric of UFC 294, only for the promotion to stitch the card back together as only they can.
Source: Read Full Article