Album covers, Myspace and trading cards: WNBA teams get creative with All-Star voting campaigns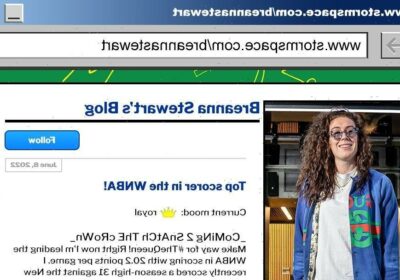 This WNBA season has a little bit of everything. Thrilling games, impressive rookies and highlight-worthy plays have given spectators much to talk about. With All-Star Weekend fast approaching, there will be more opportunities for people to see the league's top talent in action.
All-Star Weekend is July 9-10, featuring a number of exciting events for fans to experience. The main event is the WNBA All-Star Game on July 10 (1 p.m. ET, ABC).
To be a starter for the All-Star Game, players must be voted in with a combination of fan, media and player votes. Fans account for 50%, while the media and players represent 25% each. The league's head coaches select the reserves.
Fan voting began on June 3 and concluded on the 20. During that time, team social media accounts got creative with how to gain votes for players. From Myspace-inspired graphics to paying homage to legendary album covers, squads took it up a level to help secure All-Star roster spots for their athletes.
Here's a look at some of the best WNBA All-Star social media campaigns:
Seattle Storm
Remember when Myspace was the go-to social media platform in the early to mid-2000s? Seattle created its version of the website called StormSpace. The team made blog pages for Breanna Stewart, Jewell Loyd, and Ezi Magbegor using a template similar to Myspace's.
Las Vegas Aces
The Aces put their twist on iconic album covers from Outkast, Janet Jackson, Prince and more to promote their players.
https://www.instagram.com/p/Cey8RuCrSWa/
https://www.instagram.com/p/Cey62mLrG-U/
https://www.instagram.com/p/Cey6Ikmt3cq/
https://www.instagram.com/p/Cey7V33sVnt/
https://www.instagram.com/p/Cey8B4uscYe/
Atlanta Dream
Take a trip down "All-Star Road" with the Dream. The squad used inspiration from the Beatles' classic album "Abbey Road" for their player campaign. Using the project's album cover style, an Atlanta street and Photoshop, Atlanta replaced John Lennon, Paul McCartney, Ringo Starr and George Harrison with Rhyne Howard, Naz Hillmon and Erica Wheeler.
Connecticut Sun
Who doesn't love opening a fresh pack of trading cards? Unwrap the Sun All-Star pack, as the team made its own cards to boost its players' campaigns. The collection features Alyssa Thomas, Jonquel Jones, Courtney Williams, DeWanna Bonner and Brionna Jones. The front shows an image and the player's signature, while the back contains a synopsis of each athlete's playing style along with season stats.
Dallas Wings
The Wings posted a video of a text exchange debating which Dallas players were deserving of an All-Star nod. Arike Ogunbowale and Marina Mabrey were the two athletes mentioned, accompanied by sweet highlight reels for each player.
The team also channeled their inner Hot Girl, using creative character placement as a call to action for their fans to vote. It's fitting Dallas used the Hot Girl monicker recently revitalized by musician and Texas native Megan Thee Stallion.
The Wings then made graphics for Ogunbowale, Mabrey and Allisha Gray. They featured each player's stats for the year along with emojis that represent their playing styles.
Indiana Fever
For athletes, few things are better than a well-composed highlight tape. The Fever's social media team showed off its video editing skills by creating reels for Kelsey Mitchell, NaLyssa Smith, Destanni Henderson and Queen Egbo. Each player's clip contained tweets about their performance from various users on Twitter.
Source: Read Full Article