Adam Johnson's teammate stands by Matt Petgrave after claims ice hockey player intentionally hit him in skate tragedy | The Sun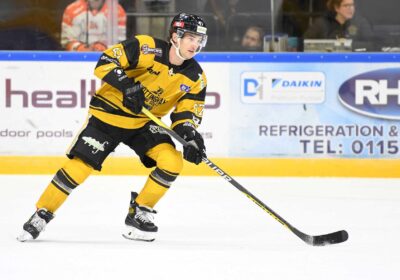 ADAM Johnson's teammate has stood by Matt Petgrave amid claims from social media trolls he intentionally struck the ice skating star.
The Nottingham Panthers star, 29, died after suffering a gash to the neck when he collided with Sheffield Steelers' Petgrave on Saturday.
Footage from the match shows Petgrave's leg being sent into the air after he was knocked off-balance, before his ice skate strikes Johnson's neck.
The collision was described as a "freak accident" in a club statement released by the Panthers, while Petgrave is said to be "absolutely distraught". There has been no suggestion of wrongdoing.
Johnson's teammate Westin Michaud, 28, paid tribute to the US-born forward as a man who "brought joy to all who knew him".
But he also took to X, formerly Twitter, to defend Petgrave's role in the collision.
Read more sport
GONE IN SECONDS
Adam Johnson's teammate relives 'traumatising' moment ice hockey star died
ICE TRAGEDY
Experts reveal whether ice hockey star is likely to face prosecution over death
He wrote: "I need to address something about the accident. We wholeheartedly stand with Matt Petgrave. The hate that Matt is receiving is terrible and completely uncalled for.
"I was at ice level on the bench closest to the accident, I saw both players moving fast.
"The unintentional clip of the Panther player's leg by the Sheffield player caused the somersault. It's clear to me his actions were unintentional and anyone suggesting otherwise is mistaken.
"Let's come together and not spread unwarranted hate to someone who needs [our] support."
Most read in Sport
FRANKS A LOT
Lampard set for dugout return despite dismal record as Chelsea interim boss
CHOP CHOP
Ten Hag SECOND favourite to go next – but why haven't any gaffers been axed yet?
CAR BLIMEY
Carabao Cup draw 'rigged' blast Newcastle fans after yet another nightmare tie
CARABAO CUP DRAW
Chelsea, Newcastle, Liverpool and West Ham discover quarter-final fates
Panthers defenceman Björkung also told Swedish newspaper Expressen how his club was involving a psychologist and trauma team to help players in daily discussions.
He said: "I have tried to suppress a lot – you are so shocked at the moment, everything goes so damn fast.
"One moment you have your friend there, the next second he's gone."
He also condemned an "inhumane" online abuse which has been directed towards Petgrave, who Björkung said he had texted in support.
The Panthers player added: "No one in our team thinks it's his fault, quite the opposite – we stand behind him."
It comes as fans have told how "absolutely devastated" Petgrave has been bombarded with "vile" online abuse since Saturday's tragedy.
Meanwhile, Johnson's family said they believe Petgrave's actions may have been "reckless".
Grieving aunt Kari Johnson, 62, insisted she did not think that opposition player Petgrave, 31, had intended to kill her "amazing" nephew.
But she commented that Petgrave's actions during the game were "reckless".
Speaking from her home in Kelly Lake, Minnesota, Kari said: "It was very reckless. I just want them to get it right. We are looking for justice for Adam."
Her comments were echoed by Sean Avery, who played for four NHL clubs across more than a decade.
Appearing on Fox News, Avery said stopped short of agreeing when host Jesse Watters said Petgrave was a "dirty" player and the collision looked like "murder".
He responded: "That's a pretty dangerous word to be throwing around. I've watched it, it's terrible, it's tough to watch. 
"Did this kid make a move that was very unorthodox? Do I think he was trying to make contact of some sort? Absolutely."
The retired Canadian star added: "Do I think he woke up and said I'm going to murder somebody today? No."
South Yorkshire Police is investigating the death, but has warned the investigation will "take some time".
Kari said she was prepared to accept the result of the police's investigation but wanted to ensure their probe was as thorough as possible.
She added: "We are absolutely calling for a complete investigation.
"You don't take your leg and kick somebody and cut their throat. I'm sorry.
"We were watching the game in real-time and we did witness what happened. Horrific is the word to describe."
Johnson collapsed on the ice following the collision 35 minutes into the game at the Utilita Arena on Saturday night.
Read More on The Sun
WEBB WOEs
Emmerdale split fears over Charley Webb and Matthew Wolfenden's 'separate lives'
OH NO-LAN
Linda Nolan reveals heartbreaking update on her cancer battle
He was briefly helped towards the side of the rink by a referee and teammate, before collapsing.
The forward received emergency treatment on the ice, before being rushed to hospital, but it was announced he had died of his injuries the following morning.

Source: Read Full Article