8.30am Man Utd transfer news LIVE: Van de Beek 'not trusted', Sancho and Grealish LATEST, Solskjaer future EXCLUSIVE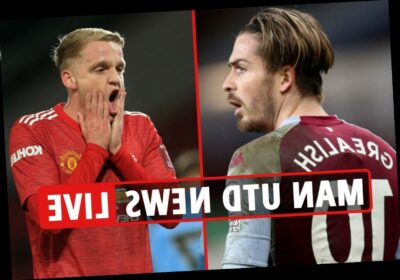 MANCHESTER UNITED defeated West Ham in the 5th round of the FA Cup thanks to Scott McTominay's goal.
However, club legend Mark Hughes claimed that Donny van de Beek's Red Devils team-mates do not yet trust him.
FREE BETS GET OVER £2,000 IN SIGN UP OFFERS HERE
Follow ALL of the latest updates below…
Joe Miles

DONN FOR

Manchester United stars still 'don't trust' Donny van de Beek on the ball, according to Mark Hughes.

The 23-year-old started last night's game against West Ham but failed to make an impact before he was hauled off.

After the match, Andy Townsend told talkSPORT: "We're not seeing it from Donny van de Beek, he looks a bit lost, he doesn't quite look like he understands where to go and where to run in his team."

Club legend Hughes agreed as he added: "No, that's right.

"You just sense… it looks like they don't trust him with the ball yet."

Credit: Getty Images – Getty

 

Joe Miles

'WE STRUGGLED'

Ole Gunnar Solskjaer urged United to be 'more clinical' after the win over West Ham.

The manager said: "I think we got about 15 to 17 shots in the end but we need to be more clinical.

"We should've finished the game off earlier and finished in 90 minutes but sometimes it doesn't happen.

"Especially in the second half, I thought we struggled. First half, we had two or three big moments."

Credit: Getty Images – Getty

Joe Miles

STICKY RICE

Declan Rice has apologised to West Ham fans following last night's defeat to Manchester United.

The Red Devils secured a 1-0 win in extra time thanks to a goal from Scott McTominay.

England international Rice insisted he 'needed to be better' as he apologised for the part he played in the goal.
Joe Miles

MASON A MOCKERY

Mason Greenwood performed a Dimitar Berbatov-esque piece of skill to beat his defender during last night's FA Cup win.

The Manchester United forward, 19, controlled the ball on his thigh as it dropped out of the sky just before half-time.

Hammers skipper Mark Noble pressed him quickly, forcing Greenwood out towards the touchline.

But despite seemingly having nowhere to go, the Red Devils star produced a sublime piece of trickery.

Feast your eyes on this…

Joshua Jones

MORNING RED DEVILS FANS

The Red Devils have secured their place in the sixth round of the FA Cup after beating West Ham 1-0 at Old Trafford.

Ole Gunnar Solskjaer's side were made to work for the win, as the Hammers took the 2016 champions to extra-time.

And it was Scott McTominay who came up with the goal as he fired home low into the bottom corner after being picked out by Anthony Martial.

Commenting on the midfielder's fine form, Solskjaer said: "Scott used to be a striker and I think he finishes with authority.

"You see that he doesn't mind being in those positions. He just smashed the ball into the net."

In other news, Man United's Europa League tie with Real Sociedad next week will be played in Turin, Uefa have confirmed.

Spanish government restriction on travel from the UK means the Basque side cannot host the last-32 first-leg tie.

It will instead be played at the Juventus Stadium on Thursday February 18, kicking off at 5.55pm, with the second leg to be played at the Theatre of Dreams a week later.

Meanwhile, the MEN report United are preparing to bring in a top defender in the summer.

Those understood to be of interest include Real Madrid ace Raphael Varane, as well as RB Leipzig pair Dayot Upamecano and Ibrahima Konate.

And finally, United will be without Paul Pogba for 'a few weeks' with a thigh injury.

The Frenchman hobbled off in the 3-3 draw with Everton on Saturday and underwent scans on his injury the following day.

Jake Lambourne

DEVIL DELIGHT

Harry Maguire believes Man Utd should have scored more against West Ham during their 1-0 win.

He told BBC Sport: "I thought the performance was good. We could have been a bit more clinical.

"They had a spell but we dealt with it a lot better than at the weekend and we felt we got the win we deserved in end.

"Last Saturday was tough – especially in the second half. We were so disappointed with conceding with the last kick.

"We showed great spirit and a good mentality to come back and perform. We know it's a long season and tonight was perfect. It's important to get through."

Jake Lambourne

GAME OVER

Man Utd are through to the FA Cup sixth round after edging out West Ham to win 1-0.

Scott McTominay scored the only goal of the game in the first half of extra-time.

Ole Gunnar Solskjaer knows his side must fare better going forward if they wish to win the trophy for the first time since 2016.

Jake Lambourne

GREAT SCOTT

United have finally taken the lead and it's Scott McTominay with the goal!

The midfielder has been in great form at Old Trafford recently and has added another goal to his tally for this season.

It's a bitter pill for West Ham to swallow, but it has been coming.

Jake Lambourne

FULL-TIME

No side were able to make a breakthrough in 90 minutes, and now we go into extra-time.

United just haven't clicked and the Hammers have defender well.
Jake Lambourne

'IT'S DISGUSTING'

Man Utd boss Casey Stoney has blasted the 'utterly disgusting' online racial abuse of striker Lauren James. 

Stoney said: "It's hard for me to comprehend sitting here as a white person in terms of actually being able to understand what she (Lauren) lives through every single day, what she has experienced since she's grown up. 

"I just genuinely cannot understand how we can abuse a 19-year-old because of the colour of their skin.

"Just because they are known because they play football and have a profile, we go after them.

"It's disgusting, it's utterly disgusting. I think the government and powers that be need to do so much more to govern these social media platforms. 

"And we need to stand up, speak up and make it unacceptable that this happens."

Jake Lambourne

BACK UNDERWAY

The second half has started, and West Ham know they must get out of second gear if they want to go through to the fifth round.

Meanwhile United know they have to be more ruthless in the final third.

Jake Lambourne

HALF-TIME!

No goals in the first half, but Ole Gunnar Solskjaer will be happy from his side.

They dominated the end of the break, and West Ham were happy the half finished when it did.

But this is the FA Cup, and anything can happen in the second half.

Jake Lambourne

KICK OFF

And we are underway at Ole Trafford for the FA Cup clash between Man Utd and West Ham.

Click HERE for regular updates from the Theatre of Dreams.

Jake Lambourne

PAPA DON'T PREACH

Man City ace Phil Foden has revealed the Manchester derby causes a huge divide in his household… because his father is a United fan.

Speaking to Four Four Two, he said: "Obviously going to train with City made me a fan straight away.

"I told my dad that I wanted to be a City fan and he replied, 'OK', but I could see in his face that he was a bit disappointed.

"I think he saw it coming, though, once I was training with them.

"When derby days came around, it was me and my mum supporting City, then my dad and my brother supporting United – arguing and debating about who was going to win.

"But since I've been in City's first team and it's been me against United, I think I'm turning him slowly into a City fan – he's not as interested in United as he used to be!"

Jake Lambourne

SCARED DAVID

Paul Scholes believes David de Gea looks 'timid' amid concerns of his form.

Speaking to Premier League Productions, Scholes said: "I think the goalkeeper could be becoming a bit of a problem.

"I think that belief is going a little bit. He looks a little bit timid, he looks like he's losing his presence."

Everton secured a point at Old Trafford thanks to Dominic Calvert-Lewin's last-minute equaliser.

Harry Maguire played the England striker onside, but de Gea reacted slowly to the danger and Scholes was not impressed.

The 46-year-old said: "He didn't really get in the face of Calvert-Lewin, he almost jumped out the way and made it a little bit easier for him than it should have been.

"He possibly wouldn't have saved it anyway but at least try, at least show a bit of braveness about it."

undefined
Jake Lambourne

TEAM NEWS

Amad Diallo has been named on the substitutes bench for the FA Cup clash against West Ham.

Meanwhile Donny van de Beek has been included in the starting XI.

Jake Lambourne

UEFA SHAKE-UP

Uefa is increasingly confident its planned Champions League revamp will be agreed by next month – despite opposition from leagues.

A virtual meeting over the proposals with the 55 Uefa member associations found no significant issues.

Uefa wants to replace the current group stage of the Champions League with a 36-team single table.

Each side will play 10 opponents of varying strengths under the so-called "Swiss system", with the top eight automatically qualifying for the knock-out stage and the teams between ninth and 24th playing off to join them.

SunSport revealed in December the most controversial aspect of the proposals, with three of the four extra places being awarded via Uefa's "coefficient" of previous European results.

That could see up to six Prem sides in the competition when the restructure – due from 2024-25 – comes into effect.

Jake Lambourne

JUAN CHANCE

Juan Sebastian Veron has revealed he doesn't doesn't joining Man Utd despite his expensive flop.

He told FourFourTwo: "I signed for United because I had a passport issue in Italy and thought a change of scenery would be good for my mind.

"Truth be told, I had a pessimistic view about playing in England, as I imagined that life there would be so different to what I was used to – the Latin lifestyle.

"But I found an extraordinary club. You could hardly find one as well-organised, with so many people willing to help. I had two great years in Manchester, winning the Premier League title.

"I'm still in touch with several of the guys I met: Dwight Yorke, Paul Scholes, Rio Ferdinand, Quinton Fortune, Wes Brown, John O'Shea.

"I met Gary and Phil Neville again at some point, too."

Jake Lambourne

HAMMER TIME

Marcus Rashford got himself on the score sheet the last time Man Utd faced West Ham in the FA Cup.

Jake Lambourne

EUR JOKING

Man United's Europa League tie with Real Sociedad next week will be played in Turin, Uefa have confirmed.

Spanish government restriction on travel from the UK mean the Basque side cannot host the last 32 first leg tie.

It will instead be played at the Juventus Stadium on Thursday February 18, kicking off at 5.55pm.

United will still be able to play the second leg at Old Trafford a week later.

Jake Lambourne

PHIL YOUR BOOTS

Man Utd icon Phil Neville is closing in on a Brit double swoop at Inter Miami. 

SunSport understands a deal to bring Stoke defender Ryan Shawcross will be completed this week. 

And former Arsenal full-back Kieran Gibbs, 31, is in talks and looks set to follow Shawcross to MLS after deciding to quit West Brom.

His contract at the Hawthorns expires at the end of the season and he's keen to move to South Florida. 

Neville and owner David Beckham have wasted no time getting to work and sorting out the problems which hampered Miami's first season in the League. 

Both players will boost a defence which was in desperate need of leadership and experience last term. 
Jake Lambourne

DAY AND NIGHT

Chelsea have already held talks over a potential summer deal to land Dayot Upamecano, according to reports.

Thomas Tuchel's side are in a transfer tug-of-war alongside Man Utd, Liverpool and Bayern Munich for the defender's signature.

Upamecano, 22, is hot property with the centre-back set to leave RB Leipzig for a bargain £38million this summer.

Tuchel has made the player top of his priority list and is keen to bolster his defensive ranks at the end of the season.

Upamecano is eyed as a long-term successor to Thiago Silva who turns 37 later this year.

According to Bild, Chelsea have already opened talks with the player's agent to start laying the groundwork over a summer switch.

undefined

Marc Mayo

ARMBAND AGONY

Marcus Rashford has revealed his immediate unhappiness having captained Manchester United.

Taking the armband for the first time in a defeat to Manchester City, the striker revealed that it took a while to appreciate his achievement.

He told The Athletic: "At the time, I was just so angry, I hate losing to City.

"I probably didn't appreciate the moment as much as I should have. I can't help that, it's just the way I am.

"But a few weeks later when you look back, it's a moment of pride, you're just very happy that you've managed to do such a thing for a club you've loved all your life. It's a great feeling. I have the shirt hung up at home."

Marc Mayo

2022 VISION

Gary Neville admits Manchester United are 'not good enough' to challenge for the title this season – but says they should challenge next year.

He told his Sky Sports podcast: "They're just not quite there in terms of winning the title, I never thought they were.

"I never thought they were because the performances weren't good enough and there was something missing.

"I didn't expect them to win the league at the start of the season, they're not there yet. It's disappointing but it's not surprising. I think they're on the right track.

"I think it's been clear over the last few weeks with the results, that form is not going to win you the title."

Credit: PA:Press Association

Marc Mayo

OD ONE OUT

West Ham youngster Ademipo Odubeko could come back to haunt Manchester United tonight.

The young striker left Old Trafford for the Hammers in 2019 and is pushing for his debut.

Michail Antonio is reportedly a fitness doubt, potentially opening the window for Ireland youth international Odubeko to make his mark.
Source: Read Full Article