4pm Solskjaer 'doesn't stop calling Haaland', Pau Torres 'wants United transfer', Lloris a shock target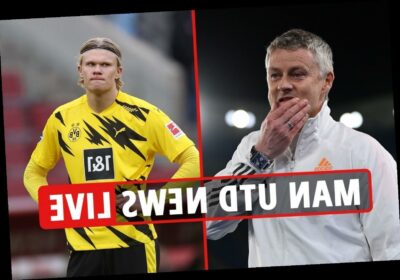 MAN UTD are stepping up their pursuit of Erling Haaland, with reports from Spain claiming Ole Gunnar Solskjaer never stops calling his fellow Norwegian.
Meanwhile Villarreal defender Pau Torres is reportedly very keen on moving to Old Trafford this summer and has admitted he is learning English.
Stay up to date with our blog, below, for all the latest from Old Trafford…
FREE BETS: GET OVER £2,000 IN SIGN UP OFFERS HERE
Josh Graham

RING RING, OLE ON THE PHONE

Erling Haaland is repeatedly called by Ole Gunnar Solskjaer as he tries convince him to join Manchester United.

According to AS, Solskjaer phones his Norwegian compatriot regularly to try and sell the idea of Old Trafford.

Borussia Dortmund forward Haaland, 20, is preparing for international duty alongside new skipper and Arsenal midfielder Martin Odegaard.

The striker has bagged 21 goals in 21 Bundesliga games this season and is wanted by a host of Europe's top clubs.

Josh Graham

DON DEAL

Chelsea and PSG are reportedly more confident they can convince AC Milan Gianluigi Donnarumma to move.

Sport Mediaset suggests both European giants are ready to meet his demands.

Gianluigi Donnarumma could be tempted away from AC Milan

Credit: Reuters

The report states the clubs are ready to meet the requirements set out by the player's agent.

The highly-rated 22-year-old is out of contract this summer and has been previously linked with Manchester United.

Josh Graham

BOOK IT IN

Marcus Rashford's book is out on May 27.

He wrote on Instagram: "'YOU are a Champion'. A guide that I hope will inspire ALL children to dream big and help those who need it most."

"As part of the Marcus Rashford Book Club model, books I am championing will reach the most vulnerable children via the breakfast club network.

"Further details to follow. Approx 390,000 children in the UK have never owned a book. Time for that to change."

View this post on Instagram

A post shared by Marcus Rashford MBE (@marcusrashford)
Josh Graham

GLOBE TROTTERS

A whopping 16 of Ole Gunnar Solskjaer's squad could represent their countries over the international break.

Josh Graham

RULE OF SIX

Six Red Devils are potentially on international duty today.

Josh Graham

HAARSH WARNING

Manchester United target Erling Haaland could be a 'disaster' signing for Chelsea, according to Blues icon Frank Lebouef.

He told Sky Sports: "Haaland is a beast.

"Of course it would be a plus for Chelsea. But now you have to think financially and economically, and you also have to also think and make sure your dressing room is going to be following the coach.

"If you put Haaland (in the team) you lose [Olivier] Giroud.

"But you might lose [Kai] Havertz, you might lose [Timo] Werner as well. What about [Christian] Pulisic? Where are you going to play [Hakim] Ziyech?

"That is an equation that you have to make sure is going to work and that the results are going to be good for the club.

"You can add talents, that is not a problem. But you have to make sure the chemistry works.

"Otherwise it is going to be a disaster. Having only talent doesn't make sure you are going to win something."

Josh Graham

HEND OF THE ROAD?

Manchester United have slapped a £40m asking price on keeper Dean Henderson, SunSport can reveal.

The former Sheffield United loanee is battling new dad David De Gea for the Old Trafford No1 jersey.

But the 24-year-old has attracted interest from Spurs – with Hugo Lloris potentially moving the other way.

Spurs have England trio Henderson, Sam Johnstone and Nick Pope on their shortlist to replace French captain Lloris.

Josh Graham

ON EUR OWN

The Prem's Big Six are braced for frustration and disappointment over their attempts to force radical change on the top flight.

Leading clubs now recognise there is no chance they can push through a reduction of the league from 20 teams to 18.

While proposed revamps of Uefa competitions promise more money from 2024, the Big Six fear they will hit a brick wall in their efforts to get the green light to make more cash from selling rights to their own games either overseas or on club channels.

And it sets up a further squabble between the Big Six and the rest of the Prem starting at tomorrow's "shareholder" meeting of the 20 clubs.

Prem chief executive Richard Masters agreed to engage US-based Boston Consulting to carry out a "Strategic Review" of the structure of the League.

That was a direct response to the Project Big Picture proposals backed by Liverpool and Manchester United as well as EFL chairman Rick Parry.

Masters vowed that he would be open to all ideas, insisting in November that "the status quo is not an option".

Five months on, the Review will finally be a formal agenda item for the first time at Thursday's meeting, with clubs to debate the "next steps".

Josh Graham

RASH DECISION

Marcus Rashford is a major doubt for England's game against San Marino on Thursday.

The Manchester United forward sat out the FA Cup defeat at Leicester with a foot problem.

And the 23-year-old is yet to take part in England's team training sessions, instead doing solo work in the gym.

Arsenal's Bukayo Saka will miss the game as the Gunners continue to assess his hamstring problem.
Josh Graham

PAUL THE OTHER ONE

Manchester City could see Sergio Aguero head straight across town if they don't renew his contract, Paul Ince has warned.

Barcelona, Inter Milan and Chelsea have all been linked with the Argentine, 32, and Manchester United are the latest club tipped to make an offer.

Former Red Devils midfielder Ince, 53, has told the club to consider Aguero when his contract expires in the summer.

Such a shock swoop could emulate Sir Alex Ferguson's capture of Eric Cantona from Leeds during Ince's time at Old Trafford.

He told Ladbrokes: "Sergio Aguero might be leaving Man City, why shouldn't United make a move for him?

"You could see it now. If he wanted to stay in the Premier League and he's living in Manchester, then I don't think it would be a bad thing at all if they went and got Aguero.

"It can happen, who knows? You've got to ask the question if you're United because you never know."

Josh Graham

SHAW THING

Luke Shaw credited Manchester United boss Ole Gunnar Solskjaer's man-management for helping him get back in the England squad.

Luke Shaw praised boss Solskjaer's man-management

Credit: Reuters

Shaw told Sky Sports: "His man-management is second to none.

"The way he conducts himself in terms of how he speaks to the players, it gets the best out of them. You can see that.

"He deals with situations perfectly in terms of what is needed, especially at a big club like Manchester United.

"He takes the pressure off the lads and takes it all himself. Sometimes it is not fair because we are the ones on the pitch and we need to take our fair share too.

"For me, especially, from what I had before Ole came in, it is a total difference. It has pushed me to a new level."

Josh Graham

PREM WINNER SHAME

Former Manchester United star Ronnie Wallwork fractured a man's eye socket in a row over trainers, a court heard.

The 43-year-old punched Alan Mulholland when he stepped on his trainers in a pub in Greater Manchester in 2019.

Ex-Manchester United ace Ronnie Wallwork

Credit: PA

Wallwork admitted GBH and was handed an 18-month suspended sentence at Manchester Minshull Street Crown Court.

The 2001 Prem winner also must complete 200 hours of unpaid work, a rehab programme and pay £500 in compensation to his victim.

Josh Graham

HEAD START

Heading the ball in training is set to be significantly reduced as the FA and Premier League back new safety guidelines.

Prem chiefs will green light a formal study into the forces sustained by heading balls in different situations.

And FA chief medic Dr Charlotte Cowie explained that Wembley bosses believe the risk to long-term health and dementia means curtailing heading in the professional game is required.

Dr Cowie told a DCMS Select Committee hearing: "There is no argument about decreasing the exposure to the amount of heading in the game.

"But the main exposure is in training, so limiting that in terms of the number and types of headers is definitely the direction we need to go in."

Dr Cowie was criticised by "staggered" and "appalled" committee chairman, Tory MP Julian Knight, after insisting she was unable to say what the FA's annual budget was for dementia research.

That came after a series of deaths linked to heading, including the recent passing of 1966 World Cup legends Martin Peters and Nobby Stiles.

Josh Graham

BRU-TAL

Bruno Fernandes had to be rested against Leicester to avoid him running himself into the ground.

Boss Ole Gunnar Solskjaer revealed the Portuguese ace would play every single game if it was up to him.

Bruno Fernandes has racked up the game time at Manchester United

Credit: Getty

The Norwegian said: "Bruno has played very, very much football.

"He broke all his records on Thursday night [against AC Milan at the San Siro] physically, statistically, and the boy is not inhuman.

"I know Bruno wants to play but sometimes you make decisions for the benefit of both the team and him."

Fernandes has covered the seventh most metres in the Premier League this season.

He did come off the bench in the FA Cup quarter-final but couldn't prevent the Red Devils slipping to a 3-1 defeat at the King Power.

Josh Graham

FAN FRENZY

Manchester United have frozen 2021-22 season ticket prices as the club prepares to welcome fans back to Old Trafford.
Josh Graham

SPURRED ON

Tottenham goalkeeper Hugo Lloris has emerged as a rumoured transfer target for Manchester United.

At 34, the World Cup winner is said to want to leave North London for one final big challenge of his career.

A return to Ligue 1 with Paris Saint-Germain or Nice has been reported and now L'Equipe detail a potential move to Manchester.

Lloris is in his ninth season at Tottenham but is yet to win a trophy, although he will get a fresh chance in the upcoming Carabao Cup final.

SunSport recently revealed the club's plans to replace club captain Lloris at the end of the season.

England trio Sam Johnstone, Nick Pope and Dean Henderson are understood to all be targets for Jose Mourinho.

United star Henderson is finally getting his chance in the team but may seek a move if he is once again dropped to the bench with the club preparing to either sell the former Blades No1 or David De Gea.

Josh Graham

ALLO ALLO

Manchester United youngster Amad Diallo has picked up an award for gaining a place on the 2021 NXGN list of the world's best young stars.

The 18-year-old has made it onto a list compiled by Goal journalists in 44 countries.

To qualify you have to be born on or after January 1, 2002.

Barcelona's Ansu Fati topped the bill with Diallo making the top 20 of a 50-strong list.

The teenage ace was called up to the Ivory Coast senior side for the first time this week.

Josh Graham

GOING HAM

Former Manchester United striker Romelu Lukaku kicked pineapple on pizza and carbonara pasta from his diet in pursuit of Inter Milan glory.

According to La Gazzetta dello Sport, key to Inter's rise has been losing 16lbs of weight under the guidance of the nutritionist Matteo Pincella, who began his career in rugby.

In 2012, he joined up with Antonio Conte at Juventus and now combines his club role with working for the Italian national team.

Under Pincella, Inter stars are studied and handed unique diet plans that rarely feature pasta dishes.

Instead, chicken, sweet potatoes, shirataki noodles, and fish all feature heavily and a single cheat meal a week is allowed.

For 27-year-old striker Lukaku, that has meant ditching some of the bad habits he took with him from Manchester United.

Pineapple on pizza and carbonara pasta are just two of the guilty pleasures given the boot, helping him drop from 15st 11lbs to around 14st 9lbs.

Marc Mayo

GOOD MORNING RED DEVILS FANS

Man United are reportedly eyeing a shock move for Spurs captain Hugo Lloris.

L'Equipe claims the French goalkeeper is ready to leave Tottenham this summer.

And United want him to replace out-of-favour David de Gea.

Lloris believes the Red Devils can offer him one final chance of landing silverware.

Spurs would then look to replace Lloris with Lille's Mike Maignan.

Meanwhile, Juventus are reportedly ready to SELL Cristiano Ronaldo this summer.

AS claims the United and Real Madrid icon could be set for a new club after a disappointing season under Andrea Pirlo.

Juventus are ready to accept bids of just £21.5million for the superstar.

But interested clubs will have to dig deep for Ronaldo's annual wages, which AS adds to be a staggering £75m.

Finally, United star Amad Diallo's meteoric rise continued after he was called up by the Ivory Coast.

The 18-year-old starlet could make his full international debut for the African nation this month.

United confirmed his call-up to Patrice Beaumelle's Elephants side alongside team-mate Eric Bailly.

Both Red Devils are part of the 30-man squad for the upcoming Africa Cup of Nations qualifiers.

Anthony Chapman

OLE'S ALRIGHT

David Beckham claims former teammate Ole Gunnar Solskjaer is doing a great job at Man Utd.

The Inter Miami chief told ESPN: "I've seen some of the criticism. 

"But I suppose when you are a manager of Man United when they've had success over the years that they've had, there was always going to be a point where people get criticised. 

"Whether it's the players, whether it's the owners, whether it's the manager.

"Ole's been in the game long enough to be able to take any kind of criticism. 

"He's very quiet, he gets on with his job, and I think he's done an incredible job down at United.

"The results are starting to show that. 

"Hopefully, it continues because the fans love Ole, we all love Ole and we all want him to do well. 

"So when the criticism comes, he's one person that can take it."

David Beckham feels Ole Gunnar Solskjaer is doing the business at Man Utd

Anthony Chapman

ZAK RACE

Man Utd have reportedly been joined by neighbours Man City in the chase for Denis Zakaria.

The Premier League giants are locked in a battle to sign the Borussia Monchengladbach midfielder.

Man City reportedly enquired about the midfielder last summer and are said to have renewed their interest.

The midfielder has just over one year left on his contract and could be offloaded for a reduced fee this summer.

Man Utd have joined the race for Denis Zakaria
Anthony Chapman

LLOR AND ORDER

Man United are eyeing a shock move for Spurs captain Hugo Lloris.

L'Equipe claims the French goalkeeper is ready to leave Tottenham this summer.

And United want him to replace out-of-favour David de Gea.

Lloris believes the Red Devils can offer him one final chance of landing silverware.

Meanwhile, Spurs would look to replace Lloris with Lille's Mike Maignan.

Man Utd are reportedly interested in Spurs captain Hugo Lloris

Anthony Chapman

FER REAL

Rio Ferdinand admits he feels sorry for Manchester United outcast Donny van de Beek.

He told Vibe With Five: "I feel for him. I don't care who you are – if you're playing the odd two minutes here and there, three minutes here and there, you cannot perform. I don't care what level of player you are.

"I don't think he's been helped in terms of team selection and opportunities so I don't think it's fair to say he's underperforming because he's not been put in a position to perform yet on a consistent basis. 

"I really do feel for him but it would be interesting to hear what he was sold and told on the way in because the lack of opportunities, I don't think he'd have come here if he'd known that."

Rio Ferdinand feels sorry for Donny van de Beek

Anthony Chapman

CRIS CROSSED OFF

Juventus are reportedly ready to SELL Cristiano Ronaldo this summer.

AS claims the Manchester United and Real Madrid icon could be set for a new club after a disappointing season under Andrea Pirlo.

Juventus are ready to accept bids of just £21.5million for the superstar.

But interested clubs will have to dig deep for Ronaldo's annual wages, which AS adds to be a staggering £75m.

Juventus are open to selling Cristiano Ronaldo this summer

Anthony Chapman

KANE WELL ABLE

Premier League clubs have been given a boost with Real Madrid reportedly preferring to sign Harry Kane over Erling Haaland this summer.

SER Deportivos claims the Spurs star has emerged as Los Blancos' No1 target.

That means the likes of Man United, Chelsea and Man City could be left to battle it out for Haaland.

And it would also be good news for PSG in their efforts to keep Kylian Mbappe.

Prem clubs are set to benefit from Real Madrid's interest in Harry Kane
Source: Read Full Article