Would YOU wear this to work?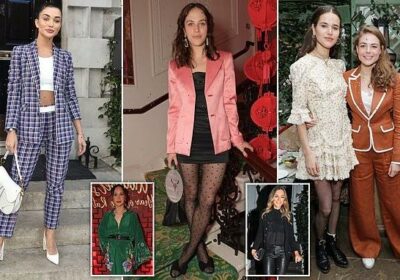 Would YOU wear these striking looks to work? As a top law firm encourages staff to 'dress like they're going to Annabel's', FEMAIL reveals how attendees of the club nail office glam
Divorce lawyer Ayesha Vardag told staff to experiment with their wardrobe
Encouraged staff to dress like they're going to private members club Annabel's
Read more: Legal firm scraps dress code as it urges staff to 'bring personality'
From a sequined jacket to sparkly gold trousers, staff at a top corporate law firm are being encouraged to scrap their dress code – and bring their personality to work instead.
Employees working for top divorce lawyer Ayesha Vardag have been told to choose their clothes for work as if they were going to Annabel's nightclub. 
The reference to outfits worthy of the Mayfair venue – popular with celebrities and royalty – was made in a memo which she sent to staff.
It also says that pink hair, scarlet Doc Martens boots and gold leather trousers would be fine to wear when not in court. 
Staff at a corporate law firm are being encouraged to ditch their usual uniform and  'dress like they were going to Annabel's – but what does that really mean? Here FEMAIL reveals how glamorous attendees of the exclusive member's club nail business chic
Miss Vardag,54, who has been dubbed the 'Diva of Divorce', wrote: 'Times change and Vardags keeps moving – there was a time for our dress code with double cuffs and cufflinks, formal dark suits and jackets.
'But now business suits are so much the domain of bankers and estate agents that they're eschewed by some of the funkier London clubs.
'So we'll move on to a dress code more like Annabel's – the essence being ELEGANCE.'
Private members club Annabel's is a favourite of many A-list celebrities and has previously hosted everyone from Princess Beatrice and the late Queen Elizabeth II to Damien Hirst and Lady Gaga.
Employees working for top divorce lawyer Ayesha Vardag have been told to choose their clothes for work as if they were going to Annabel's nightclub (pictured, Vicky Lee at the club in 2020) 
Attendees of the exclusive venue in Mayfair, which has an annual membership fee of £3,250, often wear ultra-chic outfits, from leather trousers (left) to trendy monochrome ensembles (right) 
Ms Vardag told staff they should 'show their personalities' while not in court by dressing like attendees of the club – who oft wear trend-led outfits and smart ensembles (pictured, Rosie Tapner and Frankie Herbert) 
Guests such as Downton Abbey actress Jessica Brown Findlay and This Morning presenter Holly Willoughby have attended the club in smart mini dresses with colourful blazers (left and right) 
Bridgerton actress Phoebe Dynevor donned a smart black dress as she visited the Mayfair club in September 2021 
Would YOU wear these looks to the office? Other stars including Pixie Lott (left) and Elfie Reigate (right) have donned mini dresses and leather shorts to the club 
The annual membership fee is £3,250, with a one-time joining cost of £1,750.
The club, which is situated at 46 Berkeley Square in Mayfair, first opened in 1963 and was refurbished and expanded in 2018.
The super exclusive venue is thought to have a membership waiting list of more than 10,000, and around 8,000 people are currently thought to be members. 
Attendees often dress up for their nights out at the venue, donning trendy suits and jazzy patterns for lavish events at the club. 
Here FEMAIL reveals the ultra-glamorous looks from Annabel's which could pass under Vardag's new dress code. 
Attendees like Alexa Chung (left) and Raye (right) often dress up for their nights out at the venue, donning trendy suits and jazzy patterns for lavish events at the club
One attendee at an event in September 2021 opted for a coordinated baby pink ensemble at the venue 
Business chic? While the business woman may have suggested employees get rid of their corporate style, many attendees of the exclusive venue wear trendy suits to the club (left, Sam Rollinson and right Rita Ora) 
And it's not just suits! A number of attendees of events at the club opt for floaty midi dresses in distinctive patterns (pictured, Ella Eyre at the venue) 
Meanwhile the boss encouraged employees to show their personalities – even mentioning Dr Martens as a style of shoe which they could look to wear (pictured, Paloma Faith at an event at Annabel's wearing a similar style) 
And it's not just female attendees either! Tinie Tempah (left) and Sope Dirisu (right) have shown off their personalities with their trendy outfits at the club 
Source: Read Full Article