Women and girls in Afghanistan are facing an ever-growing list of draconian rules under the Taliban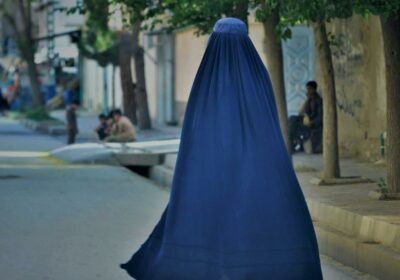 A new Taliban order introduced in Afghanistan this week requires all women to cover their faces in public.     
Almost nine months since the Taliban seized control of Kabul, the promises the group made about having changed over the last two decades are proving increasingly empty – particularly when it comes to its treatment of women and girls.  
Since the group claimed power in Afghanistan in August last year, women's rights have been stripped back by a number of draconian restrictions, including a rule introduced at the end of December which prevents women from travelling long distances without a male chaperone.
Girls have also been targeted by the Taliban's takeover. At the start of the Afghan school year in March, the group announced that girls over the age of 11 would not be allowed to attend school until a "comprehensive" and "Islamic" plan was drawn up – a direct contradiction of the assurances it made in the weeks leading up to the girls' return. 
And now, in one of the most cruel and restrictive steps the group has taken since it claimed power, the Taliban has ordered all women in Afghanistan to cover their faces (except their eyes) in public.
The new decree – which was announced yesterday (7 May) – suggests that women should not leave their homes at all if possible as this is "the best option to observe the sharia hijab," and makes women's male relatives and employers liable to fines or prisons if their faces are seen in public. A woman's male family members can also be fired from government jobs if she goes out uncovered.
Reacting to the news on Twitter, Shaharzad Akbar – a former chairperson of the Afghanistan Independent Human Rights Commission – said her "heart was exploding" with "pain and grief". 
"So much hatred and anger against Taliban, enemies of women, enforcers of gender apartheid, enemies of Afghanistan & humanity," Akbar wrote. "The world is a bystander to our pain, to an apartheid, to complete tyranny."
Shabnam Nasimi – a policy special advisor to the UK's minister of state for refugees – added: "The Taliban have announced today that face veils are now mandatory for women in Afghanistan & they should avoid leaving their homes. If a woman doesn't comply, their male guardian could face prison. The world doesn't even flinch anymore, as Taliban continue their barbaric rule."
While there have been fears that the Taliban would take this step since it took control last year, there were also hopes that the group's desire for international recognition and support would stop it from taking such a horrific step – especially at a time when the country is dealing with a massive economic crisis and widespread hunger. 
Image: Getty
Source: Read Full Article