Woman flaunts 10H boob reduction by trying on same tops after transformation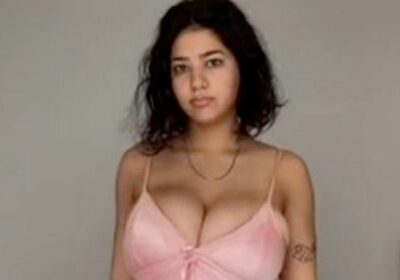 A woman tried on the same top before and after her breast reduction – and amazed with her transformation.
The Australian beauty decided to fork out thousands for the "best decision" she ever made.
But, before she went under the knife to alter her 10H (32H UK size) boobs, she decided to try on a number of tops so she could see just how much her chest would change.
READ MORE: Woman ditches 'heavy' makeup and huge lashes to transform into 'natural' beauty
And the results caused the stunner from down under to go viral.
In the TikTok clip which racked up thousands of views, the woman posed in her bedroom before the operation and three weeks after the procedure.
She first wore a pink top which did not provide much support for her breasts.
However after the operation, her chest and confidence completely changed.
The viral star radiated happiness as she smiled showing off her smaller and perkier bust.
She then shared what a black crop top looked like before the breast reduction.
It appeared ill-fitting as it just about covered her boobs and hung off them.
Fast-forward post operation and the top no longer hung off her chest – which obviously made the woman very happy as she grinned modelling the clothes.
For the third top, the woman had a sad face as she blurred her boobs in an ill-fitting satin top.
Her boobs were on the brink of popping out risking a wardrobe mishap.
Although, after her reduction she could freely move around without worrying her 10H boobs would slip out.
She also shared the before of several other tops were she had to keep her hand over her boobs to maintain her modesty.
But, had no issues with that after getting her boobs reduced to a D cup.
WARNING, GRAPHIC LANGUAGE IN VIDEO BELOW:
She said she paid around $10,000 AUD (£5,366.59) for the breast reduction in total.
Amazed at her transformation, many people rushed to the comments to congratulate the woman.
One person commented: "I've never seen results as good as yours."
Another user added: "Omg yes you look so good I'm so happy for you!"
While a third voiced: "Congrats, hope you have less health issues and able to feel more comfortable in your own skin."
Someone else said: "My dream!!
"You look so beautiful."
Meanwhile, a fifth expressed: "You look so happy."
And this user noted: "The way I can see how much ur confidence looks boosted makes me so happy."
READ NEXT:
'I'm the world's most liked OnlyFans model – second place doesn't threaten me'
Tattoo-mad mum banned from work, pubs and even kids' school after taking ink to extreme
Model 'laughed at' over body gets last laugh by becoming curvy star with 5m fans
'Trolls never bothered me when they called me fat – but it hurts now I'm a mum'
'I'm proud to flaunt my stoma bag but TikTok keeps labelling my videos as sexual'
For more lifestyle stories, sign up to the free Hot Topics newsletter here
Source: Read Full Article