Will 'Oppenheimer' Hit $1 Billion? Inside Christopher Nolan's Historic Box Office Run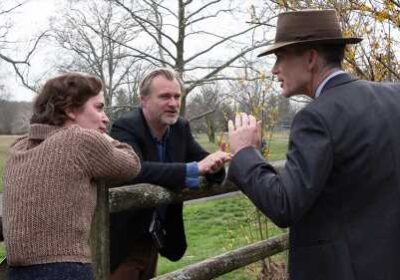 Does Christopher Nolan's "Oppenheimer" have enough heat to hit $1 billion globally? At one point, this milestone may have sounded entirely improbable for a three-hour historical drama that mostly depicts scientists talking about theoretical physics.
But sure enough, the biopic starring Cillian Murphy as the so-called father of the atomic bomb has become a full-fledged blockbuster with a fighting chance at joining the billion-dollar club. After 10 weeks of release, "Oppenheimer" has earned a staggering $926 million at the worldwide box office. It's the third-highest grossing movie of the year, far surpassing big-budget tentpoles like Marvel's "Guardians of the Galaxy Vol. 3" ($845 million), the 10th "Fast and Furious" movie ($704 million) and "Mission: Impossible – Dead Reckoning Part One" ($576 million).
To reach $1 billion, "Oppenheimer" needs to generate another $74 million worldwide. Though not impossible (it has repeatedly put theatrical expectations to shame, so why stop now?), this would require people to keep showing up for "Oppenheimer" over several more weeks. Global ticket sales have been declining by roughly 20% per week in recent weeks, better than most films at similar points in their theatrical cycles. The challenge is that "Oppenheimer" has mostly run out of steam in North America — as expected, after two months on the big screen — so international audiences will be key in carrying the movie to ultimate box office glory. Overseas, it's still reliably selling tickets in China, Italy and Germany.
For box office experts, "Oppenheimer" is a film without many useful comparisons. It's the second-highest grossing R-rated film in history, behind 2019's "Joker" ($1.07 billion), and has played less like a grim historical biopic and more like a superhero epic. That's thanks to Nolan's status as a name brand, as well as his power to encourage fans to seek out the film in Imax, where it has earned $181 million.
So, even though it's still hard to predict, sources close to the film, as well as rival studio executives, believe "Oppenheimer" will top out at a remarkable $950 million in its initial run, just shy of that elusive milestone. However, a theatrical re-release in Imax or awards attention (Oscar nominations tend to boost ticket sales) could help the film eventually cross the finish line late this year or early in 2024.
To be clear, the $100 million-budgeted "Oppenheimer" is already hugely profitable to Universal and Nolan. The filmmaker receives a percentage of box office revenue, which could net him tens of millions of dollars.
If "Oppenheimer" manages to cross $1 billion, it will be the director's third movie to do so, following "The Dark Knight" ($1 billion) and "The Dark Knight Rises" ($1.08 billion). It ranks as Universal's biggest non-franchise film of all time and 12th-highest grossing film in history ahead of "The Secret Life of Pets" ($894 million). This only solidifies Nolan as a box office force to be reckoned with.
Read More About:
Source: Read Full Article