Why you should join our #Walk4Women this International Women's Day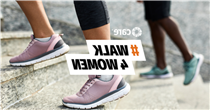 This International Women's Day, we're asking you to show your support by joining us on a #Walk4Women.
Here at Stylist, every day is a celebration of women. But there are times when we want to go big. One such time is International Women's Day, on 8 March.
So, here's the big question: do you want to join us?
The good news is: you can. On 8 March we're asking everyone to commit to one simple thing: going on a walk. In collaboration with CARE International UK, #Walk4Women invites you to join up with women in your life and head out for a stroll on the day, perhaps at lunchtime or as a post-work amble.  
Our goal is to walk the circumference of the earth (don't panic, it's actually not too lofty a dream – if 8,000 women pledge to walk 5k, job done). On the big day, Team Stylist will be heading out on our own walk around London, and we invite you to host your own, solo or as a group, wherever you are.
All you need to do to get involved and show your support for women is to sign up to walk in solidarity then pledge your distance in kilometres. You can double the feelgood factor by listening to a very special International Women's Day podcast as you walk, joining the conversation on social media with the #Walk4Women hashtag, and reading up on the vital work CARE does day in, day out.
Lace up your comfiest trainers, pledge your distance, and feel that glow of being part of a global movement for gender equality. See you for a walk on 8 March.  
Key information for Walk4Women
What? Pledge your distance then head on a walk to support women. Don't fancy walking? No stress. You can instead listen to our International Women's Day podcast on the day, donate to CARE International, and read up on all the vital work they do. 
When? Wednesday 8 March.
Where? Wherever you like! 
How? You can sign up using the form above.
Why we're teaming up with CARE International UK
That's why this year, we're working with CARE International UK for our #Walk4Women. 
Women and girls are often the hardest hit by conflict and disasters, and are also typically the first to respond to meet the needs of their communities. And yet, women who are actually affected by crisis often have little or no influence over major decisions to resolve them. CARE is on a mission to sort this, solving humanitarian emergencies with women in the lead.
Support the women leading in crisis
Halatu, South Sudan
Halatu, 31, fled violence in South Sudan with her five children and two nieces. She has been living in a refugee settlement in northern Uganda since March 2018. 
Despite her trauma, Halatu has found solidarity and a sense of purpose as part of her women's group within the camp, as part of CARE's Women Lead in Emergencies project. Halatu has discovered her inner leader, creating safe spaces for women in the camp, organising a boycott to force humanitarian agencies to address issues raised by the group and taking on roles in the Refugee Welfare Council, where she can support other women to raise their voices. 
"I can now stand on my own," she says. "I was able to borrow some money and start a small business, handcrafts and sandals, as it helps me to support my children. We opened our eyes that we can do things both as a group and as an individual. 
"When a woman is in leadership. They understand better the issues faced by other women and can raise these."
Amal, Syria
"They told me I should stop doing what I do," says Amal. "They said, 'This is a man's business.' But I didn't stop and continued doing my job. I feel very good about what I do and about the opportunities I am creating for my female employees."
Amal began working in the agricultural industry six years ago, and a few months ago took part in CARE International training to grow her business. She rented out a piece of land, started growing vegetables and fruits, and now employs 11-15 women, depending on the season. 
"Being part of this project has really changed their lives," says Amal. "They can now buy food and other essentials for themselves and their families and do not have to depend on the mercy of others. My dream is that parents educate both their sons and daughters. As a society, we will not be able to succeed if women are not receiving adequate support. One hand cannot clap. We need to be strong as a community, and a community consists of both men and women."
Loise, Vanuatu
When tropical cyclone Harold hit, Loise's home country of Vanuatu faced major destruction. This motivated her to take part in CARE International's Community Disaster Climate Change Committee (CDCCC) training, where she learned how to prepare herself and her community for future for disasters. She is now the treasurer of the committee and is an active and vocal leader in her community. 
"From my point of view, women should be able to have a voice to speak in the community," she says. "There already exist generational status rankings that gives dominant people leadership roles and more speaking power over others. It is important for everyone to share their voices and ideas when we are working together. Each person's shared opinions and ideas are assessed, then we all agree on which one to follow. It is best for everyone to be open to each other."
Images: Getty; CARE International
Source: Read Full Article