Why The Cast of 'Outlander' Says Brianna & Jamie's Relationship Wont Be What You Expect
Spoilers ahead for Outlander Season 4, Episode 5. Despite Claire and Jamie having some major distractions in "Savages," they still feel the presence of Brianna. By the end of the episode, their daughter goes through the stones, which means it's pretty much inevitable that Brianna will meet Jamie on Outlander. Although we don't get to see Brianna actually in the past in "Savages," her plan is to find her parents in 1700s North Carolina and try to save them from a deadly fire. And while you'd hope that this first-time meeting between father and daughter would go swimmingly, the Outlander actors teased to Bustle at New York City Comic Con that, unfortunately, that won't be the case.
Even if you haven't read the Diana Gabaldon books that the series is based on, it's not really a spoiler to discuss Brianna and Jamie meeting. The Outlander team confirmed to Variety March that Season 4 would feature the father and daughter's first encounter, and "Savages" further hints that Brianna's arrival in the past is nigh. Before German colonist Gerhard Mueller viciously murders Cherokee healer Adawehi (who acts as Nayawenne from the books), she speaks to Claire about Brianna. "She is here," Adawehi says. Claire believes that she means Brianna is metaphorically always in her heart, but she shouldn't have underestimated Adawehi's intuition since Jamie then asks Claire if Brianna has a birthmark on her neck. Claire is stunned since she never shared that information with Jamie, but he says he saw Brianna in a dream.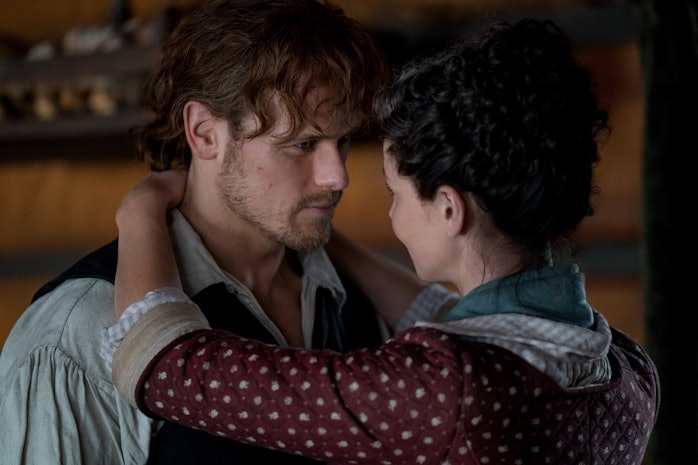 Brianna's time-traveling plans are confirmed through the note she leaves for Roger. Her letter also reveals that she does know her parents' lives are in danger. "I found out something terrible is going to happen to my mother and Jamie. If I didn't try to go and help them, I would never have forgiven myself," Brianna writes. So she leaves 1971 Inverness in an effort to get to Claire and Jamie before the fire that occurs sometime in the 1770s. Time travelers usually journey 202-203 years into the past, per the established rules of Outlander time travel, which means Brianna should arrive in plenty of time to warn Claire and Jamie.
While they both will be overwhelmed to see Brianna, Jamie has never met his daughter. Besides adopting Fergus, he's never really had the opportunity to be a father before. (William, his son with Geneva Dunsany, wasn't allowed to know Jamie's true identity.) But it's not like Brianna was initially delighted to hear the news that Frank wasn't her biological father, which means meeting Jamie will definitely lead to some friction — or at the very least, a few false starts.
"Let's just say [their relationship] doesn't run smoothly," Sam Heughan tells Bustle. Sophie Skelton agrees that their meeting doesn't go well, but explains in more depth the emotional turmoil that Brianna is going through. "At first, she obviously is still dealing with the death of Frank, so finding out about Jamie … is just exceedingly bad timing," Skelton says. "But Brianna is obviously going to have this curiosity about her biological father, so she then has this guilt … Inside she wants to just push Jamie away and never really have anything to do with him, but at the same time she wants to answer all of these questions she has about him."
Beyond that, there's what Brianna experiences as she makes her way across the Atlantic Ocean to North Carolina. "[When] she goes back in time, there's a lot of trauma that she then has to work through," Skelton says. "So I think meeting Jamie is really good for Bri, but at the same time she goes through a lot."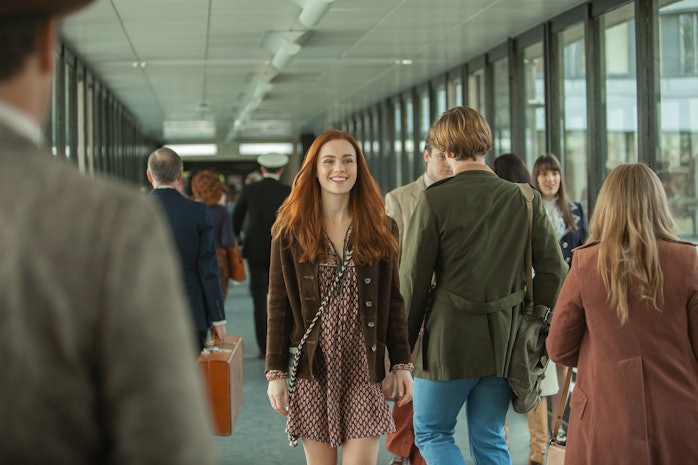 Another factor that will impact their relationship is Jamie's unfamiliarity with fatherhood — especially when it comes to parenting an adult. "It's very difficult for Jamie because he wants so much to be a parent, and to be a parent to Brianna. But when she arrives in his life, she's an adult," Caitriona Balfe tells Bustle. "As much as he wants to be a father, the needs of an adult are very different from the needs of a child. That's a very difficult balance for him to be able to strike."
In "Savages," Jamie brags to Murtagh (Murtagh's back!) how Brianna is at university because women in the future have more rights. But even still, Jamie has the sensibilities of an 18th century man, so it makes sense that he and Brianna will clash. Brianna and Claire's reunion is certainly something fans should look forward to, but the Frasers aren't going to instantly be one big happy family. Drama is always to be expected in TV families — and that must only be compounded by a family as complicated as this one.
Additional reporting by Dana Getz.
Source: Read Full Article