Why 'Phantom of the Opera' is Closing on Broadway — And How It Will Rise Again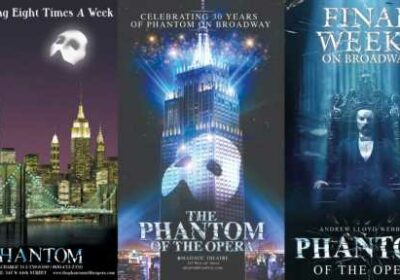 Ask Cameron Mackintosh if "The Phantom of the Opera" will be back, and he doesn't play coy.
"Of course it will return," he says. "All the great musicals do."
But the British mega-producer, whose credits include "Cats" and "Les Misérables," also speaks candidly about the forces pushing "Phantom," the longest-running show on Broadway, to end its record run on April 16 after 35 years.
Even before lockdown, the Andrew Lloyd Webber musical, which had fallen into a boom-or-bust pattern of sales fluctuations based on seasonal tourism influxes, seemed to be reaching the end of its lifespan. "Over the years, the number of good weeks at the box office started to shrink," Mackintosh says. "Some of the really bad weeks, we lost a lot of money, particularly in New York."
At the same time, the pandemic pushed up expenses at an accelerated pace. Prior to 2020, expenses would generally rise 3% to 4% annually. But according to "Phantom" general manager Aaron Lustbader, after lockdown they escalated by about 15%, driven by COVID costs like testing and increased staffing as well as hikes in security and advertising. Currently, keeping the show up and running means spending $950,000 a week.
"Now you look at a $1 million week at the box office and you think, 'Oh, thank God, we've broken even.' That's a huge mental shift," Mackintosh says. "The margins have shrunk hugely."
Meanwhile, post-lockdown sales slowed across Broadway, dampened by early performance disruptions, changes in consumer lifestyles and the lagging return of international tourists and city visitors, particularly suburbanites. Integral to the reopening of "Phantom" in October 2021 were the pandemic funds secured from insurance and from the federal Shuttered Venue Operators Grant.
"Even with that money, until I actually announced in September that the show was in its final months, we were losing money every week," Mackintosh says.
That announcement broke the losing streak, with "Phantom" now playing to packed houses and, in its final stretch, topping $3 million in weekly sales. The closing, originally scheduled for February, was pushed to mid-April — when the Majestic Theatre will undergo much-needed renovations put off by 30-plus years of constant performances.
The shuttering marks the end of an era for a production that has become synonymous with Broadway, a tourist attraction akin to a city landmark. Part of a wave of massively successful, London-born mega-musicals that revitalized Broadway in the 1980s, "Phantom" has, since its 1988 opening, weathered the disruptions of the 9/11 attacks and surmounted its first bout of sagging sales thanks to a 2004 film adaptation. The movie was a critically panned flop, but its marketing campaign, centered on the protagonist's iconic half-mask and powered by a hefty Hollywood budget, nonetheless drove audiences back to the stage musical.
Surpassing "Cats" in 2006 as the longest-running production on Broadway, "Phantom" has grossed more than $1.3 billion in New York alone, not counting its many international and touring productions. Along the way the show became a steady job for cast members, crew, musicians and others in an unpredictable industry.
Even the actors who step into the musical's challenging lead role tended to stick with it: Over its 35-year history, there have been only 16 actors to play the Phantom. One of them, Howard McGillin, played the part for some seven years (and more than 2,500 performances) over the course of a decade.
During that time he battled the physical and vocal fatigue that come with the role, wrestled with a persnickety remote-controlled boat, sat for an hour in the makeup chair before every show, and survived a regular drop through a trap door that was eventually cut due to safety concerns.
"Between the beginning of your performance to the end of the night, there's very little time that you're actually just in your dressing room, when you're not changing into another costume or climbing ladders or sitting up in the angel in the proscenium arch getting ready to descend," McGillin said. "It's you and your dresser and the makeup artists. That's your life."
While Mackintosh is bullish on the musical's eventual return — "There'll be a tour at some point too," he promises — it won't be back in its current costly form. For clues to what a new version might look like, he points to the London production, a reimagining of the original with a smaller orchestra and a handful of design changes that include the replacement of the proscenium's angel with a sculpture of a Pegasus (mirroring the actual Palais Garnier). A separate, entirely redesigned, non-replica production has toured the U.S. and the U.K. and plays Vienna in 2024.
"For now, I hope people will remember that it went out doing the most fabulous business of all time," Mackintosh says. "My plan was to burnish the reputation of 'Phantom,' not let it seep away."
Read More About:
Source: Read Full Article