Why Kayleigh McEnany's Recent Statements About Donald Trump's Presidency Are Causing A Stir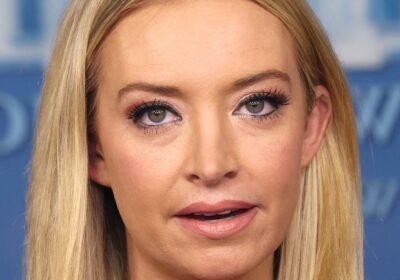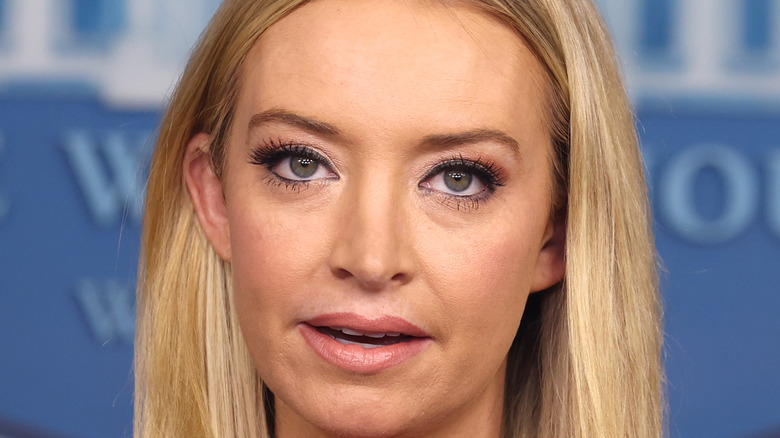 Tasos Katopodis/Getty Images
By Hope Ngo/Aug. 25, 2021 10:52 am EDT
Kayleigh McEnany knows a thing or two about what the Trump White House was like. After all, she was White House Press secretary in the last nine months of Donald Trump's term in office — from April 2020 to January 2021, to be exact (via Business Insider).
And it was during Trump's last nine months in office that the coronavirus pandemic took hold and reached several crescendos, shutting the economy down and causing 22 million to lose their jobs as a result; when Black Lives Matter protests erupted after police murder George Floyd in Minnesota; when the GOP overturned its own stated rules to elevate Amy Coney Barrett to the Supreme Court after the death of Ruth Bader Ginsburg; when the Trump administration not only refused to recognize the results of the November 2020 elections, it also refused to carry out a normal, peaceful transition of power; and when rioters engulfed the U.S. Capitol in what is now widely considered to be a failed power grab, which triggered a historic second impeachment call (via UVA Miller Center).
Social media showed Kayleigh McEnany no mercy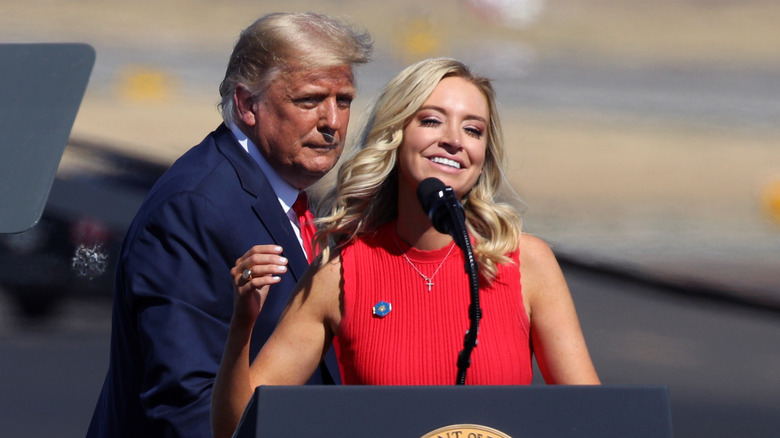 But history appeared to be of little to no consequence to McEnany who, during her appearance on Fox News, went after President Joe Biden, saying "Look, when President Trump was president, you didn't see crisis after crisis. You just didn't see it. I shudder to think about what Covid would have been like under Joe Biden. We've seen Afghanistan blow up. Crime in the streets. You named it all. What would Covid have been like? Because I was in the White House when it was pretty scary times" (via Mediaite).
It was left to social media to remind McEnany exactly what life was like for most Americans in 2020. "Kayleigh McEnany [says], 'I shudder to think about what Covid would have been like under Joe Biden.' 400,000 Americans died of covid-19 under Trump while he initially downplayed the virus and suggested using light and disinfectant," one Twitter user said incredulously. 
"Kayleigh McEnany: 'When President Trump was President, you didn't see crisis after crisis.' Really? It was relentless unending crisis, a dystopian nightmare. The Walking Dead with red hats, as civilization crumbled season after season," a second Twitter user fumed. But a third social media user said McEnany deserved some credit for her comment because: "She's kinda right in the sense that it was more like one giant, crushing, all-encompassing crisis where it was impossible to tell where one ended and the next one began."
Kayleigh McEnany has her share of supporters on social media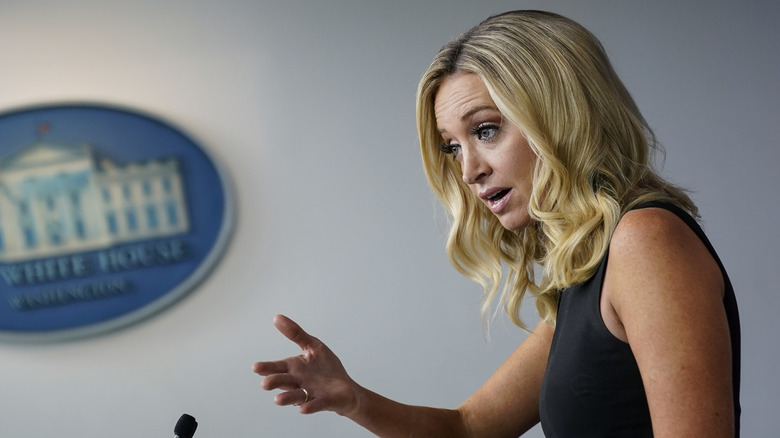 But there were also those that defended McEnany, with one social media user saying: "Democrats are against the USA. They show it every single day" while another simply tweeted: "Kayleigh McEnany. Correct as usual."
The former White House Press Secretary isn't exactly immune from telling her own porkies. Six months after McEnany left office, Business Insider put out a list of five times she had gone back on her claim that she had "never lied" during her time in the White House. Among other things, she claimed that Donald Trump had never downplayed the seriousness of COVID-19, and that Trump had "taken all statutory requirements necessary to either ensure a smooth transition or a continuation of power" after the November 2020 elections (via Twitter). She also claimed that Trump made history with the way his White House marked an AIDS awareness date, saying he "honored World AIDS Day yesterday in a way that no president has before, with the red ribbon there," while Presidents George W. Bush and Barack Obama did the same in 2007 and 2012.
Source: Read Full Article