Why first-home buyer numbers have dropped to a five-year low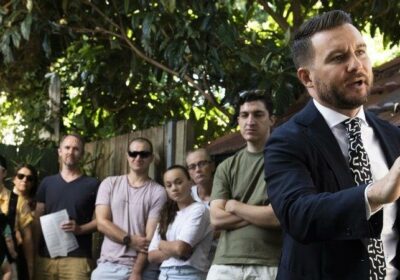 Key points
Potential first home buyers cannot borrow as much money now interest rates have risen. 
Many potential first home buyers are waiting to see what the Reserve Bank will do before making a decision.
Buyer activity is predicted to rebound once rates stopp rising. 
Property listings
First-home buyer numbers have fallen to levels not seen since 2017, as home-buying hopefuls baulk in the face of rising interest rates, declining affordability and the prospect of buying into a falling market.
ABS figures show just 7646 first home buyers took out home loans in December. The last time such new loan commitments were lower was in June 2017, at 7642.
First-home buyers were scared off purchasing by the prospect of further Reserve Bank interest rate rises and the uncertainty they brought, Ray White chief economist Nerida Conisbee said. Both buyers and sellers had been spooked, and the former had their buying power slashed, which led to fewer homes being listed and falling prices.
"People hoping to get into the market are really constrained at the moment," Conisbee said. "There's not much to buy, and you can't borrow much either, so the market's a bit stuck.
"I don't think it will become unstuck until the uncertainty is resolved."
The Reserve Bank of Australia has so far raised rates from a record low of 0.1 per cent to 3.1 per cent at the fastest rate of increase since 1994. Another rise is expected on Tuesday, which economists expect to be anywhere between 0.25 per cent and 0.4 per cent.
First-home buyer activity was at a near five-year low. Credit:Rhett Wyman
Axton Finance director Clinton Waters said many first-home buyers were taking a "wait and see" approach to buying in a falling market.
"Some of the punters are saying: 'I'm not going to try to catch the bottom because no one can do that. But if I'm smart and keep my ears pricked I'll buy at the right place and the right time'."
The Property Bureau buyer's advocate Alastair Mairs agreed that home-buying hopefuls were biding their time.
"They're keen to get into the market, but I think there's a hesitancy around interest rates, as there is with everyone," he said.
Conisbee said the decline wasn't just limited to the first-home-buying market.
"Right now we're seeing a drop-off broadly in activity, it's not just first-home buyers," she said. "There's not much stock out there, and the cost of financing is limiting."
The overall value of new home loan commitments fell 4.3 per cent in December, and is 29.3 per cent lower than a year earlier, ABS figures show.
A range of incentives to buy, such as stamp duty discounts, is available across Australia, despite a recent Productivity Commission review finding these work against improving affordability, but the benefit to first-home buyers was mostly psychological and not enough to counteract the broader slump, Waters said.
"The headline appeal of grants and incentives is strange," he said. "The fever it creates in who it's targeted at is strange because how much does that really boost your buying capacity?
"If you get an extra $10,000 [grant] from the government, how much difference is that going to make?"
Lockdown-era incentives such as the HomeBuilder grant have ended, but one new incentive is the First Home Buyer Choice scheme, which was introduced in NSW late last year. It offers first-time home buyers the choice between paying stamp duty or a land tax pegged to the home's value. Conisbee said it was unclear what effect it had had on the market so far.
"It should lead to more activity, but it's a bit too early to tell," she said. "For pretty much all first-home buyers it makes sense to go for the land tax."
Mairs said that waiting for ideal conditions was a waste of time for some buyers.
"If you're buying [a house] at $1.5 million it's a lot different, but if you're buying in the apartment market it hasn't really moved in the past decade," he said. "If they're waiting for the apartment market to crash, it won't."
Waters said prices would rebound quickly once the RBA stopped lifting rates, and fear of missing out kicked in.
"My anticipation is, once we get through this rate increase cycle, which has been vicious, but once rates top out that will give a degree of confidence to buyers."
Most Viewed in Property
Source: Read Full Article