Why Bachelor's Sean Lowe Rehomed Dog Gus: 'I Died a Little on the Inside'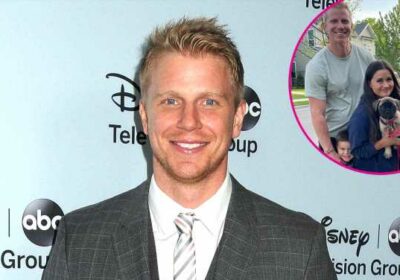 While Sean Lowe and his wife, Catherine Giudici, loved Bullmastiff puppy Gus, they ultimately needed to rehome the canine for the safety of their family.
"Y'all know how much I loved that dog and he was such a great dog. Great with the kids, well-trained and he was so full of love. However, he showed a couple instances of resource guarding in the past when he snapped at/bit Mia," the former Bachelor, 39, wrote via his Instagram Stories on Wednesday, April 19, referring to his youngest child, 3. "We did everything in our power to keep it from happening again but one night several weeks ago, [our son] Samuel bent down to pet Gus, and Gus bit him on the side of the head."
Bachelor's Catherine Giudici and Sean Lowe's Family Album
Lowe and Guidici, 36, initially met on season 17 of The Bachelor, which ended with the former graphic designer earning her man's final rose when they got engaged. The pair, who wed in 2014, went on to welcome sons Samuel, 7, and Isaiah, 5, and daughter Mia. Their Texas-based brood grew again in April 2022 when the married couple adopted Gus.
"Well, Mia had a nice 2-year run, but that run is now over. Please say hello to my new favorite child, Gus," Lowe quipped via Instagram at the time while introducing the pup.
Pinot! Jackson! Copper! Meet Bachelor Nation's Dogs
While Samuel, Isaiah and Mia forged special bonds with the family pet, Lowe and Giudici knew rehoming was the best solution after Samuel was bitten earlier this year. (The Bachelorette alum chalked up Gus' behavior to "temporary lapses in judgment.")
"The result was a trip to the E.R. and a staple in the head," Lowe added in his Wednesday upload. "So, as much as I love that dog, I have to put my kids first. But [Gus is] in a great home and we'll get to still see him occasionally. [By the way], I died a little on the inside."
In order to view the video, please allow Manage Cookies
The former collegiate football player further explained that his kids had "fully healed" from the incidents. "[Samuel is] doing great," he added on Wednesday. "He misses his dog, too. And so do his brother and sister."
Celebrity Parents Show Off Cuddly Pictures of Their Kids and Pets
Gus has since found a "great" new home with Lowe and Giudici's dog trainer.
"He gets to go to work everyday and be around other dogs. She texted me the other day and said this [one] pug hates all dogs except for Gus. Must be the close resemblance," the former ABC personality jokingly wrote via his Stories, before noting it will be "a while" before he adopted another pooch. "It'd feel like I was cheating on Gus if we got one anytime soon."
For access to all our exclusive celebrity videos and interviews – Subscribe on YouTube!
Related Stories
Sean Lowe: My Truck Was Almost Stolen at Gunpoint While Out With Samuel
'Bachelor' and 'Bachelorette' Virgins Through the Years
Celebrity Couples Who Have Pranked Each Other
Source: Read Full Article