Where you can get Walmart's new drone delivery services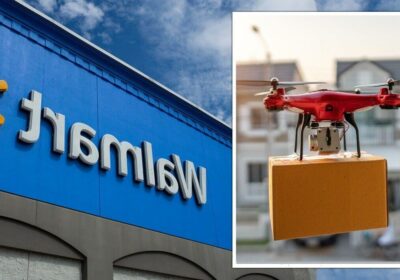 We use your sign-up to provide content in ways you've consented to and to improve our understanding of you. This may include adverts from us and 3rd parties based on our understanding. You can unsubscribe at any time. More info
Last year, Walmart expanded its drones to deliver shopping to over 4 million customers, and the new advanced delivery system continues to become more convenient and available. The retail giant has just recently launched drones at the Walmart Supercentre in Winter Haven, Florida, which is just one store of 36 that use the devices spread across seven states.
Walmart's founder, Sam Walton, once said he was driven "to buck the system, to innovate, to take things beyond where they've been" and Walmart has been doing that with its new state-of-the-art delivery system.
The superstore began testing drone delivery in 2020 and in 2022 it completed over 6,000 drone deliveries.
Walmart's drone service is available for same-day delivery between 8am and 8pm and the brand's website says that your delivery can be up in the air around as little as 30 minutes after ordering.
It costs $3.99 and the maximum delivery weight is ten pounds, as the Walmart website states: "Simply put, if it fits safely it flies."
Walmart has said that the drone programme has been very successful. On its website, the company said: "We've seen a positive response from our customers that have used the service.
"In fact, while we initially thought customers would use the service for emergency items, we're finding they use it for its sheer convenience, like a quick fix for a weeknight meal."
The retail giant has also revealed favourite products from customers using the drone service, which include cookies and cream ice cream, red bull, rotisserie chicken, lemons and bounty paper towels.
Walmart customers can expect more stores to offer drone delivery in the future, as the store has said on its website that 4,700 of its stores are located within 90 percent of the US population, making Walmart "uniquely positioned" to help the futuristic technology become more widely available.
DON'T MISS:
Walmart pulls 'poorly named' KKK boots [REVEAL]
Walmart shopper's best deals are 'honestly cheaper than Amazon' [REPORT]
Shopper claims Walmart will start charging $1 for carts this month [INSIGHT]
Where in the US is Walmart offering drone services? Check out the list below to see if drones are available at your local store.
Texas
3100 Custer Rd, Plano, Texas

115 West Fm 544, Murphy, Texas

555 W Interstate 30, Garland, Texas

1801 Marketplace Dr, Garland, Texas

3959 Broadway Blvd, Garland, Texas

915 N Town East Blvd, Mesquite, Texas

2501 Lakeview Pkwy, Rowlett, Texas

1501 Buckingham Rd, Richardson, Texas

4691 State Highway 121, Colony, Texas

2827 S Buckner Blvd, Dallas, Texas

2275 Gus Thomasson Rd, Dallas, Texas
Florida
1450 Johns Lake Rd, Clermont, Florida

550 Us Highway 27, Clermont, Florida

8745 State Road 54, New Port Richey, Florida

2140 Bloomingdale Avenue, Valrico, Florida

19910 Bruce B Downs Blvd, Tampa, Florida

1208 E Brandon Blvd, Brandon, Florida

10863 Bloomingdale Ave, Riverview, Florida

11720 E Dr Martin Luther King, Seffner, Florida

7450 Cypress Gardens Blvd, Winter Haven, Florida
Arizona
2435 E Baseline Rd, Phoenix, Arizona

21655 N Lake Pleasant Pkwy, Peoria, Arizona

7975 W Peoria Ave, Peoria, Arizona

7450 W Glendale Ave, Glendale, Arizona

18551 N 83rd Ave, Glendale, Arizona

5845 W Bell Rd, Glendale, Arizona
Arkansas
240 Slack St, Pea Ridge, Arkansas

367 W Main St, Farmington, Arkansas

406 S Walton Blvd, Bentonville, Arkansas

5000 W Pauline Whitaker Pkwy, Rogers, Arkansas
Virginia
1149 Nimmo Pkwy, Virginia Beach, Virginia

2021 Lynnhaven Pkwy, Virginia Beach, Virginia

1832 Kempsville Road, Virginia Beach, Virginia
Utah
585 N State St, Lindon, Utah

5056 W 13400 S, Herriman, Utah
North Carolina
4545 Fayetteville Road, Raeford, North Carolina
Source: Read Full Article