What's Happening To Jimmy Buffet's Billion-Dollar Margaritaville Empire After Shocking Death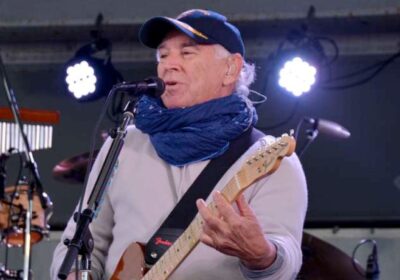 After Jimmy Buffett – the musician known for his beloved hit "Margaritaville" –passed away at the age of 76, much to the surprise of fans, his obituary has revealed his cause of death, and it appears he was struggling with his health in private for several years.
Buffett, who had been eagerly anticipated for his upcoming album, "Equal Strain on All Parts," set to release later this year, passed away with his loved ones by his side, a statement shared on his social media and website on Saturday officially confirmed.
RELATED: Kylie Jenner To Compete With Kim & Khloe Kardashian By Launching Clothing Brand
"Jimmy passed away peacefully on the night of September 1st surrounded by his family, friends, music and dogs," the statement said. "He lived his life like a song till the very last breath and will be missed beyond measure by so many."
An obituary posted to Buffett's website revealed he'd been quietly battling Merkel cell skin cancer for a period of four years, an uncommon form of skin cancer characterized by uncontrolled cell growth and the potential for rapid spread to other areas of the body.
"He continued to perform during treatment, playing his last show, a surprise appearance in Rhode Island, in early July," the obituary stated.
Beyond creating music that inspired listeners to kick back with a cold drink, Jimmy was also a savvy businessman who transformed his personal brand into a lifestyle empire. His Margaritaville empire encompassed everything from restaurants and resorts to a range of merchandise.
In addition to income from music sales and tours, the success of Margaritaville played a pivotal role in elevating Jimmy Buffett to billionaire status. In April, Forbes estimated his net worth at $1 billion, while Margaritaville Enterprises has a $2.2 billionv lauation last year.
A post shared by Jimmy Buffett (@jimmybuffett)
Now, Margaritaville Enterprises faces the challenge of sustaining its business without its founder, though it plans to power through.
"On behalf of everyone (who works, visits or lives) in Margaritaville, we mourn the loss of Jimmy, a true national treasure, and express our heartfelt condolences to his family and everyone around the world who loves him," Margaritaville stated on its website following Buffet's passing.
So far, Margaritaville Enterprises hasn't commented on the company's future business plans following its founders death. Its's expected the Buffer's billion-dollar personal fortune will be divided between his living relatives.
Source: Read Full Article