Wes Anderson's latest has no real plot, few laughs – but it's ingenious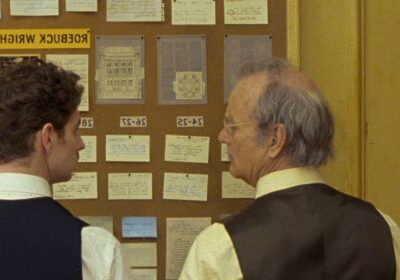 FILM
THE FRENCH DISPATCH ★★★★
M, 108 minutes, in cinemas from December 9
You don't have to be a fan of The New Yorker to enjoy Wes Anderson's much discussed new film, The French Dispatch, but it certainly helps.
Bill Murray and Pablo Pauly in a scene from The French Dispatch.Credit:Searchlight Pictures via AP
In acknowledgment, Anderson and his producers have thoughtfully provided a crib sheet listing profiles of his cast of characters and The New Yorker writers and editors who inspired them.
This doesn't mean that you're in for a fast-moving comedy of intra-office politics resonating with witty banter and jolly games of one-upmanship. It's not the Algonquin Round Table view of Manhattan's literati that we're getting here.
Bill Murray plays editor Arthur Howitzer jnr in The French Dispatch.Credit:AP
I was frequently reminded of Dorothy Parker's remark that she went into The New Yorker's offices one day but had to come home again because somebody was using the pencil. Anderson has conjured up a publication staffed by journalists who don't have the time or inclination to commune with their colleagues. They're wholly preoccupied with the stories they're working on. They report only to their editor, Arthur Howitzer Jr (Bill Murray). The Francophile son of a newspaper publisher from Kansas, Howitzer has founded the magazine as a means of bringing a whiff of French culture to the American Midwest. But times are tough and he's forced to consider cutting costs. Whatever happens, however, he is determined that his beloved writers will not suffer.
The magazine is not based in Paris. Instead, we find ourselves in a French town created from Anderson's imaginings. While he shot the film in the south-west town of Angouleme, chosen for its cafes, cobblestones and winding alley ways, he's transformed it with miniatures, digital enhancements and artful bits of reconstruction to resemble the kind of storybook confection familiar from many of his films and he's called it Ennui-sur-Blasé. The overall effect of all this is a particularly whimsical form of escapism – as if an excessive knowledge of reality has brought on a state of nostalgia for a world that never was.
There is no real plot. The script is stitched together from four stories being covered by the magazine's writers. First up is a piece about Ennui-sur-Blase itself done by Owen Wilson's Herbsaint Sazerac as he cycles around the town treating us to a potted account of its history and topography enlivened with drolly deadpan observations and one or two pratfalls. It makes for a gentle beginning before we're pitched into three much more elaborate tales involving art, politics and crime. A svelte Tilda Swinton adorned with a prosthetic overbite guides us through the first one which involves a dishevelled Benicio del Toro as a convict artist who is anointed a modernist genius. Then it's on to May 1968's student revolution with Frances McDormand in charge as a single-minded reporter based on Mavis Gallant. And finally, crime and food come together in a convoluted kidnapping plot covered by Jeffrey Wright's Roebuck Wright, a writer devised, we're told, from aspects of James Baldwin, Tennessee Williams and A.J. Liebling.
From left, Elisabeth Moss, Owen Wilson, Tilda Swinton, Fisher Stevens and Griffin Dunne in a scene from The French Dispatch. Credit:AP
It's a busy schedule as well as an ingenious one yet in the end, it turns the film into something admirable rather than engaging. Anderson has a magpie sensibility that makes his work unique. It goes with meticulous choreography and an urge to include anything that takes his fancy as long as it can be shaped to his grand design. In the scene which introduces the magazine's offices, for example, a wall has been removed to give us the feeling that we're spying on a dolls' house. Occasionally, he slips in a black-and-white sequence in tribute to the classics that have influenced the film's look and in the last story, there's an animated sequence done in the style of Herge's Tintin comics as a salute to the International Comics Festival held annually in Angouleme.
There is so much to take in that it's exhausting – and strangely short on laughs. Humour in Anderson's films always depends on the conceit that it's entirely unintentional. All his actors ignore the possibility that they could be doing anything funny and most of the time this makes them even funnier. Yet here, the artistry that has gone into the film's making commands so much of the screen that the jokes are sidelined. Before you see the film you do need to do your homework.
Most Viewed in Culture
From our partners
Source: Read Full Article