'We fell in love on MAFS – we haven't been apart since show and we're having a real wedding'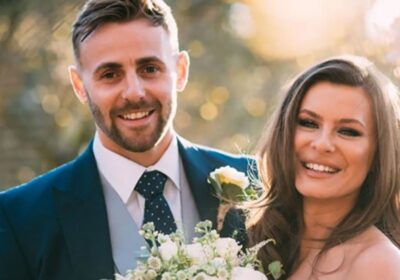 We've watched several couples take on the unique approach to love in the hit TV series Married At First Sight, with many newlyweds breaking up in the process. But a rare few make it all the way, including Tayah Victoria and Adam Aveling who fell in love and have been together ever since.
The MAFS stars, both 27 met on the 2021 series and hit it off straight away with an instance connection. They survived every commitment ceremony and their relationship blossomed which saw Adam get down on one knee to ask Tayah for her official hand in marriage.
Just one day after filming they moved in together and around a year later welcomed their first child, a daughter called Beau. Now over two years since they first met, the MAFS couple will walk down the aisle again to officially tie the knot during a luxurious December wedding.
As their big day edges closer, Tayah and Adam spoke exclusively to OK! about their time on the show and what they've been up to since. Reflecting back on the day they met, Adam said: "It was one of the most nerve-racking things I've ever done, not only because of all the cameras being there but also to meet that person you're going to spend the next few months with, I was absolutely bricking myself.
"But when I saw Tayah I remember all my nerves just went, I kind of went tunnel vision and only focused on Tayah, as soon as I saw her everything else just didn't matter."
Tayah added: "You forgot everything else around you and it was instant ease."
"We definitely had that first attraction, absolutely unbelievably and I remember telling producers she was out of my league," Adam recalled.
They went on to have a "memorable and unforgettable" honeymoon where Tayah said they were saying "the most embarrassing and funny things to each other – we were just belly laughing. It was just such an amazing time."
Adam shared his special moment during the honeymoon and said: "One morning I sat on the balcony and I knew I was falling in love, I was sat there with tears coming down my face, it was mad."
"We really found out why we were matched on the honeymoon," the bride added.
At the time of filming MAFS, it was near Covid so there were still restrictions in place which the couple said came with its "challenges". During the process, Tayah said: "We weren't allowed to go into any shops or to get our nails or hair done, so we literally could only go out for a walk and had to be escorted by a producer because they were so hot on Covid so tensions rose."
Adam added: "It was an emotional rollercoaster, we were lucky but we still found it challenging. So the couples that were going through a lot, it must have been hard."
Talking about their success from the show, Tayah told us: "We really wanted to find our person, we were just both on the same path at the exact same time and I really think timing is such an important thing when you're meeting someone. And if you really like someone, you make things work."
Throughout the MAFS process, their relationship continued to grow and just a day after filming moved in with each other. "After filming finished we were in our own little bubble, we didn't go out much, especially while MAFS was on," Adam told us.
"We stayed around our local area and Tayah moved in the next day after filming."
They soon welcomed a new addition to their home with their cockapoo pup called River.
Tayah added that after MAFS: "It didn't feel like that much changed, it was just a progression of finishing filming, it was still the same between us. It was still so natural and it was meant to be that way."
"Since the day at the alter we've barely had a day apart, the only time we do is maybe one or two days," the groom lovingly shared.
While Tayah added: "It feels like you're losing your right arm or something you need every day when we're apart."
"That's why they call it the other half," Adam chipped in.
Around a year after they met the couple welcomed their first child together, a daughter called Beau Emily Aveling on 7 October 2022. Having recently celebrated her first birthday, Tayah said: "Her little personality is coming out, she's developing so quickly and she's just such a joy and so amazing to be around.
"I don't think we could love her anymore if we tried."
The proud parents have also been busy renovating their home in Doncaster for the last two years and have been planning their official wedding which will take place in December. Talking about their upcoming nuptials Adam said: "I'm really excited about it, it's going to be a magical day, a Christmas wedding and everyone will dressed up in black tie."
"I wanted a really romantic theme, really cosy, so lots of candles, white flowers," Tayah added.
She continued: "This wedding will be a lot more special, we could only have six people at our MAFS wedding so I'm looking forward to having all of our friends and family in the same room celebrating such a magical day and actually making it legal.
"We did want to get married at the same venue as before but we thought when it's in the UK you can never predict the weather."
Source: Read Full Article