Vegas high: in an intimate setting, Kylie delivers nostalgia with sparkle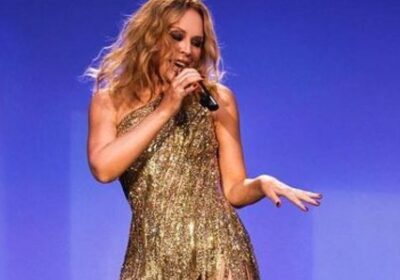 Save articles for later
Add articles to your saved list and come back to them any time.
MUSIC
KYLIE MINOGUE ★★★★½
Voltaire at the Vulcan, Las Vegas, Nov 4
In a single breath, Kylie Minogue effortlessly draws her audience from an explosion of colour, light and music, to a single spotlight in a darkened room, a solitary figure draped in silent emotion.
On the Las Vegas stage of Voltaire at The Venetian, Minogue's small stature is deceptive. She delivers an incredible sound, and just as she does in a great arena, she holds this intimate cabaret showroom in the palm of her hand.
Kylie Minogue performs on opening night of her show in Las Vegas.Credit: Instagram/@kylieminogue
The 75-minute set, informally titled More Than Just a Residency, lives up to its name. It is indeed much more than just a Las Vegas residency. It knots the strands of Minogue's career – from gay dance clubs to arena tours – into an acoustic biography.
Minogue describes the show as "hedonism, escapism, joy [and] rapture". It borrows creative touches from 19th-century Paris and meshes them with laser lights and a disco beat, all of it gently drifting towards Padam Padam, the pulsing dance masterpiece which ruled the summer airwaves and broke TikTok.
The room – Voltaire, at The Venetian – is somewhat modest for an arena-seasoned performer like Minogue – it seats just 1000 people, at a mixture of small supper club-style tables and standing room spaces on the periphery. But the measurable energy surrounding the show is easy to interpret: it sold out within minutes. More tickets were released last week.
It also sets the stage for a very different show to the sort Minogue's fans have traditionally seen her deliver. In an arena, she cuts a slender, solitary figure, surrounded by spectacular stage pieces. In Voltaire, surrounded by dancers, she looms larger than she ever has, almost within arm's reach, a sultry and luminous figure, playing with shadow on a long narrow stage that draws her to the centre of the room.
The small space also transforms conventional stage banter into a more intimate conversation. She shares moments with members of the audience, drawing them into the show. In that sense, More Than Just a Residency harkens back to Minogue's own pop infancy, pressing the flesh with her fans in London's gay dance clubs.
The set list is elegantly nostalgic, dancing through Minogue's career. Locomotion is given a colourful reinvention by music director Steve Anderson, which almost takes it back to the energetic pulse of its original iteration. Spinning Around and All The Lovers drew rapture from the audience; the songs which defined her as a more substantial solo artist. Padam Padam offers an explosion of colour. And a cover of Elvis Presley's Can't Help Falling in Love is intimate and heart-wrenching.
There are slight imperfections. At 75 minutes, Minogue's stage time almost feels too brief. And while the show celebrates all of Minogue's hits, it feels like there might be some missed opportunities — songs like Turn it into Love or Time Bomb, perhaps unimportant to the cultural history books, are nuanced brushstrokes on Minogue's musical canvas that might have warranted re-examination.
Perhaps it also means More Than Just a Residency is a segue into Minogue's third act, shedding the skin of the teenage pop star and revealing the evolution of the adult stage diva. Here, Minogue 3.0 becomes a sensual chanteuse, surrounded by the acrobatic burlesque artists of the Parisian cabaret act Belle de Nuit.
Minogue has shed the skin of the teenage pop star and revealed the evolution of the adult stage diva.Credit: Instagram/@kylieminogue
Together, their collective energy explodes in a dazzling finale, closing the show with Love at First Sight. The lyrics – and the stars came out, filled up the sky / the music you were playing really blew my mind / it was love at first sight – could be a love letter to Minogue from her audience. But Minogue plays it with a beautiful twist, and a nod to both the stage and the city: a last blast of Vegas High. As, indeed, she is.
Find out the next TV, streaming series and movies to add to your must-sees. Get The Watchlist delivered every Thursday.
Most Viewed in Culture
From our partners
Source: Read Full Article