'The Teacher' Director Farah Nabulsi Explains Why Shooting in Palestine Was Crucial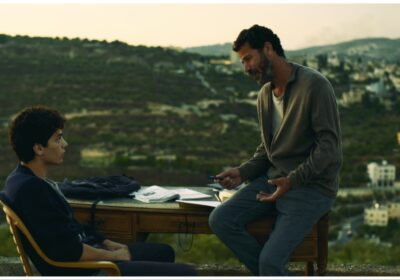 How does one measure the worth of one's life? Does one life have more value than another? These complicated questions are at the center of British-Palestinian writer-director Farah Nabulsi's feature debut, "The Teacher," which premieres in TIFF's Discovery section.
The film follows Palestinian schoolteacher Basem (Saleh Bakri), who acts as a father figure to two of his students, Yacoub (Mahmoud Bakri) and Adam (Muhammad Abed El Rahman), amidst turmoil in the West Bank. Upon meeting British volunteer worker Lisa (Imogen Poots), Basem struggles to reconcile his risky commitment to political resistance and his emotional support for Yacoub and Adam with the chance of a new romantic relationship.
The film is partially inspired by the story of Gilad Shalit, which Nabulsi describes was "shocking in the sense of the imbalance in value for human life." Shalit was a former Israeli soldier held captive for over five years by Palestinian militants, and was released as part of a historic prisoner exchange deal for 1,027 Palestinian prisoners. Nabulsi also says events in the film were inspired by many conversations she has had with Palestinians "who experienced first-hand much of the things that take place in the film — home demolition, child prisoners, settler violence and vandalism."
Nabulsi, who was Oscar-nominated and won the BAFTA for her short "The Present," opted to shoot in Palestine's West Bank to ensure "authenticity" for the film as well as bring business to the film industry there.
"Whenever I've watched a Palestinian film or a film set in Palestine that isn't actually shot there, I personally noticed straight away because it just feels a little bit more suffocated, more strangled. I wanted to have a film that could breathe," Nabulsi says. "From a more practical level, I also wanted to bring our business there. I wanted to support the talent that is there, the film talent on the ground, as they don't have as many opportunities."
Numerous logistical challenges took place amid filming, such as filming delays due to roadblocks, as well as emotionally taxing experiences. "In the beginning of shooting, Israeli settlers started to torch olive trees in the same village Basem, the teacher, is from," Nabulsi recounts. "Or on my way to work one day, I consoled a family as they stood in front of the rubble of their freshly demolished house. I hugged the mother in silence. I didn't even know who she was, but we hugged and cried."
These moments understandably put the cast and crew on edge, but Nabulsi says it also heightened the necessity to tell an authentic story that captured the harsh reality Palestinians face every day. "For me, it's absorbing that [reality] and yet still trying to carry on with a positive attitude to lead, to make a film, and the pressure of giving that reality justice in your film."
Despite witnessing such horrible events, Nabulsi says the experience of making "The Teacher" also gifted beautiful memories for all involved (such as two crew members unexpectedly joining a Palestinian wedding) as well as enlightened those who weren't as familiar with Palestinian culture or the plight of its people.
"At the end of the day, Palestinians love and laugh, sweat and bleed, just like any one of us. That can get lost in this world of news and media, and sad to say, misrepresentation and stereotypes," Nabulsi says. "The actors who had flown over, they were blown away by that. It was beautiful from my perspective, because I am familiar with all of this, getting to watch them enjoy that hospitality, go off on day trips, meet people, and come back with their stories. So if you get an inkling of that from the film, that makes me super happy. It's a human story about people who do want to live a life with freedom."
Read More About:
Source: Read Full Article