The gadgets that could be worth up to £185 – how many do you have collecting dust in your home?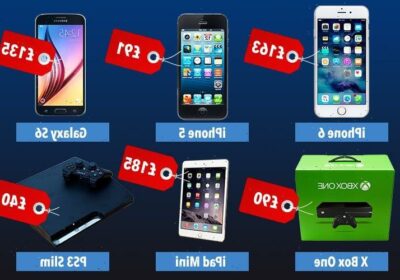 MANY of us will have got new phones, video game consoles or the latest bit of high-tech kit for Christmas.
From iPhones to Xboxes and Playstations and tablets, lots of us have pieces of tech lying around the house which we no longer use having upgraded to a newer version.
But don't just leave your out-dated kit in the attic or a drawer – there's good money to be made simply by flogging it online.
The newer the gadget, the more you'll make from it – but it's still worth checking to see how much you can rake-in by trading in an old item.
The Sun Online teamed-up with online market site MusicMagpie to see what sellers are making for their unwanted tech.
Marketing director Liam Howley said: "January can be a really hard time when it comes to making ends meet, and many people will be feeling the squeeze as they wait for their next pay check.
"We see lots of people trade-in their unwanted tech to us after Christmas as a way of making some extra cash.
"Many do so because they have often received a new tech item, leaving their old device redundant. Rather than leaving it to gather dust, our savvy consumers know they can make money trading-in their old device to help them through the month."
Below, we've taken a look at what prices you can expect you can get for your old phones, consoles and tablets.
iPhone 6 sold for £163
Everyone loves an iPhone, though being first to get the latest upgrades can cost a pretty penny.
The iPhone X went on sale in November, with prices starting at £999 for the handset, or from £47.95 a month on contract.
But if you do have an old handset lying at the back of your drawer, then you could get more than £100 for it.
A seller on MusicMagpie sold their iPhone 6 – which went on sale back in 2014 for £163 – not bad for a three-and-a-half year old phone.
Surprisingly MusicMagpie has already sold a sought-after iPhone X, with someone paying £680 for the latest one.
iPhone 5 sold for £91
It's a similar story for an even older version of the iPhone.
The "5" version was launched in 2015 – and even though you'll get less for it than if you were selling a newer model, you could still make a bit of handy extra cash.
One seller got £91 for their handset.
Samsung Galaxy S6 sold for £135
It's not just iPhones which are worth a bob or two.
Samsung's popular Galaxy phones can also sell for a decent price – with the "6" version from 2015 going for £135.
How does MusicMagpie work and what are the alternatives?
MUSICMAGPIE is a website and free app that you can use to sell unwanted items, like CDs, games, gadgets…and even Lego. Here's how it works.
Search MusicMagpie to find out how much your item is worth.
You'll need a minimum £5 worth of stuff to complete your order.
Send off your stuff (for free) in a box.
Once your items are recieved, MusicMagpie will pay you via bank transfer or PayPal – or donate the money to charity.
What are the alternatives to MusicMagpie? 
You could also try using other trade-in webistes like GameExchange for games or MazumaMobile for old phones. You could even try eBay or a website like GumTree or PreLoved. It's also worth checking out local selling groups on Facebook.
How do you sell items on eBay?
It's worth checking how much your item is going for on eBay before you trade it in or sell it on a Facebook group.
You need to set a minimum price. It needs to be higher or at least of the same value to what you're selling, otherwise it could be bought for less than it's worth. This is exactly what happened when someone sold a new £10 note for less than a tenner.
Even if your item sells, there's no guarantee the buyer will cough up. When you set-up the auction, you can opt for the highest bidder to pay straight away.
Don't forget eBay will charge you a fee if you sell your item. If you're selling up to 50 items a month – and you're not a business –  you'll be charged 10 per cent of the sale. Take this into consideration when you're listing your item.
Xbox One sold for £90
Microsoft launched its latest batch of consoles – the Xbox One X  and the less-powerful X Box One S – in November last year.
That means lots of gamers have upgraded their consoles but you can still get pick-up a perfectly good older version for a bargain price, with one being sold for £90 on MusicMagpie.
PS3 Slim sold for £40
As we know, tech can become outdated pretty quickly, so recent video consoles might not be worth too much money.
But still video game fans will most likely have lots of older consoles taking-up space in their house – and could get a bit of cash for them.
A Playstation 3 Slim version from 2009 has just been sold for £40.
iPad Mini sold for £185
Ipads can be a great way of browsing the web but can be pretty expensive to buy brand new with prices starting at a hefty £339.
So you can get a good deal if you're willing to buy second-hand, with a mini version of the tablet selling for £185 – a big saving of £154.
Source: Read Full Article