Tesco and Asda announce stores are 'safe spaces' for all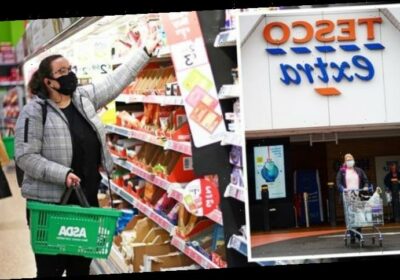 Martin Lewis provides Tesco customers with Clubcard advice
When you subscribe we will use the information you provide to send you these newsletters.Sometimes they'll include recommendations for other related newsletters or services we offer.Our Privacy Notice explains more about how we use your data, and your rights.You can unsubscribe at any time.
Last weekend, both Tesco and Asda posted on their social media accounts that women can walk into their stores to seek safety and ask staff for help. Marks and Spencer also posted on its Instagram and Twitter that its shops are "safe spaces".
Major UK supermarkets are urging customers to enter their stores to seek refuge or reach out to staff if they feel unsafe.
This comes after the tragic death of Sarah Everard, who disappeared in Clapham, south London, on the evening of March 3.
Ms Everard's murder has since sparked a debate – not only nationally, but globally – about violence against women and women's safety.
Just days after Ms Everard's disappearance, an investigation by UN Women UK found that 97 percent of women aged 18 to 24 have been sexually harassed.
Furthermore, some experts believe this figure is higher as it does not account for those women who did not know what happened to them was sexual harassment, or who did not have access to be able to speak about what happened to them.
The research also found that 96 percent of women do not report sexual harassment situations because of the belief that it would not change anything.
Claire Barnett, Executive Director of UN Women UK, said: "This is a human rights crisis. It's just not enough for us to keep saying 'this is too difficult a problem for us to solve'. It needs addressing now.
"We are looking at a situation where younger women are constantly modifying their behaviour in an attempt to avoid being objectified or attacked, and older women are reporting serious concerns about personal safety if they ever leave the house in the dark, even during the daytime in winter."
On Saturday, 13 March, both Asda and Tesco posted on their Instagram accounts to urge customers to use their stores as safe places.
In its Instagram post, Asda said: "Everyone has the right to feel safe."
Accompanying this caption was an infographic with the words: "Please know you can always take your time, wait inside or reach out to our colleagues should you be concerned for your safety.
"Customers and colleagues, we will be there for you."
In Tesco's post, the supermarket posted a similar infographic, with the words: "All our stores are safe spaces.
"So if you ever feel unsafe, please use our stores to wait for a taxi, a bus or a friend as long as you need to. Our colleagues will be more than happy to help."
Tesco's caption read: "All our stores are safe spaces. Come in and ask for help any time you need it."
Customers commented on the supermarkets' posts, with many praising the retailers and expressing their gratitude.
Commenting on Asda's post, a customer said: "A shout-out to all Asda store staff and all delivery drivers…you have been great!!"
Underneath Tesco's post, an Instagram user wrote: "Thank you Tesco."
Another added: "Others should follow your lead Tesco brilliant."
"Why did this make me cry," wrote another Tesco customer.
Some Instagram users also gave the supermarkets positive feedback on how to improve, with one commenter suggesting: "Would be amazing if all staff had training to help identify red flags and how to support just like hairdressers do."
Source: Read Full Article