SXSW Nabs 'John Wick 4' for Secret Screening Slot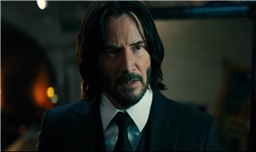 John Wick is battling his way to Austin, Texas.
The fourth installment in Keanu Reeves' runaway hit franchise has the honor of being this year's "secret screening" at the SXSW Film Festival, multiple sources told Variety. The film will show next week on the ground in Texas at a major venue, the sources added.
Distributor Lionsgate and SXSW Film Festival organizers would not comment on this story, most likely trying to preserve the fan experience. One source added that digital marketing will come into play with how and when lucky guests nab tickets to the screening.
"John Wick 4" hosted its world premiere in London earlier this week, followed by a screening in Berlin. SXSW will mark the first domestic public screening for the action film, the first three parts of which have grossed nearly $600 million at the global box office. Early reactions from the European premieres were more than favorable.
"A slick, brutal and stylish action epic that sees Keanu Reeves push himself further than before, and with moments that'll have fans talking," wrote one critic.
The fourth chapter sees Reeves return as the titular, reluctant hitman Wick, under the direction of
Chad Stahelski. Supporting cast includes Bill Skarsgård as Marquis, Donnie Yen as Caine, Laurence Fishburne as Bowery King, Lance Reddick as Charon, Rina Sawayama as Akira, Shamier Anderson as Tracker, Hiroyuki Sanada as Shimazu, Scott Adkins as Killa and Ian McShane as Winston.
Other notable projects premiering in this year's SXSW film selection included the Paramount Pictures franchise hopeful "Dungeons & Dragons," the anticipated "Evil Dead Rise," Eva Longoria's "Flamin' Hot" and the Tilda Swinton indie "Problemista."
Read More About:
Source: Read Full Article