Suzanne Somers Sells Massive $8.5 Million Desert Estate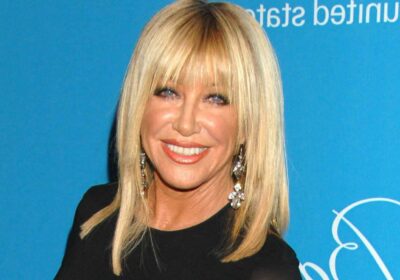 The Three's Company starlet, Suzanne Somers and her husband Alan Hamel bid adieu to their enormous Palm Springs desert compound. After years of the estate being on and off the market, the couple finally found a lucky buyer to take over this lavish 28-acre abode. The asking price for the dream house was a solid $8.5 million!
RELATED: Mohamed Hadid Sells $8.5M Mansion To Buyer Who'll Spend $5M Demolishing It
"It sold because I finally let it go — emotionally, spiritually and physically," Somers tells the New York Post,"it was not the right home anymore."
Granted, if you had a home with even half the bewitching magnitude as this one, it'd be pretty difficult for you to let go too!
The estate was first built in 1928 and includes a main house with four separate, glamorous villas that the couple spent almost forty five years of their marriage in. A rather innovative aspect of the compound is how majority of the materials used in the construction of the space came directly from the land it stands upon. Notably, one of the villas was designed by renowned master of modernist architecture, Albert Frey. With a bulk of its infrastructure being crafted from stone, the villa is aproposly dubbed the "Rock House".
With a whopping 2,000 bottle wine cellar, a 50 seat amphitheater, and a dinner room able to sit 32 guests, it's clear why the couple spend four decades living here.
Any A-lister's home, especially one of this enormity, is an easy target for intruders. And while the couple's instance with a wandering stranger didn't result in any sort of theft, it certainly made for the perplexing story.
Back in February, while Somers was in the midst of a Facebook live demonstration of a product from her cosmetic line, she heard a strange voice from the distance. As the couple was expecting dinner guests, Somers called out for the individual to come closer. Fans watched as an unseen, half naked stranger entered their property, claiming that he'd been followed by ghosts. Somers handled the situation with much ease and composure as her husband and friends escorted him off the property.
Happy to finally sell the home, the couple is looking forward to moving into their next dream spot. They're currently building an all new home that's moderately close to their current one, where they'll be staying until September. While it's certainly much smaller than this massive estate, the couple has some pretty big plans for it.
"We're going to give parties, it's a party house, a very sexy house," Somers boasts to the New York Post.
"We're using this new construction as a new opportunity [to make] everything as green as possible," her husband adds, "Even though I am not one of those 'greeniacs,' we're making sure the air quality is balanced and perfect, and even the drywall doesn't have all those chemicals."
Read Next: Katy Perry Sells Beverly Hills Mansion For Nearly $7.5 Million
Sources: New York Post, The Press Enterprise, Page Six, Los Angeles Curbed
Source: Read Full Article