'Stop living in the past': Bluesfest director backs adding Sticky Fingers to lineup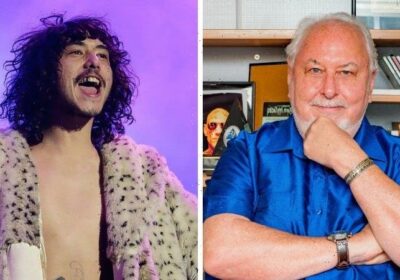 Bluesfest director Peter Noble has defended the controversial inclusion of Sticky Fingers and the band's lead singer Dylan Frost in his upcoming Bryon Bay festival, saying Frost had apologised for his past behaviour and was attempting to move forward with his life.
Frost has made headlines for a number of incidents in the past few years – most notably in 2016 when he was accused of being physically threatening towards Indigenous musician Thelma Plum. He later made a statement on social media saying he was "ashamed" he made a woman feel unsafe and "violence against women is never OK", and has also spoken publicly about attending rehabilitation for alcohol addiction and therapy for mental health issues.
Dylan Frost of Sticky Fingers, performing at Splendour in the Grass 2016.Credit:Mark Metcalfe
"Everybody has a right to be forgiven and to show who they can be … and this man is attempting to do that, so that's why he's on Bluesfest," Noble told this masthead on Wednesday afternoon.
"Our community is one of inclusiveness … and this man deserves an opportunity. Give him a chance. That's what I'm trying to do."
Controversial Australian band Sticky Fingers.Credit:Nic Walker
The Sydney indie rock band was announced as a new addition to the lineup on Wednesday morning, with Noble heralding them the "bad boys of Australian music". But the announcement was met with criticism from many in the music industry, including well-known artists Jaguar Jonze and Sarah Thompson from Camp Cope – both of whom have repeatedly spoken out about how difficult the Australian music scene can be for women and people from minority backgrounds.
The former said she was "disgusted and sickened" to see the way the group has been glamorised, and the latter called Bluesfest "the most tone-deaf promoters in the country". Both were approached for further comment, but either declined or did not respond by deadline.
Despite pushback on social media, Noble said people he'd spoken to were "over the moon" about the decision to add Sticky Fingers to the Bluesfest line-up.
Byron Bay Bluesfest festival director Peter Noble.
"I'm aware the singer is a diagnosed bipolar schizophrenic, and I am aware that, whatever happened in 2016, he's had years of no incidents while he's been managing his condition," Noble said.
"At what point are we going to show compassion and forgiveness through his efforts at growth? When do we forgive people with a mental health issue at attempting to move forward in life?"
"Stop living in the past, live in the now and let [Frost] be who is, which is a great artist."
The incident with Plum, however, is not the only controversy Frost has faced. Several months before that, he was also accused of shouting taunts at a different Indigenous artist while they were on stage talking about abuse at Don Dale detention centre.
Though the group said the latter allegation was a "massive misunderstanding", Frost acknowledged his behaviour "for a large part has been unacceptable" and the band went on a hiatus in 2017 while he sought treatment.
Controversy then followed them when the band re-formed in 2018. In an interview with Tom Tilley on Triple J, Frost appeared unrepentant about his past behaviour offering explanations like "s—t happens, man" and "boys will be boys". Though he then made the more aforementioned statement denouncing violence against women, one month later he was reportedly ejected from a Sydney pub after becoming involved in a verbal altercation with a transgender woman.
The following year, bandmates Frost and Paddy Cornwall were also involved in a serious physical altercation outside another licensed venue. Cornwall pleaded guilty to affray – a charge considered more serious than assault – and was sentenced to an 18-month term to be served in the community.
"Whatever happened in the past is in the past," Noble said on Wednesday. "At some point you have to allow people to move on with their life."
"They're playing a sold-out tour of the UK right now … and there are no issues. Stop living in the past, live in the now and let [Frost] be who is, which is a great artist.
"Lots of great artists over the years have had issues. Van Gogh had issues, but was he a great artist? That's what we remember him for. Just let this man be the artist that he is. He's trying his hardest."
Sticky Fingers were also approached for comment.
A cultural guide to going out and loving your city. Sign up to our Culture Fix newsletter here.
Most Viewed in Culture
From our partners
Source: Read Full Article