Stephen King, Like Most 'Last of Us' Viewers, Doubts Episode 3 Scene Was Set '10 Miles West of Boston'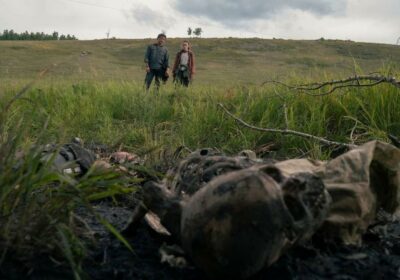 The third episode of HBO's "The Last of Us," titled "Long, Long Time," earned universal acclaim for breaking with the main narrative to tell the emotional love story between Bill (Nick Offerman) and Frank (Murray Bartlett). Critics and viewers have praised the installment as one of the best episodes of television ever made, save for one moment that has become the talk of social media. One establishing shot that is meant to depict "10 miles west of Boston" is very clearly not set 10 miles west of Boston as it features a mountainous backdrop that recalls America's northwest.
Screenshots of the "10 miles west of Boston" scene in "The Last of Us" have gone viral across social media, with none other than Stephen King calling out the show for the gaffe. King is a New England native having been born and raised in Maine.
"THE LAST OF US. Episode 3: Do you really want to tell me that's 10 miles west of Boston?" tweeted Stephen King.
One follower then asked King, "That's what you got out of one of the most beautiful episodes of television?" The horror icon responded: "Oh, I liked it fine. Just sayin'."
Even Boston.com weighed in on the scene with a roundup that included the headline: "'The Last of Us' makes a mockery of Boston-area geography."
While "The Last of Us" fans are having a field day on social media mocking the "10 miles west of Boston" scene, it's all in good fun considering what a masterpiece the rest of Episode 3 turned out to be. While Bill and Frank show up in the video game, the HBO series greatly expanded on their story.
"It seemed like such a rich and yet unseen story," showrunner Craig Mazin told Variety about the decision to devote an entire episode to fleshing out these supporting characters. "It afforded us a chance to look at how time passed, but also to ask a question about what happens if you're safe. I was just fascinated by the idea of Bill, as somebody who had created a place of safety, and then here comes Frank crashing in. From there, it just went differently in my head than what was there in the game."
The first three episodes of "The Last of Us" are now streaming on HBO Max. The 10-episode first season of the show continues Sunday nights at 9pm ET. The series has already be renewed for a second season.
Read More About:
Source: Read Full Article