'Standoffish' Sylvester Stallone writes his daughters' breakup texts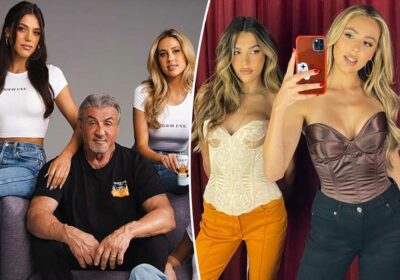 More On:
sylvester stallone
Sylvester Stallone gets playfully strangled by his wife and more star snaps
Sylvester Stallone, wife land reality show months after reconciling marriage
Sylvester Stallone gives update on Bruce Willis' condition amid aphasia battle
Sylvester Stallone made 'tragic mistake' that caused brief Jennifer Flavin split
Sylvester Stallone goes full Rocky on his daughters' boyfriends.
"My dad is a savant when it comes to our dating lives — in so many areas," Sistine Stallone said on Paige DeSorbo and Hannah Berner's "Giggly Squad" podcast Monday.
"In one area, he writes most of our breakup texts," she revealed.
Sistine's sister Sophia Stallone chimed in, "I highly suggest girls should go up to their dad and have their dad write a breakup text because men know men. I'm telling you."
"And they never get mad for being honest," Sistine said of their exes' reactions to the messages.
However, Sylvester can also be "very standoffish," according to the 24-year-old.
"We're like, 'Oh, this [guy] is a good egg. We're gonna bring him home.' And [our dad] is always standoffish," Sistine elaborated. "[He] stands in the corner, doesn't say anything … just to intimidate."
Sophia, 26, joked that the Oscar nominee, 76, "always … has a cigar" to assert his dominance.
"I asked him, I go, 'Why do you do that?' And he goes, 'I can tell within the first four minutes of meeting [a boyfriend] if he's going to last or not, and so I'm not going to waste my time,'" Sistine shared. "And he's right every time."
For more Page Six you love …
Listen to our weekly "We Hear" podcast
Subscribe to our daily newsletter
Shop our exclusive merch
The "Unwaxed" podcast co-hosts, both of whom are single, agreed that their father goes easiest on their younger sister, Scarlet Stallone.
"He only likes my sister's boyfriends, Scarlet," Sophia told listeners of the 20-year-old, who is currently dating University of Miami student athlete Louis Masquelier-Page.
Sylvester shares his three daughters with his wife, Jennifer Flavin. He also welcomed two sons, Sage, who died of coronary artery disease in 2012 at the age of 36, and Seargeoh, 44, with his first wife, Sasha Czack.
Flavin, 54, filed for divorce from the "Creed" star in August 2022, but Page Six exclusively reported the following month that the longtime couple had reconciled.
Sylvester, the former model and their children subsequently landed a reality show, "The Family Stallone," which premiered on May 17 on Paramount+.
Share this article:
Source: Read Full Article