Sir Ian McKellen and Roger Allam on their enduring 40-year friendship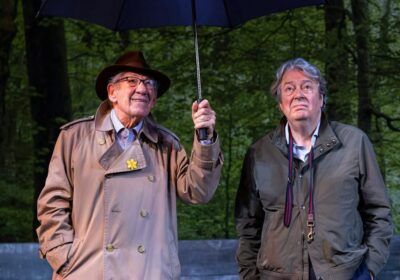 'Retirement is for people who can't or don't want to work (but neither of those applies to us)': Appearing in a new play together, Sir Ian McKellen and Roger Allam on their enduring 40-year friendship
The pair star in Ben Weatherill's critically acclaimed new play Frank and Percy 
 READ MORE: PATRICK MARMION reviews Frank and Percy
There was a time when Sir Ian McKellen could never have envisaged a roar of approval from a theatre audience at seeing two men kiss in a gay romcom. 
It's a far cry from the dark times he can all-too-easily recall when it was not only illegal to be gay, but also when even to 'mention the words gay, queer or homosexual would put people off the conversation'.
And yet the legendary actor and his friend Roger Allam, a three-time Oliver Award winner and star of Morse spin-off Endeavour, have been enjoying a spectacular run in Frank And Percy, a poignant and witty observation on the unexpected romance that blossoms between two lonely men who meet one spring day while walking their dogs, Toffee and Bruno, on London's Hampstead Heath. 
This new play by Ben Weatherill received a critically acclaimed world premiere at the Theatre Royal Windsor, followed by a sell-out run at the Theatre Royal Bath, and is now in London theatre The Other Palace.
'We were amazed with the enthusiasm of the Windsor audience, who you might think would be staid and conservative,' says Ian. 
Ian plays Percy (left) and Roger plays Frank in Ben Weatherill's new play which, after sell-out runs at the Theatre Royal Windsor and the Theatre Royal Bath, is now showing in London
'But they lapped it up and chortled and shouted out approval at some points. The same was true in Bath where you couldn't get a ticket. So it seems word has gone round that this is a bit of a crowd-pleaser. 
'Yet in 1967 it would have been illegal for me to have sex. Back then I just thought that's how things were. You just got on with it.'
Among friends and colleagues, Ian, famed for landmark roles such as Richard III on stage and Gandalf in six Hollywood movies, was never in the closet. 
But he came out publicly in 1988 – prompted by the Aids epidemic and in protest at the Section 28 legislation against the promotion of homosexuality – and has been a prominent campaigner for the LGBTQ+ cause ever since.
'For me, coming out was an absolute revelation,' Ian, 84, says. 'I realised the oppression I'd been under whereas before I accepted it, like slaves do. 
'If you've been oppressed, when you're released, you realise how stupid and cruel it was and how daft other people behave. 
'The shame of being gay is something a lot of gay people will say they've experienced. It comes from other people, not yourself, which they visit on you and you accept. 
'Even today there are moments I have to think, "Am I going to have to watch my language or am I going to be myself?"
'There are Premier League footballers who are unable to say they're gay. So it's astonishing today that people who are so confident on the field and so successful in life are frightened.'
Far from it working against him, Ian found he thrived as an openly gay actor. 
He went on to play arch-villain Magneto in several X-Men movies, the first in 2000, and between 2001 and 2014 he was the wise wizard Gandalf in Peter Jackson's adaptations of JRR Tolkien's The Hobbit and The Lord Of The Rings.
'I was in a cab not so long ago and the taxi driver, in a rather gruff way, was enquiring whether I had grandchildren. And I thought, "No, of course I don't have grandchildren, I'm gay. I wasn't allowed to get married when I was young." 
'So I said, "No, I'm gay." I felt glad I'd been honest. Then the cab driver said, "Yeah, I am too, mate."' Ian chuckles, his blue eyes twinkling.
Ian and Roger are not just colleagues but have been great friends since they first met in the early 80s. 
In Glasgow in 1988, Ian asked Roger to carry a banner on a march protesting against Section 28. Despite his 'appalling hangover', Roger was happy to support his pal, with Ian describing him as 'the most gay-friendly straight man I know'. 
Their friendship deepened after they realised the ease with which they shared a dressing room the first time they worked together, in The Old Vic's 2004 production of Aladdin, in which Ian played Widow Twankey to Roger's evil Abanazar.
The pair reunited for the film Mr Holmes in 2015, and now we can enjoy their chemistry once again in Frank And Percy, which follows two old-timers, devoted to their dogs, passing time on a park bench. 
They strike up small talk about the weather, hip ops, hearing aids and Pontefract cake before sharing opinions, then confidences and romantic feelings.
Retired teacher Frank (Roger) is mourning his late wife, while Percy (Ian), a sociology professor and openly gay man, is also alone.
The pair first worked together in The Old Vic's 2004 production of Aladdin – Ian played Widow Twankey to Roger's evil Abanazar
'Both are lonely and looking for something or someone in their life,' says Roger, 69, who is married to actress Rebecca Saire, with whom he has two sons. 
'The play looks at how hard it can be in later life to form relationships. Solitude can be wonderful but only until it tips over into loneliness.
'Sharing a dressing room with Ian during the panto cemented our friendship, so having another chance to work with him is brilliant. The panto was where he got to know my wife and our children.'
Would Ian have wanted children himself? 'Even if things had been different I would not have had children. I think people should be very careful before they decide to have children. It's a great responsibility. 
'I thought the best thing about being gay was that we weren't allowed to get married and have children. That's all changed, but I cannot imagine it. 
'I would have been a dreadful parent, but many gay parents have thought about it with a great deal more care than some straight couples. 
'I even have a bad track record when it comes to godchildren. I'm not a godparent to Roger and Rebecca's sons, which does take the pressure off.'
Roger, who's normally very droll, admits poignantly to his friend, 'I was going to ask you to be a god-father to both boys at one point but I felt it wasn't welcome.'
Ian is silenced for a moment. Would he have accepted? 'Of course. I'd have been less than satisfactory, but I'd have said to Rebecca and Roger, "What does this mean? Is it just a title?" I suspect they'd have said, "We want you to take a real interest in them." 
'I hope they might have said that, on occasion, I could… not intervene, but invite myself into the boys' lives. That would have been something I'd have enjoyed. But you don't have to be a godfather to do that.'
Frank And Percy explores ageing, death and grief, topics that occupy them both. 
'I worry about death a lot. I have felt deep grief, from my parents to the loss of a close friend,' says Roger. 
'Although there was no money and my father was a vicar, my parents were education-obsessed and got me into Christ's Hospital boarding school, a charity school. I went a year earlier than I should have and was thrown in at the deep end.
'It felt pretty brutal after our really warm family home. Then I managed to scrape into university. I never got to have an adult relationship with my father because he died when he was 63. So I grieve that to this day.'
Ian, who grew up in Burnley, Wigan and Bolton, also knows the shattering loss of the early death of a parent. 
His mother died of breast cancer when he was 12 and his father died in a car crash when Ian was 25, three weeks after seeing his son's West End debut. 
'I managed the grief very badly,' Ian says. 'I don't have much to criticise my family for, but it was suggested I didn't go to my mother's funeral. I was on the school camp and it was thought it would have been disruptive – better that I carried on being on holiday.
'I don't think I've ever recovered from my mother's death. I didn't, at the time, feel the pain I've since felt. 
'When everyone was shocked about Princess Diana's death, I couldn't relate at all, even though I knew her slightly. It was only when I realised Prince Harry was exactly the age I was when I lost my mother that I made a personal connection with it.'
His parents died without knowing he was gay. 'There wasn't anybody I'd worked with who didn't know I was gay. The only people I'd not talked to about it were my blood family, the roots went too deep. So coming out was wonderful,' he says.
As for Roger's character Frank, has he always been bisexual? 'He's described as having once had feelings for a man,' Roger says. 'You change as you get older, and Frank finds a lot in Percy that is very stimulating – he's intellectual and funny.'
Retirement is another key theme. 'Percy says at one point, "I've only two things in my life, my dog and my work. That's all I've got left. I don't want to let go of either of them." I can relate,' says Ian. 
'I keep working because I know that relatively soon, perhaps I won't be able to work.'
Percy's observation is poignant, especially as Dame Judi Dench has opened up about having age-related macular degeneration, saying she can no longer see on a film set.
'It might be the eyes, the ears, the memory or the knees for any of us,' says Ian. 'I think Jude will persevere because I sense she needs acting, out of habit as much as anything else.'
Just like Roger and Ian. So will either of them retire? 'Retirement is for people who can't or don't want to do the job any longer. But neither of those applies to us,' says Ian.
Frank And Percy is at The Other Palace until 3 December, 020 7592 0302, theotherpalace.co.uk.
Source: Read Full Article