Shania Twain's comeback album proves she's still the one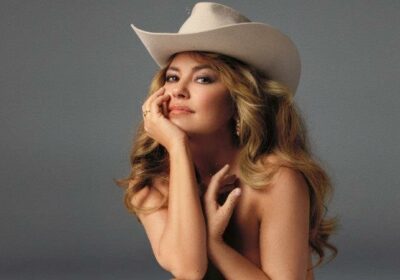 Shania Twain, Queen of Me
★★★½
It's hard to overstate just how huge Shania Twain was in the late '90s. The Canadian country singer was everywhere thanks to the success of her 1995 album The Woman in Me and two years later, its chart-busting successor Come On Over (still the best-selling country album of all time).
Brimming with hits such as That Don't Impress Me Much, Man! I Feel Like A Woman, You're Still The One and From This Moment On, the album benefited from the Midas touch of Robert "Mutt" Lange, Twain's then-husband and super-producer on some of the biggest albums of the era including AC/DC's Back in Black. But Twain co-wrote all the songs on Come On Over, and sold them with her Goldilocks-perfect, pop-country twang, beauty and sass, rendered in indelible music videos and midriff-baring outfits.
The comeback from the now 57-year-old queen of pop-country does impress us much.Credit:Louie Banks
A few years later, following another successful album, 2002's Up!, Twain's career was put on hiatus after a diagnosis of Lyme disease that affected her vocal cords, requiring two "open-throat surgeries." It would be 15 years before Twain delivered another record, 2017's Now, but it's Queen of Me that feels like the comeback album.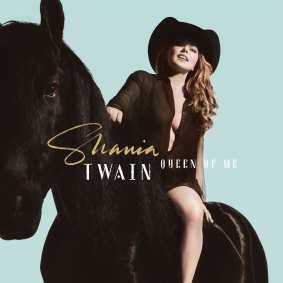 Queen of Me is Shania Twain's first new album since 2017.
Twain's voice returned lower and raspier after her surgeries, but musically, she's back to her poppy, peppy self on her new LP, opening with the boot-scooting party-starter Giddy Up! and maintaining an upbeat vibe throughout — even on the tracks with teeth. gPretty Liar is a barbed update on That Don't Impress Me Much, girl group motifs and boppy melodies mollifying lyrics such as "your pants are on fire/ you're such a f—ing liar".
The title track is similarly defiant ("you can't be king of everything/ 'cause I'm busy being queen/ queen of me"), as is Not Just a Girl, sharing a name with the 2022 Netflix documentary that revealed some, but not all, of the trauma Twain has endured in her lifetime, including suffering physical and sexual abuse as a child and having to care for her three younger siblings when her mother and stepfather died in a car crash when she was 22. These tribulations doubtless shaped her character, instilling the kind of resilience that was required to return to singing after losing her voice, and to bounce back after discovering that ex-husband Lange was having an affair with her best friend (two years later, Twain married her best friend's husband).
When she sings "you'll always be the same old you/ but I'm a brand new me" on Brand New, you know she's speaking from lived experience, while her indefatigable optimism recalls that of Dolly Parton, who has always known that you attract more bees with honey. Twain is triumphant, not bitter, and her kiss-offs share space on the album with romantic songs like Waking Up Dreaming, describing a relationship as giddily as a lovestruck teen, and Got It Good, which refers not to a crush, but to the partner she's watching out for ("I got your back, baby").
Despite the occasional lashing of venom, these are girlish songs. But at 57, Twain remains youthful in appearance and in spirit, and her renditions come over joyful and heartfelt, not reaching for relevance. Even in her fallow period, Twain never lost her iconic status — she's been an inspiration to artists as varied as Harry Styles, Diplo, country star Kelsea Ballerini and Japanese-British avant-pop artist Rina Sawayama, who heavily references Twain in her rock/country/pop revelation This Hell.
There's nothing so edgy on Queen of Me, just the sound of a woman revitalised and emancipated from the pursuit of perfection. You can't help but want to cheer her on.
A cultural guide to going out and loving your city. Sign up to our Culture Fix newsletter here.
Most Viewed in Culture
From our partners
Source: Read Full Article