'Sex-crazed' SeaWorld orca so dangerous he's been locked away from humans since 2004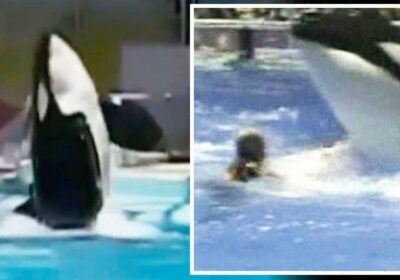 Seaworld: Trainer is attacked by orca Kyuquot in 2004
We use your sign-up to provide content in ways you've consented to and to improve our understanding of you. This may include adverts from us and 3rd parties based on our understanding. You can unsubscribe at any time. More info
Kyuquot the orca was taking part in a performance at Seaworld in San Antonio, Texas, on July 27, 2004. An encounter with his trainer has seen the giant mammal banned from working with people ever since.
Footage shows how Kyuquot – whose father was Tilikum, which killed three people – started to ignore trainer Steve Aibel.
Each time Mr Aibel came up for air, Kyuquot pushed him back under.
Mr Aibel's colleagues tried in vain to help him during the attack which lasted about 10 minutes.
It was revealed later that Kyuquot was showing signs of wanting to breed and his "adolescent hormones" were raised, according to the Daily Star.
Justin Lecourias, who saw the attack unfold, said at the time: "The whale was jumping all over the place, then it tried to take a bite out of the guy."
Mr Aibel recalled what happened: Seventeen years of training with animals and I've never had an experience like that.
"It looked like Ky lost a little bit of focus. I wasn't frightened. I think that by being calm throughout the process it helped to calm Ky down."
Kyuquot is still at the park in San Antonio, but was kept from public displays in 2004.
He was banned from working with humans, a ban which has not been lifted for 18 years.
Orcapod.fandom.com described Kyuquot as a reliable whale most often grouped with Tuar.
It added: "[H]e likes spending time with Takara and can be seen with any of his pod mates.
DON'T MISS:
Bloke with massive wedgie found sleeping half-naked on car [REVEALED]
British expats furious at pension BLUNDER as payments suspended [REPORT]
Prince George or Prince Louis could inherit 'unlucky' royal title [LATEST]
"Takara gave birth to Kyuquot's first calf. The calf was a female named Kyara.
"Kyara passed away on July 24, 2017 from an infection, thought to be pneumonia. Kyuquot had met his daughter before she passed."
Wildlife vet Dr Heather Rally visited Kyuquot and found he had a collapsed dorsal fin in 2015, according to campaign group SeaWorldofHurt.com
This is something which happens in captivity when an orca lacks space and spends too much time on the surface of the water.
A petition was set up aimed at securing Kyuquot's release, but he remains at the park.
Source: Read Full Article