Selena Gomez Auctions Off Taylor Swift Tickets for $15,000 at Rare Impact Benefit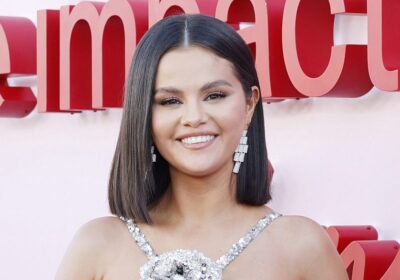 Selena Gomez's inaugural Rare Impact Fund Benefit delivered plenty of donations — thanks to the help of some of her famous friends, including Taylor Swift — which will go toward youth mental health efforts.
On Wednesday night, Gomez (with her "Only Murders in the Building" co-star Martin Short as auctioneer and emcee) auctioned off two tickets for any future concert headlined by the "Karma" singer. The coveted item sparked a spirited bidding war and ultimately ended up selling for $15,000 — the highest bid of the night, putting Gomez closer to her goal of raising $100 million for the Rare Impact Fund.
Other items sold included a lunch with Camila Cabello, a meet and greet with Paul Rudd (another of Gomez's "Murders" co-stars) at his next film premiere and an evening with Coldplay's Chris Martin, with bidding for most prizes starting at $5,000.
On the red carpet, Gomez got candid about her anxiety leading up to the inaugural event.
"I'm actually very nervous," Gomez told Variety, admitting timidly, "I threw up earlier." But she pushed through, shimmering on the red carpet in a silver custom Maison Valentino gown, because the cause was too important. "I haven't cared about something like this forever and, and I couldn't be more grateful that I could do it," she added.
T. Swift and Short weren't the only friends of the former Disney Channel star to show their support. Despite previously having a public falling out, Francia Raisa also showed up on the big night, praising Gomez for her commitment to helping those struggling with their mental health.
Raisa, who donated a kidney to the "Lose You to Love Me" singer in 2017, told Variety that the two made up over the summer after Gomez told Rolling Stone last year that her only friend in the industry was Swift – to which Raisa responded with a hint that things weren't peachy between the two. Under an E! News post sharing the information, the "Grown-ish" alum commented, "Interesting."
"We had dinner, we hashed it out," Raisa said on the red carpet. "I was like, 'I don't even know need to know what's going on. I needed my time. You need your time. Let's just start over. Hi, this is me at 35. And this is you at about 30. Let's start over.'"
Raisa also reflected on her nine-year therapy journey and how it led her to join Gomez in speaking out on behalf of those experiencing mental health struggles.
"I went through a lot of trauma in my childhood. I grew up with a famous father. I got in the industry when I was 16 years old. I had a much older boyfriend for a really long time when I was 17, and that kind of stripped away my youth a little bit. So when he and I broke up when I was 20, I was like, 'I don't know who I am anymore,'" Raisa explained, adding that the experience prompted her to seek help.
Inside the benefit, Gomez addressed the audience — which included TikTokers Cyrus Veyssi and Nava Rose, "This is Us" creator Dan Fogleman and Oscar and Grammy winner H.E.R. — and centered the impactful speech on her bipolar disorder diagnosis.
"This has been the culmination of a lifelong dream for me, but it has also stemmed from some of the darkest moments in my life," Gomez shared. "I struggled with the world inside my head for a long time. I felt lost, I felt hopeless at times. And in 2020, I received my diagnosis of bipolar disorder. And to be honest, everything quickly changed. I actually got the knowledge and the answers that I had been desperate for for so long."
She continued, "Understanding that, obviously, makes me become more aware of it. I'm less afraid than I used to be with that knowledge, I could seek out the support I needed to be myself, to find my joy again. Today, I'm very proud to say that I have, and I'm working really hard every day, and I'm so happy just to be alive and to be here with you guys today."
As she was joined by two youth mental health advocates, Gomez then tearfully acknowledged her little sister, Grace, who sat with the crowd.
"When I look at my little sister, Grace, the world that she and her generation inherits must be a better one, a kinder one, a clearer, one more connected one, with support and access," Gomez said. "Needless to say, I know we all have Graces in our lives who make us want to be better and do better, who can motivate us and connect us and make a difference."
Read More About:
Source: Read Full Article