Secret Santa: Most affordable Christmas gifts – under £15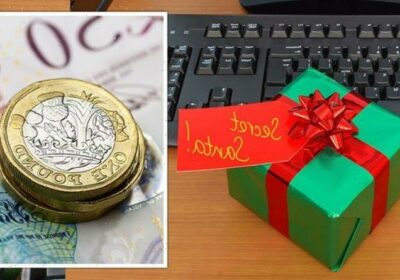 We use your sign-up to provide content in ways you've consented to and to improve our understanding of you. This may include adverts from us and 3rd parties based on our understanding. You can unsubscribe at any time. More info
The aim of Secret Santa is for the gift giver to remain secret. From personalised gifts to funny mimics, Secret Santa doesn't have to be expensive, with the majority of small gifts £15 or less. Express.co.uk has rounded up a selection of gifts, perfect to give to your colleague or family member.
Although Christmas is still more than two months away, many might start thinking about what they are going to purchase for other people.
With many people back in the office this year, Secret Santa may also be back on for a lot of people.
For those who like to gift personalised items, Koko Blossom have the perfect presents this year.
Its Personalised Name Pillowcase is on sale for just £14.50, while its Personalised Hand Sanitiser Pouch retails for £15.
You can also purchase a personalised Monogram Notebook for just £12, the perfect accessory for a desk or stationery collection.
For those with a sweet tooth, a chocolate gift might be a good option.
Hotel Chocolat have something for everyone this Christmas including The Winter Puddings H-Box, retailing for £13.50.
The box brings together 14 best-loved dessert-inspired recipes including a brownie flavoured chocolate and a chocolate orange one.
DON'T MISS:
Best Gin Advent Calendars to buy for Christmas 2021 starting at £45 [INSIGHT]
Which Christmas markets are open this year in Europe? FULL LIST [EXPLAINER]
Which Christmas markets are open this year in the UK? FULL LIST [COMMENT]
Hotel Chocolat also has a variety of Christmas themed gifts including its Jolly Penguin for £8, which is made using 40 percent milk chocolate.
Candy Kittens also makes the perfect Secret Santa gifts, with the company releasing its festive jars.
For just £7, Candy Kittens festive jars are the great gift and come in a sour watermelon flavour.
The Naked Marshmallow also have tasty gifts on offer this year.
You can choose any three flavours to make a delicious bundle for just £12 – shop flavours here.
This includes vanilla bean, candy floss, salted caramel, chocolate orange and strawberry cream.
The Naked Marshmallow are award-winning gourmet marshmallows made in the UK.
There are also a variety of different candles on the market this year, perfect for a Secret Santa gift.
This includes Laura Ashley's candle range which retail for £12.
Customers can pick up a variety of different scents including bergamot and lime, sweetie and freesia and seagrass and driftwood.
Yankee Candle have just released their Christmas gifts including gift sets and jars.
Small jars retail for £8.99 with scents such as vanilla cupcake, cinnamon stick, campfire apples and letters to santa on offer this year.
Shop Yankee Candle jars here.
The Perfume Shop also have a number of scented gifts the year including perfume and aftershave.
While it may be hard to buy a perfume for someone, The Perfume Shop has a variety of gift sets for Christmas, meaning the recipient has a number of options to try.
This includes the Yardley Fragrance Collection for her for £8 as well as Yardley's Luxury Soap Collection and Protect & Care Kit.
For mens, the company has Clinique's Daily Intense Hydrator set on sale for just £12 as well as Axis Caviar Premium Eau De Toilette Gift Set for him for just £12.99.
Alcoholic gifts are a great option for a Secret Santa gift too, with there lots on the market this year.
From Zesty Spirits, the Jaffa Cake trio gift set is perfect for any Jaffa Cake Lover.
With one 50ml each of Jaffa Cake gin, Jaffa Cake Rum and Jaffa Cake Vodka, this set is perfect if you're not sure what alcohol someone likes or drinks.
The set costs just £14.99 and can be purchased direct from their website – buy here.
This article contains affiliate links, which means we may receive a commission on any sales of products or services we write about. This article was written completely independently, see more details here.
Source: Read Full Article