Sean Penn, Aaron Kaufman Paint Profound Portrait of Volodymyr Zelensky in Berlin Festival Premiere 'Superpower' (EXCLUSIVE)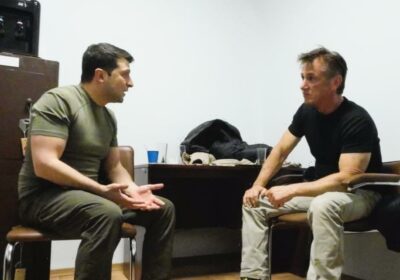 Sean Penn went to war and a movie broke out. That is, in effect, the story behind the making of the documentary "Superpower," a gripping cinematic portrait of Ukrainian president Volodymyr Zelensky on the eve of Russian president Vladimir Putin's military invasion of Ukraine in February 2022.
Co-directed by Penn and Aaron Kaufman, who helmed the 2021 documentary "Crusaders: Ex-Jehovah's Witnesses Speak Out," "Superpower" bows Feb. 17, out of competition, as a Berlinale Special Gala at the Berlin Film Festival. Fifth Season and Vice Studios are behind the film, with Fifth Season selling worldwide rights.
"Superpower" was not conceived as a war story. Rather, Penn and Kaufman, as well as producer Billy Smith, endeavored to chart the trajectory of Zelensky's unusual career trajectory — from actor-comedian-producer playing a history teacher elected as Ukraine's president in the satirical TV series "Servant of the People," to a rising political star elected as the real-life president of Ukraine in 2019. The intent was to relay a tale about an everyman — in Zelensky's case, a Ukrainian, Russian-speaking Jew born under Soviet rule in the late 1970s — who finds himself at the helm of a fledgling democratic nation burning to embrace freedom. A Ukrainian president elected on an anti-corruption platform who, very soon post-election, finds himself in the crosshairs of an American president's impeachment.
"When one watches 'Servant of the People,' it so clearly has the luxury in its fiction to allow [Zelensky] as an actor and as a writer to really say what was already pulsing in the heart of Ukrainians," notes Penn. "And which would, by the way, largely be applicable in many countries, including the U.S. You know, kind of 'Bulworth.' Imagine Martin Sheen running for president of the United States off 'West Wing.' Well, you're kind of going, he's not just an actor–because he means it.
"By the time he had decided to run a campaign, people already had an idea of what he could be and they'd had an emotional response to the character he created," continues Penn. "And with all that youthful energy [Ukrainians] had not seen before in leadership."
Adds Kaufman, "[This film] was an opportunity to see what this guy was all about, to follow a path and see what the truth is. And that was so refreshing to me. It was intoxicating."
Plans were made to shoot in Ukraine, but the pandemic struck and, for about two years, Penn and Zelensky communicated via Zoom and telephone. When Kaufman and Penn, who appears on screen throughout the documentary, met Zelensky in person on Feb. 23 of last year, Zelensky was dressed, per Penn, "in a suit, as would be a head of state at the presidential palace."
That next day, Feb. 24, Russian missiles came raining down upon Ukraine, leveling cities and igniting the largest refugee crisis since World War II. And "Superpower," hatched as a character study — "a project of whimsy," says Penn — was now something entirely different: a film tracking the emotional odyssey of a war hero.
"Zelensky was two completely different creatures from one day to the next," recalls Penn of that fateful historical moment. "He was a spirit in waiting."
Since declaring its independence from the collapsed Soviet Union in Aug. 1991, Ukraine's struggle for sovereignty has been hard fought, and Putin, who came to power in 1999, has served continuously as president or prime minister since that point. In February 2014, Russia annexed the Crimea region of Ukraine, and tensions boiled between the two nations, with Putin escalating the conflict unprovoked in 2022, vowing to squash the democratic dream for Ukraine's 44 million citizens.
Zelensky, the political underdog, has remained undeterred.
"We always thought of this [film] as a David and Goliath story in a couple of different ways," says Kaufman. "It's the big opponent and the small, scrappy upstart. But if you look at David and Goliath, David was nimble, and he was prepared to [fight] in a different way, a completely new alternative way that was new and different than that of Goliath. And I feel like Zelensky is the same kind of character."
Penn adds, "David is millions of Ukrainians. And Goliath is hundreds of thousands of Russians — and, you know, they're not winning this war."
For "Superpower," Penn spent an initial two-and-half hours interviewing Zelensky outside the presidential palace, followed by Zooms and phone calls that continue to this day. CORE, the disaster relief organization Penn co-founded with Ann Lee in the wake of the 2010 Haiti earthquake, has been on the ground in Ukraine, Poland and Romania since the invasion, providing emergency relief for over 200,000 individuals, including refugee families and Ukrainians displaced within their own country.
Of his involvement in Ukraine in that regard, Penn says that he's most struck by the number of "traditionally left-wing donors" to CORE who have asked point blank: "How can we help get weapons there?"
Kevin Iwashina, senior VP, documentary, Fifth Season, calls "Superpower" "an organic extension of the fight for human rights to which Sean has been committed his entire career.
"We wanted nothing more than to support Sean and Aaron as humanitarians who are committed to their artistry and can apply it to create meaningful and broadly accessible content that will impact perspectives and influence thinking," Iwashina says.
Bolstering the film's sense of percolating urgency, "Superpower" features sit-downs with Ukrainian journalists and high-profile experts such as retired lieutenant colonel Alexander Vindman, former director for European Affairs for the United States National Security Council. Vindman, whose family emigrated to the United States from Soviet Ukraine in 1979, served a key role in testifying against former U.S. president Donald Trump in 2019's Trump impeachment hearings. The film also highlights the regular everyday people of Ukraine, women and men turned overnight — and with little to no training — into combat soldiers.
"Zelensky told us that across the country, there were more people asking to take up weapons than they had weapons to give," says Kaufman.
Observes Penn, "These Ukrainians were fighting with everything they had — and shocked the world."
"Superpower," as much as it tracks the evolution of Zelensky from comedian to world leader, is a clarion call to governments across the globe. With democracy at stake, this is not a crisis contained within Ukraine. This is a crisis that, if not dealt with, extends far beyond the borders of any country — and will impact generations and nations to come.
To wit, Andriy Pyshnyi, Ukrainian banker and politician, issues this stark statement in the film: "I think that World War III has already begun. And the front line is in Ukraine. War in Ukraine is just a start for the Russian Federation if it's not stopped."
So acute was Penn's fiery ache to help the Ukrainians and share their stories that whatever danger he may or may not have faced in the throes of Russia's invasion — from the bombed-out buildings of Mariupol, Kyiv and Severodonetsk — fell a far second to that desire.
"I've never been good at mathematics, but I knew statistically we had a pretty safe bet to get out of there," says Penn. "Of course, whenever I put myself in sketchy places or with sketchy people, you have to have a moment of processing the possibility of the need for that obituary, what that means for your kids, and so on and so forth. But there's a new something that claims you. And in this case, from the moment the invasion started, I was so consumed with this feeling [about] this unified culture, that people with a lot of different opinions about a lot of different things were able to completely align — and that's everywhere in Ukraine today. And it's something that's so refreshing. So, you are fueled by that.
"Once the invasion started, more than any other thought of feeling, it was a kind of heartbreak," Penn continues. "I was thinking about what, what world are my kids going to, you know, finish out the day with it. It didn't seem localized."
The emotional pull of creating "Superpower" was so strong, says Kaufman, the most difficult challenge was deciding when to break.
"If Sean and I had our way, we'd still be shooting this movie," he says. "I don't think we'd ever stop. I think the hardest part of this movie was creating an arc where we had an end, where we said, that's the end of the story at that moment. We got really invested. And I think we got invested because we knew it was right, but also because we drilled into an idealism that felt genuine. Once you took it out of the context of the United States and you were no longer dealing with the right and the left — that whole paradigm — and you were looking at somebody else's culture. And, you know, [Ukrainians] are not perfect. There's a ton of things you could have said about pre-invasion Ukraine that would have been dead on. However, we felt like they all wanted to do better. They seemed to have this sort of combined cause to be better. And I think that was enchanting to us."
For Penn, who famously gifted one of his two Oscars to Zelensky as a symbolic gesture of solidarity — "I was going to give them both to him, but I don't like to travel with checked baggage, and then my backpack was too heavy, [and] I think he ended up with the 'Mystic River' one," he says — his relationship to Zelensky is far more profound than that of a director and his subject.
Theirs is a friendship born of extraordinary circumstances.
"I can't speak for him," says Penn, "but surely from my side, I would say that, with not much time to make an emotional decision, I think I came away from that second meeting — on that day of the invasion — having a feeling of love for the man."
Read More About:
Source: Read Full Article