Saudi Arabia To Open A Luxurious 800-Room Resort And Theme Park On A Massive Oil Rig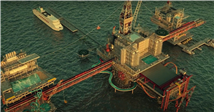 Saudi Arabia has dreamt up plans to transform a massive oil rig in the Persian Gulf into a luxury vacation hotspot. Guests can stay at 'The Rig', which will feature three hotels with 800 rooms and 11 restaurants. Activities will include a roller coaster and skydiving, among many more activities on the outrageous new tourism project.
Saudi Arabia's Public Investment Fund is the brain behind the project, and they recently previewed the destination, which is set to open sometime in the future. The attraction, dubbed The Rig, is set to be the first-ever vacation spot inspired by offshore oil platforms. The resort will tower over the Arabian sea on a series of connected platforms that span 50,00 square feet.
Ironically, the project is part of the country's Saudi Vision 2030's initiative to diversify the kingdom's economy. The kingdom hopes to move from oil to becoming an international tourism destination.
RELATED: 20 Unique Theme Parks Everyone Should Visit At Least Once
A promotional video showed images of theme park water slides constructed on a drilling platform and a steel-and-glass hotel atrium at the center of the attraction. But there's much more.
The destination will also have eleven restaurants where foodies can enjoy world-class cuisine. Whether you're craving tapas or in the mood for underwater dining, you'll be able to take your pick from almost a dozen world-renowned dining options when vacationing on the would-be oil rig.
"Offshore platforms were created for discovery. THE RIG. takes that legacy to the next level," reads a statement on the resort's website. "This is the ultimate living laboratory for pioneering new thrills, extreme sports, and adventure. Climb aboard and experience the future of adventure."
It looks like there will be plenty of thrills to be had at The Rig, as it promises that it is 'no theme park, it's an extreme park'. Thrill-seekers can enjoy bungee, board, and base jumping. There is also a roller coaster and the world's biggest climbing wall.
If you aren't into extreme thrills, there will be more mild attractions. It looks like there will be a Ferris wheel, go-karts, water slides, arenas, theaters, and scuba diving.
But how would you get to an offshore hotel and theme park? Well, The Rig is accessible by ferry, cruise, and helicopter. Those with a private yacht can find plenty of berths to dock at.
Not everybody seems so enthusiastic about the project. Gizmodo has accused The Rig of somehow bordering on 'making oil rigs look cool', and feel 'appealing', despite their environmental impact.
READ NEXT: 30 Theme Park Attractions That Should Be On Everyone's Bucket List 
Sources: Gizmodo, TimeOut Dubai
Source: Read Full Article