Salome review: Gruesome but brilliant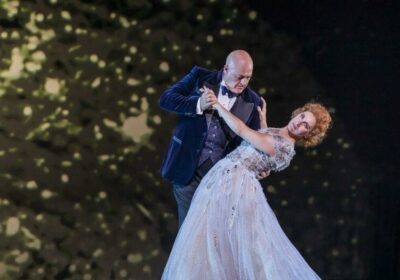 We use your sign-up to provide content in ways you've consented to and to improve our understanding of you. This may include adverts from us and 3rd parties based on our understanding. You can unsubscribe at any time. More info
This is the fourth time we have seen David McVicar's powerful and rather gruesome production of this opera since it first appeared at Covent Garden in 2008 and it is by far the best.
The British tenor John Daszak is excellently both authoritative and troubled as Herod while Swedish mezzosoprano Katarina Dalayman conveyed exactly the right amount of nastiness as his vengeful wife Herodias while Hawaiian baritone Jordan Shanahan sang the part of Jokanaan (John the Baptist) with glorious power, but it was Swedish soprano Malin Byström in the title role who transformed this production from merely excellent to absolutely stunning.
I have seen plenty of sopranos going mad in the final acts of operas, but the way Byström portrayed the vicious obsession of Salome was more convincing, gripping and emotionally draining than anything I had experienced before.
Herod had promised her whatever she wanted, up to half his kingdom, if she danced for him and the venomous way she repeatedly spat out the line: "Ich will den Kopf des Jokanaan," (I want the head of John the Baptist) was chilling. German is a great language for spitting out such a line and Byström did it to great effect.
The power of her singing and acting was enhanced by the effect of the quantity of blood staining her white dress at the end, and the final words of the opera, uttered by Herod, are the same as in Wilde's play: "Kill that woman".
Quite apart from McVicar's powerful production, Byström's great performance and excellent support from the rest of the cast, the Royal Opera Orchestra conducted by Alexander Soddy added still more with a highly impressive display of Strauss's glorious music.
Oscar Wilde's play used words to convey the intense emotions of the story, but Strauss used music to even greater effect.
The unusual combination of instruments he used (there is even a heckelphone in the orchestra) was well chosen and gloriously brought out by Soddy's thoughtful interpretation and the orchestra's commitment. The overall effect was outstanding.
My only reservation came in the best-known part of the opera: the Dance of the Seven Veils. Instead of taking the easy way out with a seductive strip by Salome, McVicar's interpretation is far more subtle, dispensing with the veils and taking us through the rooms of the palace and the various parts of Salome's life, which I found rather unconvincing.
But with performances of this quality, a dance interlude in the middle hardly matters.
Since its return after Covid, the Royal Opera has treated us to some wonderful productions, but this Salome may be the best yet.
Box Office and information: roh.org.uk or 020 7304 4000
Source: Read Full Article