Ryan Seacrest and Mark Consuelos Champion Kelly Ripa's 22-Year Daytime Dynasty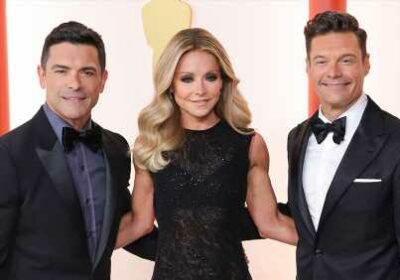 When Ryan Seacrest announced he'd be leaving "Live! With Kelly and Ryan," at least three people were very concerned: Kelly Ripa and Mark Consuelos' children.
Ripa and Consuelos' two adult sons and daughter have grown up in front of America. They've also grown up with Seacrest, who Ripa jokes is known as "Uncle Cool" in their household.
Seacrest and Ripa have shared six years together as co-hosts on their top-rated show, but they're relationship started long before that. The duo are such close friends that Seacrest has attended graduation ceremonies for the Ripa-Consuelos kids, and he regularly texts Consuelos for advice on everything from fashion to investing. In fact, Seacrest says he would have never considered moving across the country for "Live!" had it not been for Ripa.
Over their 20 years of friendship, Seacrest had pitched Ripa on the idea of hosting a show together in Los Angeles, where he had been based. The idea wasn't plausible, since Ripa was raising her family on the east coast. In his six years co-hosting with Ripa, Seacrest has been more-than-bicoastal, essentially living on a plane to balance his many jobs from "American Idol" to his daily radio show.
"As I thought about what I was going to leave behind, she was a huge a major driver and force in that decision for me," Seacrest tells Variety, recalling his conversations to join the syndicated talk show back in 2017. "There are so many remarkable things about her," Seacrest says, calling Ripa "one of the greatest broadcasters of all time."
Seacrest never intended for "Live!" to be a forever thing. When he signed on, his contract was three years. He ended up putting in twice that amount of time, but when the day came that he knew he could no longer travel back and forth across the country so frequently, his top priority was ensuring Ripa's smooth transition on the show. Never could he have guessed that her new co-host would be the most seamless replacement, perhaps in television history: her husband.
"The hundreds of hours I spent each year flying, it became a lot. It was longer than I anticipated, but it's because of her and the great people here, Seacrest says. "Over the last couple of years, I had said to Kelly, 'This is not going to be something that's right for me forever for all the obvious geographical reasons,' and she understood it. I was little bit worried how she would react to that, but because we're close and she gets my life, she understood. I said, 'You and I will work together in tandem on when the timing is right for the show, when the timing is right to announce it and when the timing is right to collaborate on who that new person is going to be.' And it worked out in the most picture-perfect way."
"Passing on the baton to him will be fantastic," Seacrest adds of Consuelos.
Consuelos admits he's a bit nervous to join "Live!" But not because he'll be working with his wife every day.
"I think I just need to separate myself from the husband role, and just focus on being someone who's been hired to take that coveted spot," Consuelos says. "The show is the number one talk show in daytime. It's like coming on to a championship team – and being a pivotal part of a team, you just don't want to screw up. I want to keep them on a winning streak."
Over the years, Consuelos has guest-hosted "Live" around 100 times. The audience knows him, and they feel a unique relationship to him and his wife that is only possible with the connection of daytime television. The format of "Live!" lends itself to discussing mundane activities, perfect for an actual husband-and-wife duo.
Ripa admits that when the network first approached her and Consuelos about co-hosting together, the couple thought it was a "terrible" idea. But the show's longtime executive producer, Michael Gelman, says Consuelos was the perfect choice to complement Ripa, as "Live!" heads into its next chapter.
"Mark has been a part of the show before they were dating, while they were dating, while they were engaged, while she was pregnant," Gelman says, reminiscing on meeting Ripa as a 21-year-old soap star. "We've all been through a lot together, personally and professionally. You hear this on a lot of productions, like, 'Oh, we're like family,' but we really are. Kelly has been here 22 years, and a lot of the staff has been here for 20 or 30 years, so everyone has grown up together."
Consuelos says his wife hasn't given him too much advice yet, but in the past, he's always felt supported on-set together.
"You know, I don't do live TV. I'm an actor. I have multiple takes. I can screw up and we can do it over again," says Consuelos, who stars on "Riverdale." "We have this joke that we're backstage about to go on, and I'm like, 'Is this really live?' And she's like, 'Oh yeah, we're live.' She says, 'Just have fun. I won't let anything bad happen, trust me.' And that's that. I'm working with a true partner. She does not let her co-hosts fail on that show. She keeps the ball in the air."
Ripa's current "TV husband" – aka Seacrest – echoes that sentiment, raving over Ripa's ability to instill a sense of effortless trust in her on-air partner. Seacrest says he was "intimidated" to join Ripa at first because she's just that good. Though he's essentially become the modern-day Dick Clark with his broadcasting resume, Seacrest didn't have much experience in the live, daytime format when he was recruited to be Ripa's co-host.
"One of the things I will miss the most is our walk down the hallway before the microphones are on, and the hilarity that ensues and the laughter that we have," Seacrest says. "Sometimes I have to catch my breath as we turn the corner and go out because it's so genuine and raw. And I'll miss that moment we look at each other we know we've got each other's backs when we go on the air. There's no worry with each other. In a live format like this with two people, that's what makes it great and that's what allows us to relax and have fun."
Ripa has been the co-host of "Live!" for 22 years, and Consuelos has been along for the entire ride, having met his wife of 26 years in the '90s as co-stars on the soap opera "All My Children."
Consuelos is in awe of wife's on-screen talent, but he is most proud of her work behind-the-scenes. The actor-turned-TV-host raves over Ripa's work ethic, leadership and capacity to not only balance her career with motherhood, but to also keep everything in perspective.
"She cares about the show, she cares about the staff, she cares about the producers. She's extremely loyal. She doesn't think about herself so much – a lot of the decisions she makes are for the good of the show first," Consuelos says. "It's very much a team effort over there, and they're all able to do their best work because they know they've got an intrepid leader in her."
Ripa – one of Variety's Power of Women honorees – has been vocal about her struggles behind-the-scenes as a woman in the TV news business. In her Variety cover story this week, she comes forward about the sexism she faced in the workplace, in an effort to inspire other women to stand up for themselves. In a wide-ranging interview, Ripa also spoke about being trashed by the tabloids over the years, who have always pit her against men, making her a target over her male co-hosts.
Consuelos says while it's been tough to watch his wife endure tough treatment throughout her career – whether in the media or at her workplace – he's been impressed with her tenacity to keep her focus and keep going.
"On a personal note, it's hard. It sucks to see someone you love being attacked. It's hurtful," Consuelos says. "But she's exceptionally intelligent, analytical, practical and has this inherent tendency to look at the big picture. Some of the silliness that would come up with these obstacles, we talk about them and at the end of the day, we laugh and we move on. She has carried herself in such a beautiful and elegant way through all those trials and tribulations. As her partner in life, I'm really proud of the way she handles that."
By speaking openly about her own difficult experiences, Consuelos believes Ripa has made a difference for women in the workplace. Although her influence has a far reach, as one of the most famous women on television, Consuelos gets emotional when he speaks of her impact on their own family.
"She is a power of example. My daughter has had a mother that's been home for dinner. Our daughter has seen her mother take on so many different projects and complete them all," Consuelos says of their 21-year-old daughter, Lola, who shares siblings, Joaquin, 20, and Michael, 25. I know what her priorities are, and they're with the family. But the fact that she is such an exceptional businesswoman in every way, I smile when I think about how it has affected my daughter's perspective on what she should want to have for herself."
Read More About:
Source: Read Full Article