Royal Family news LIVE: Follow the latest updates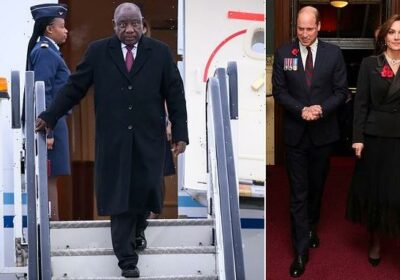 Royal Family news LIVE: Follow the latest updates on the South African state visit, Princess of Wales fashion and Meghan Markle's Jimmy Fallon mix up
King Charles III is hosting his first state visit since he ascended the throne 
He'll welcome South African president Cyril Ramaphosa at Buckingham Palace 
The King will show Mr Ramaphosa around Westminster Abbey this afternoon 
Good morning,
Welcome to FEMAIL's live coverage of King Charles's busy day as he makes history hosting his first state visit since ascending the throne.
The Prince and Princess of Wales will greet South African president Cyril Ramaphosa at the Corinthia Hotel this morning, following his arrival in the UK last night.
This afternoon, the president will travel to Buckingham Palace where he will meet with the King and Queen Consort.  
Later today Mr Ramaphosa will join the King on a tour of Westminster Abbey where he will be shown a memorial stone for the late former South African president, Nelson Mandela.
The Prince and Princess of Wales (pictured at the Festival of Remembrance earlier this month) will greet the South African president at the Corinthia Hotel this morning
Cyril Ramaphosa, president of South Africa, touched down in the UK on Monday afternoon. He will spend two full days in the UK before flying home on Thursday
This evening, the president will join the royals for a state banquet at Buckingham Palace.
The state visit will continue until Thursday when Mr Ramaphosa will fly home.
Host commentator
While the Royal Family gets started on its busy week in the UK, there has been some confusion across the pond about the former members of The Firm who now dwell in California.
Meghan Markle had been announced to appear on Jimmy Fallon's Tonight Show in an apparent mix-up by TV network NBC.
In a statement on the network's website, it was claimed the Duchess of Cambridge would appear on the entertainment show on December 7 – but this claim was quickly disputed by Meghan's pal Omid Scobie.
The journalist took to Twitter to confirm Meghan would NOT be appearing on Jimmy Fallon's show and that someone at NBC 'didn't get the memo'.
NBC later told dailymail.com the announcement was made in error, and confirmed the Duchess was not scheduled to appear.

Source: Read Full Article