RBA gives inflation genie a head start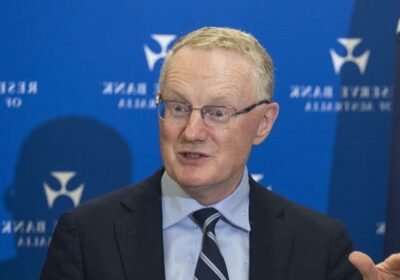 The Reserve Bank is starting its chase of the inflation genie – and starting it from a long way back.
Tuesday's decision to take the cash rate to 0.35 per cent was the least the bank could do after last week's horrendous inflation report that revealed annual inflation at 5.1 per cent and showed price pressures deep and broad across the economy.
RBA governor Philip Lowe has revealed inflation could reach as high as 6 per cent.Credit:Louie Douvis
That it had to bite the bullet in an election campaign – something the RBA was loath to do – shows even it realised it could not hold off dealing with the nation's inflation issues.
As recently as November, the governor was keeping open the door to interest rates staying at 0.1 per cent until 2024.
After the bank's February meeting, Lowe was saying that while inflation had picked up "it is too early to conclude that it is sustainably within the target band".
Not only is inflation now beyond the 2 to 3 per cent band, it's an insect smudge in the rear vision mirror.
The bank has got itself into a real pickle because it misread issues that were visible late last year. That was evident in the statement put out by Lowe after announcing the increase in the cash rate.
In February's monetary policy statement, the bank forecast the economy to grow by 4.25 per cent this calendar year and then 2 per cent in 2023. Those forecasts were confirmed in Lowe's statement on Tuesday.
But back in February, the bank was forecasting inflation to be 3.25 per cent at the end of the year with underlying inflation at 2.75 per cent. By the end of next year, both rates were supposed to be at 2.75 per cent.
Lowe revealed today the bank believes headline inflation will reach 6 per cent this year with underlying at 4.75 per cent. "By mid-2024, headline and underlying inflation are forecast to have moderated to around 3 per cent," he said.
In terms of missing your target, that's the proverbial side of a barn. In the next paddock.
Australians are going to feel this intently as wages growth, while picking up according to the bank, won't get close to matching inflation. We could easily see inflation out-pacing wages by three percentage points or more over the next six months or so.
That's real cost of living pain.
The bank isn't getting a lot of help from the Coalition or the Labor Party, currently throwing cash about like kids let loose in the show bag pavilion at the Royal Easter Show.
Both sides support the Coalition's plan to super-size the low and middle-income tax offset that will drop into millions of bank accounts shortly after July 1. That's about $12 billion being pumped into the economy.
That doesn't include the $5 billion or so tied up in the $250 cash splash of last week or the 22.1 cent reduction in fuel excise that will end in September.
Then there's the $80 billion budget deficit this year and next year's forecast $78 billion.
Both Lowe and Prime Minister Scott Morrison have talked up the $250 billion in extra savings that Australian households have accumulated through the coronavirus pandemic (some of which is due to direct government handouts).
That $250 billion, while characterised as a buffer, could just as easily turn out to be a jerry can of petrol ready to be thrown on the inflation fire now working its way through our shopping malls, construction sites and manufacturing plants.
The inflation genie is now well and truly out of its bottle. Whether the RBA can put it back will determine the living standards of millions of Australians over the coming months and years.
Cut through the noise of the federal election campaign with news, views and expert analysis from Jacqueline Maley. Sign up to our Australia Votes 2022 newsletter here.
Most Viewed in Politics
From our partners
Source: Read Full Article